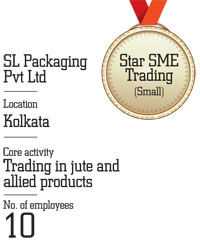 Navin Saraf
was always clear about one thing: school was something to get out of the way before joining the family jute trade. "Right since my childhood, I've wanted to be in business," says the 31-year-old Kolkata resident. "I've grown up with raw jute, twines and yarns."
It runs in the family. His eldest brother began helping out their father when he was 17. So when Saraf completed high school in 2001, it was "family time".
In the early days, the Sarafs imported raw jute from Bangladesh to make traditional goods such as yarn and sacks for the domestic market. Then they began to manufacture fabric at Howrah, near Kolkata. Today, they export eco-friendly shopping bags and burlap bags to the United States, Europe, Central Asia and Africa, and will soon open their second factory.
SL Packaging was set up in 2007, and ended 2011/12 with sales of Rs 42.3 crore and a net profit of Rs 7 lakh. Return on equity was about 1.3 per cent. The company needs to expand its manufacturing facility to feed an increasing number of domestic clients, including ITC's agribusiness division, Ruchi Soya and various state governments. It also needs to whittle down the cost of fabric for its bag export business.
Ten bighas (four bighas equal one acre) have been acquired for the second factory, in Barasat, near Kolkata. The Rs 15-crore capital outlay will have a debt-equity ratio of 85:15. "The loan is for the working capital," says Saraf, adding the company has no IPO plans.