BEST SME-SERVICES
TOTAL INCOME Rs 251 Crore - 500 Crore

The international airport in Kochi was envisaged as a public-private venture in the early 1990s. At the time there was no proven business model for infrastructure projects to emulate. All the same, Kochi International Airport Society, the special purpose vehicle of the Kerala government created to build the airport, acted swiftly. It raised nearly Rs 300 crore from investors in a matter of a few months - mostly NRIs, public and private companies, exporters and cooperative societies. And in just three years, the registered company, Cochin International Airport Ltd (CIAL), completed construction and started commercial service.
FULL COVERAGE:India's best SMEs 2015

CIAL has successfully weathered challenges over time. In the recent past, the dip in air travel post the global economic meltdown in 2008 and severe financial crisis afflicting most airlines had affected airports across the country but CIAL navigated the lean period without taking a big knock. In the three financial years upto 2013/14, the airport registered an average revenue growth of 14 per cent to Rs 363 crore while profit rose 11.4 per cent annually to Rs 124 crore.
---
KEY FACTS
First greenfield airport in India under public-private partnership
Seventh busiest airport in India in 2014/15, ferrying 6,814,867 passengers
Building a new Rs 1,100-crore international terminal, with builtup space of 1.5 million sq. ft.
---
V.J. Kurian, Managing Director of CIAL, attributes the stellar performance to a cost effective business model that does not compromise on operational parameters. "We had built a greenfield airport with a minimal investment of around Rs 300 crore. It inspired us to take up new projects at the airport without inflating costs" he says. Today, CIAL runs most of the businesses at the airport including duty-free outlets and aero operations (parking, landing, handling fee). Indeed, almost 80 per cent of the airport's revenues comes from these two segments.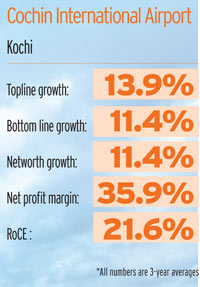 Meanwhile, in the last three to four years, the CIAL management has created an integrated airport management system to improve efficiency. All the airport operation verticals have been brought under a single software platform. A Rs 37 crore new commercial complex and a Rs 62-crore airport road widening project are under way. "The company is well run and has an innovative business model. Its investors, too, have contributed to the smooth running of operations," says V.K. Vijayakumar, Investment Strategist, Geojit BNP Paribas Financial Services.
High growth trajectory
Kurian foresees high growth potential for the domestic aviation sector. His company is gearing up to cash in on the emerging opportunities. "We are upgrading the facilities to face the challenges of the future," says Kurian. CIAL is constructing a Rs 1,100-crore international terminal with a built-up space of 1,500,000 sq ft. It is designed to handle 4,000 passengers in an hour and will be commissioned by May 2016. The two-level terminal will have 112 check-in counters with in-line baggage screening facilities, 100 immigration counters, duty-free shops spread over 30,000 square feet at departure and arrival lounges, 19 boarding gates and fully covered alighting and boarding area.
The existing domestic terminal would be converted into "Royal Pavilion" and would handle VIP and private chartered flights and jets. The current international terminal will become a domestic terminal with five aero-bridges and 10 boarding gates facility, apart from a substantial increase in parking bays.
In the financial year 2014/15, Cochin was the third busiest airport in India in terms of international passenger traffic after Delhi and Mumbai ferrying over 3,751,225 passengers and seventh busiest airport in India carrying 6,814,867 passengers.
Powering ahead
Meanwhile, CIAL commissioned a 12-MW solar project in mid-August on 45 acres near the cargo complex at the airport. The project was executed by Bosch at a cost of Rs62 crore in about six months. "The company has been showing better adaptability to situations. For example, when we learned that the power bills are on the higher side, we decided to switch to renewable energy. Now we are the first airport company in the world to fully operate on solar energy," adds Kurian. The project is estimated to generate about 50,000 units of electricity daily. The company had also commissioned a 1 MW solar plant in 2013. Consequently, the airport has surplus power supply. It has now entered into a pact with the Kerala State Electricity Board for feeding power produced from its solar stations to the power grids.
CIAL appears to be raising the bar for other airports in the country.