BEST SME- AGRICULTURE
TOTAL INCOME Rs 101 Crore - 250 Crore
Conventional wisdom says if an agri-business is hit by both droughts and floods, it is best to weather the storm before venturing out. Rossell India, which has the lion's share of its revenues coming from tea, has dealt with the twin blows at its plantations in Assam, but still says it will not stop acquisitions in the state, which is either grappling with too much rainfall or too little. There are reasons for Rossell's boldness - a 23.7 per cent average growth over the past three fiscals, with an accompanying 20.4 per cent rise in net profits.
"Does a farmer stop sowing paddy because of floods or poor rains in the previous year?" asks Chirinjiv Bedi, Managing Director, Rossell India, a 47-year industry veteran who believes "climatic change" in the state is the biggest challenge for planters. "We did look at an acquisition in Malawi, but have now taken a conscious decision to stick to Assam."
---
KEY FACTS

The Kolkata-based company has diverse interests in tea, aviation, defence technology and engineering, and hospitality
All its seven tea gardens are in one state - Assam - including four in the northern districts, and two in Jorhat
Its average orthodox teas have fetched Rs 51 more than the Assam average per kg in 2014/15; CTC was Rs 44 more
Its tea exports increased 18 per cent to Rs 41 crore
---
A Kolkata-based aviation products-and-tea manufacturer, Rossell India has seven gardens in Assam - four of them in the northern districts where floods devastated its estates this August, while two are in Jorhat district that was crippled by a severe drought last year. But the company is unfazed, and wants more gardens. "If the right property is available, we will buy it right now," says Bedi.
It is a "very wise decision," reflects Sumon Majumder, General Manager (Marketing and Exports), Darjeeling Impex, a Kolkata-based company that owns the Borokai tea estate in Cachar in Assam. "Assam has always been less risky for tea growers despite the climate," says Majumder, who also feels Rossell's turnover of Rs 140 crore last fiscal, though lower than the previous year, was "very good for a tea company".
Bedi prefers Assam because growing leaves and manufacturing tea are both more "standardised" compared to the Darjeeling hills.
V. Chaitra Narayan, Associate Director, Chemicals, Materials and Food at industry tracker Frost & Sullivan, is sceptical about locating of all plantations in a state impacted by climatic extremes. "If a company has all its gardens in Assam, which is a rare case, it would definitely be making losses that year," she says.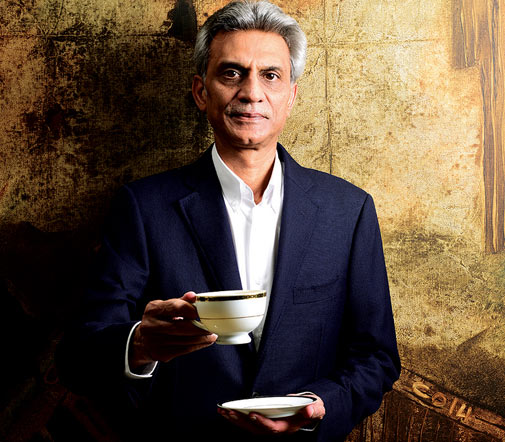 And Rossell indeed has seen the elements taking a toll on its bottom line. Its crop yield fell 12 per cent, pulling down its gross revenue a tad lower from Rs 141.43 crore in 2013/14 to Rs 140.49 crore in March 2015. The rainfall was the worst in 80 years, weakening the bushes and pushing up input costs. What also had an impact were the depreciation norms under the Companies Act 2013, and the Rs 21 increase in wages per man hour, along with the statutory outgoes that came in force this January.
FULL COVERAGE:Best SMEs 2015
For a business that is agriculture-dependent such as that of Rossell, says analyst Chaitra Narayan, it is best to focus on the premium segment and have a "portfolio spread across different products and grade type" to address seasonal emergencies and crop failures.
Bedi says that is exactly what his company has done - focus on quality produce in both orthodox and CTC. As a result, the company has outperformed the market; its average orthodox teas have fetched Rs 51 more than the Assam average per kg in 2014/15, while CTC was Rs 44 higher.
Rossell has also pandered to varied tastes by producing both orthodox and CTC at its gardens: Dikom, Nokhroy, Bokakhat and Namsang concentrate on the former, and Nagrijuli, Romai and Kharikatia on the latter. The "judicious product mix" has been its strategy for years, and helped it exploit the core competence of each garden, says Bedi.
This has come especially handy in meeting the challenges on the export front, as in Iran, where the demand was depressed last fiscal due to over-supply. Therefore, despite a 12 per cent lower output, Rossell saw its exports move north by about 18 per cent to over Rs 41 crore, accounting for 30 per cent of its total production across gardens and 40 per cent of its revenue.
The most telling commentary on Rossell's commitment has perhaps been its investment in its tea business - over Rs 150 crore in the 20 years under Harsh Mohan Gupta, the Executive Chairman of the company. When Gupta inherited the tea business after separating from his former partners in 1994/95, he got three gardens. He sold one and bought another five, and is eyeing for more. "We are on a tremendous growth path for the next three-four years," says Gupta. "We want to be the best in whatever we do."