What's the first thing that strikes you about our list of 19 companies on the right hand page? If you said that only two of them are Sensex stocks (Ambuja Cements and ICICI Bank), then you are bang on. Therein lies an important point about our annual study of India's Most Investor-Friendly Companies: that a company doesn't need to be big to treat its shareholders like kings. You don't need to be big to pay dividends regularly, close your books on time, or hold your annual general meetings every 12 months. All that you need to be is: A company that makes lots of cash, operates in an industry that is booming (in the times we live in, you'd be egregiously unlucky if you weren't in one), and wants to do good by the shareholders. Ergo, top of the heap is a gems and jewellery exporter called Rajesh Exports, followed by a bunch of manufacturing and services companies.
Making the cut wasn't easy for any of them. For that, they needed to prove that a) their stock appreciation was extraordinary over a three-year period, b) they weren't tight-fisted in payouts, c) they disclose shareholder information adequately, and d) had few investor complaints. In sum, you need to be a great company.
Take Aban Offshore, for example. The oil drilling services provider focuses on more lucrative contracts and recently acquired Norway's Sinvest, which is a company that invests in oil and offshore firms. Its executives say that Aban will have no problem growing at 60 per cent year-on-year for the next three. Also, consider Gujarat Fluorochemicals. It's a company that buys its raw material (common salt) for $10 a tonne and sells the finished product for $9,000 a tonne. If that isn't a winning business model, nothing is. Therefore, if you are looking to spot some future Sensex stocks early on, this list is a good place to start.
A cut above the rest
Company: Rajesh Exports
Midas touch: Rajesh Mehta's firm is the single-largest importer of gold
Name: Rajesh Mehta, Chairman
Industry: Gold and diamond jewellery exports
Most investor-friendly move: Increasing their economies of scale, which boosted exports and also the company's net profits
Share price as on July 20, 2007: Rs 563.65
Share price as on July 21, 2004: Rs 32.87
Dismal industry landscape, unorganised sector and words like price, purity and branding completely unheard of-while most will find this a recipe for disaster, two brothers in Bangalore have crafted an extraordinary success story out of these. Seventeen years ago, when brothers Rajesh and Prashant Mehta decided to get into their family business of jewellery, the first lesson they learnt was a valuable one.


They realised that Indians were not inclined to pay for design and mostly looked at weight of the jewellery. Hence, it made sense for them to test foreign shores. Says Rajesh Mehta, Chairman, Rajesh Exports: "We quickly realised that the market lay in exports. So the company started focussing on its manufacturing skills to cater to the export market." Today, the manufacturing prowess of Rajesh Exports is recognised the world over. Its plants can handle 250 tonnes of gold per year. Year after year, Rajesh Exports is the single-largest importer of gold in the country.
This is how the numbers stack up for Rajesh Exports. The company notched up a turnover of Rs 34.63 lakh in the first year of its operations, while it ended 2006-07 with revenues of Rs 6,893.36 crore. Till recently, its margins were very low as the company did not have scale-on Rs 6,893 crore turnover, the company's net earnings were Rs 101.28 crore. However, the net last year leaped by 223 per cent against the previous year "as our scale provides us economies that others will find hard to replicate," says Mehta. After its stunning run in exports in the last 12-24 months, the company has now turned its attention to the domestic market. While exports account for 92 per cent of its revenues even today, the plan is to have a revenue ratio of 30:70 in favour of the domestic market in the next five years. This is because "while Indians are still keen on value for money, for the first time they are willing to look beyond weight and focus on purity, range of jewellery and design," asserts Mehta.
The stock market seems sure of the company's future. In 12 years, the company's topline has multiplied by more than 200 times. "An investor with Rs 50,000 in our IPO would be sitting on Rs 27.5 lakh according to the current market price," says Mehta. Not surprisingly, Rajesh Exports tops our list.
Growth from thin air
Company: Gujarat Fluorochemicals

Name: Deepak Asher, Executive Director
Green makeover: Asher's GFL sold 6.5 million carbon credits in 2006-07

Industry:
Refrigerant gases and wind power

Most investor-friendly move:
Streamlining the chemical business and entry into carbon trading

Share price as on July 20, 2007:
Rs 677.45
Share price as on July 21, 2004:
Rs 28.29
From making chlorofluorocarbons (CFCs)-refrigerant gases highly injurious to the ozone layer-to now building a very smartly diversified and environmentally friendlier chemical-cum-power-cum-multiplex business, Gujarat Fluorochemicals seems to have pulled off one of the most striking business transformations in recent memory.
It's a makeover that has made GFL a darling of the investors- quite a feat for a chemical business, which is widely regarded as 'commoditised' and hence cyclical, low-return, and risky because of its potential to pollute the environment.
Incorporated in 1985 and a part of the Inox Group, promoted by D.K. Jain and family), GFL's sales jumped 215.21 per cent year-on-year to Rs 573.77 crore and net profit rose 151.08 per cent to Rs 241.87 crore in fiscal 2006-07. About Rs 390 crore of the revenue came from 6.5 million carbon credits GFL sold to buyers in developed countries under Kyoto Protocol's clean development mechanism (CDM). This year, GFL hopes to sell 7.5 million carbon credits for about Rs 550 crore. "The global carbon credit market should continue to yield us revenues for the next 5-6 years, at least," says Deepak Asher, Executive Director, GFL.
Inox Leisure Ltd, GFL's subsidiary (now publicly traded after its IPO last year), is growing at a fast clip too, earning a net profit of Rs 24.79 crore (year-on-year growth of 141.33 per cent) over sales of Rs 153.01 crore (year-on-year growth of 142.85 per cent) last fiscal.
For GFL and its investors, the celebrations have just begun.
Capitalising on opportunities: Is Gopalakrishnan's forte.

Floating High on Consistency
Company: ABAN Offshore

Name: C.P. Gopalakrishnan, Deputy Managing Director

Industry: Third-party offshore drilling services

Most investor-friendly move: Focussing on high-value contracts, and acquisitions

Share price as on July 20, 2007: Rs 2,984.95

Share price as on July 21, 2004: Rs 150.98

Making its third consecutive apppearance on our list is Aban Offshore, the largest private sector drilling services provider in the country. It has had a consistently impressive run, thanks largely to its time-tested and well-oiled strategy. "It is due to our ability to spot opportunities and capitalise on them quickly," says company Deputy MD C.P. Gopalakrishnan. A classic example of this practice is the 100 per cent acquisition of Norwegian company Sinvest, completed in mid-July.
The company's income is expected to vault on the back of its long-term contracts, which are expected to see steady returns. While Gopalakrishnan won't talk growth numbers, a 60 per cent CAGR (compounded annual growth rate) for the next three years does not seem too difficult, according to investors. Between 2004-05 and 2005-06, Aban's turnover jumped from Rs 297 crore to Rs 505 crore, while net profits for the same period grew from Rs 51.72 crore to Rs 83.81 crore. Last year, Aban had a turnover of Rs 556.7 crore and a net profit of Rs 91.5 crore. With the Sinvest buyout, one can expect more. The company is well poised on the third-party services front. Last year, Aban had entered into a three-year contract with ONGC for its rig Aban-11 for Rs 400 crore. The other rigs coming up for renewal are likely to fetch higher day rates (over $85,000 or Rs 34.85 lakh per day for ONGC). No wonder then that dividends are coming at a rapid pace-150 per cent on a face value of Rs 2 per share-and market capitalisation -Rs 11,000 crore-is growing faster than ever.
A trek into the uncharted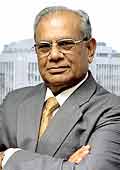 Transforming change: Excel is the word for Munot
Company: Kalpataru Power Transmission

Name: Mofatraj Munot, Chairman

Industry: Infrastructure

Most investor-friendly move: Diversifying its product mix and entering newer businesses

Share price as on July 20, 2007: Rs 1,517.6

Share price as on July 21, 2004: Rs 42.5

From building transformers in the early 80s, Kalpataru power transmission has come a long way to become an infrastructure player. It's been an action-packed time for the company as it is involved in turnkey projects from constructing towers to power generation and distribution plants, and even building oil and gas pipelines. "Our ability to enter into newer businesses at the right time has been the key to our success," says Mofatraj Munot, Chairman, Kalpataru Power Transmission.
Sample these numbers. From revenues of Rs 360 crore in 2004, the company has grown to Rs 1,600 crore in revenues in March 2007. In the same period, profits surged to Rs 158 crore from a mere Rs 14 crore in 2004. "Our focus has been to excel in our work," says Munot. Kalpataru's core business still continues to be transformers-it accounts for two-thirds of the company's total revenues. No wonder, the stock has become the darling of the market players-it has surged 3,100 per cent from Rs 34 on March 31, 2004, to Rs 1,088.05 on March 31, 2007. Coming to this fiscal, the world's fifth-largest towermaker plans to tap the market for its acquisitions and forays into newer segments.
The Green Buck Beckons
Company: Praj Industries

Name: Pramod Chaudhari, Chairman
Clear goals: Chaudhari wants to be a global leader in ethanol technology

Industry:
Ethanol technology

Most investor-friendly move:
Declaring second interim dividend of 90 per cent in March 2007, which has already been paid.

Share price as on July 20, 2007:
Rs 228.05

Share price as on July 21, 2004:
Rs 7.61
Nestled in a quaint area along the Mumbai-Bangalore highway, the Rs 616- crore Praj Industries has firmly ensconced itself as one of the leaders in its space on the back of a 'green trajectory'.
Praj, which provides technology, engineering expertise, plant and equipment for ethanol and bio-diesel production to the distillery and brewery industries, has set its sights on becoming a global leader in ethanol technology. Says company Chairman Pramod Chaudhari: "We are expanding our horizons into newer clusters of knowledge like biotechnology and (will) blend it with our existing knowledge in agri-processes and process engineering."
This is how the numbers add up. The company ended March 2007 with a year-on-year topline growth of over 120 per cent. The net income of the company rose from Rs 270 crore recorded for the year ended March 2006 to Rs 616.40 crore in March 2007, while profits grew over 200 per cent from Rs 24.41 crore to Rs 86.52 crore for the same period.
Interestingly, this scaling up is not just in terms of numbers, but also in terms of higher throughput and better solutions. According to Shashank Inamdar, Managing Director, Praj Industries, what has also helped the company grow is the fact that the renewable energy industry itself is on a growth path and is gaining more importance in the recent times.
With a market capitalisation of over $1 billion, Praj is on a high and the investors are surely not complaining.
Hitting the right notes
Company: Reliance Capital

Name: Anil Ambani, Chairman
Impressive growth: Ambani has reason to smile

Industry:
Financial services

Most investor-friendly move:
800 per cent increase in market capitalisation in the last two years

Share price as on July 20, 2007:
Rs 1,204.4

Share price as on July 21, 2004:
Rs 119.1

Financial services has been among the most talked about sectors for a while now. A burgeoning spending class in India coupled with increased options to invest has resulted in a boom in the sector. For a player like Reliance Capital, which has a presence in many businesses in the financial services sector, it has been an impressive run.
Take a look at what the company has in the pipeline-a foray into the consumer finance business, an infusion of over Rs 2,000 crore in the life insurance business and a possibility of either promoting or acquiring a bank, subject to policy permitting it.
Reliance Capital came into its own after the demerger of the Reliance empire in 2005 and since then, the company has notched up some striking numbers. Reliance Capital Chairman Anil Ambani told shareholders at the company's most recent Annual General Meeting (AGM) that there had been a sharp increase in market capitalisation. "In a short span of two years, our market capitalisation has shot up nearly 800 per cent from Rs 3,000 crore to over Rs 27,000 crore," Ambani told his shareholders. Reliance Capital's gross income for 2006-07 was at Rs 2,158 crore, which is an increase of 128 per cent, while net profit was up by 23 per cent to Rs 703 crore. "Our networth now stands at over Rs 5,297 crore as on March 31, 2007, placing us among the top three private sector companies in the financial services sector after ICICI Bank and HDFC," Ambani said.
Brokerage and investment banking firm CLSA, in a recent report on Reliance Capital, while putting a buy on the stock, believes, "The company can replicate the strong growth trajectory in its recently launched retail broking and distribution business where it has already set up a large distribution network." Music indeed to the shareholders' ears.

Electrifying Performance
Company: Crompton Greaves

Name: Sudhir Trehan, Managing Director
Riding high on exports: Trehan's order book is full

Industry:
Electrical products and services

Most investor-friendly move:
Scaling its operations by going overseas and making a slew of acquisitions

Share price as on July 20, 2007:
Rs 263.5

Share price as on July 21, 2004:
Rs 24.66
What does an almost zero debt company do to power its growth when its peers in the industry are facing margin pressures? In the case of Crompton Greaves, it takes the export route and charts out a success story. The strategy of going overseas has worked well for Crompton Greaves, which has been able to mitigate risk as well as maintain margins. In the last three years, the company's revenues on a consolidated basis surged to Rs 5,745 crore in March 2007 from Rs 1,776 crore in March 2004. In the same period, the profit was Rs 282 crore compared to Rs 70 crore in March 2004.
The market evidently has responded well to the company's performance. In the last three years, the stock on an adjusted price has jumped from less than Rs 10 per share to nearly Rs 200 per share. Says Sudhir Trehan, Managing Director, Crompton Greaves: "The growth in the power sector, a slew of acquisitions in the past few years and cost effectiveness (includes maintaining fixed cost) have been the reasons for our impressive growth". Today, exports account for 49 per cent of the total consolidated revenues of the company, which is present in North America, Europe and South East Asia.
"We will maintain our topline growth of around 20 per cent, with margins being steady," says Trehan. The company is sitting on a strong order book position of Rs 5,400 crore, of which overseas companies are likely to account for Rs 3,000 crore.
Building Spectacular Profits
Company:
UNITECH

Name:
Sanjay Chandra, Managing Director

Industry:
Real estate development
Great going: For Chandra and Unitech's shareholders

Most investor-friendly move:
The promoters Chandras do not own any real estate outside of Unitech, barring two houses

Share price as on July 20, 2007:
Rs 564.25

Share price as on July 21, 2004:
Rs 1.51
Gurgaon-based Unitech ltd has vaulted into the top league of investor-friendly companies this year on the back of stupendous returns for the shareholders during the last three years-its adjusted share price has risen, hold your breath, 37,267 per cent over the last three years. Much of the price appreciation was a result of the headwind of regulatory changes in the real estate sector that Unitech was able to capture as, until recently, the only listed entity of significant size in the sector.
As investor interest has surged, the company knows it will have to up the disclosure benchmarks. Similarly, it has steadily advanced the date of its AGM from September-end to July 31 this year. "We have been internally improving our information systems to be able to obtain relevant information in a timely manner. We are implementing sap ERP system," says company MD Sanjay Chandra. He defends the low dividend payout, saying that the company is in a high growth phase, where shareholder wealth is created by reinvesting profits.
A parting thought: In its history, Unitech raised an external capital of less than Rs 40 crore, while its market capitalisation today is around Rs 45,700 crore.

Fortifying The Future
Company: Ambuja Cements

Name: Suresh Neotia, Chairman

Industry: Cement
On concrete ground: No dearth of demand for Neotia's commodity

Most investor-friendly move:
Getting in Holcim as a strategic investor at a huge valuation

Share price as on July 20, 2007:
Rs 135.9

Share price as on July 21, 2004:
Rs 36.21
It has been a dream run for the cement industry and the boom in the construction sector has helped its cause greatly. Not surprisingly, Ambuja Cements Chairman Suresh Neotia made a special mention of this fact when he addressed his shareholders in March this year. "The industry produced 152 million tonnes of cement in 2006 and we believe that cement demand should grow by about 10 per cent in 2007," he stated.
Industry experts are of the view that there is more action waiting to unfold. Ambuja Cements, for its part, has been registering more than an average rate of growth. For 2001-02, total sales stood at Rs 1,384 crore, which is now much higher at Rs 6,268 crore for 2005-06. The company last year changed its financial year from July-June to January-December which resulted in an 18-month accounting period for 2005-06.
That apart, Swiss cement major Holcim's decision to acquire a management control in Ambuja Cements has set the tone for a new phase. Investors can ready themselves for the next part of the Ambuja Cements growth story.
Playing with precision
Company: Kpit Cummins Infosystems

Name: S.B Ravi Pandit, Chairman & CEO
Building on core strength: Pandit's firm has stood its ground

Industry:
Software company

Most investor-friendly move:
1:1 bonus the company provided this year

Share price as on July 17, 2007:
Rs 183.75
Share price as on July 17, 2004:
Rs 39.04
Mid-sized software companies with just around $100 million revenues are supposed to roll over and die or become an acquisition target. This, at least, is the perceived wisdom in an industry where scale is increasingly becoming everything. It is to KPIT Cummins' credit then that it has managed to hold its own, thanks to its sharp focus on its areas of strength. Started by a bunch of professional chartered accountants in 1990, KPIT till recently had Cummins, a maker of diesel and natural gas engines, as its largest client. Even today, nearly 40 per cent of its revenues come from Cummins while simultaneously it has been able to broad-base its revenue by getting other customers.
The expertise KPIT has developed in manufacturing space, including sap package implementation, has clearly meant that it has managed to bag most of the international auto majors as its clients. Such is KPIT's dominance (or dependence, as some would say) in this key vertical that the company gets 77 per cent of its revenues at present from this sector.
S.B. Ravi Pandit, Chairman and CEO, points out, "While it is true that scale is important, mid-sized nimble players like us have several advantages. Clients like the attention which the top management provides in mid-sized companies.
Also because of our focus, we have developed deep domain expertise."
Rolta India
Designs On Growth
From a zero FII (foreign institutional investor) holding company in 2002, Rolta India has come a long way regaining FIIs' confidence. The FII holding in the company stands close to 38 per cent at present, thanks to the company adopting international financial reporting standards.
A leader in GIS & CAD/CAM segment, the company is now graduating from a design and engineering-driven model to a project-driven model, leading to improvement in margins. For the nine months ended March 2007, the company recorded 35 per cent growth in topline to Rs 433.44 crore (Rs 320.37 crore) on a 25 per cent jump in net profit to Rs 129.47 crore (Rs 104.07 crore). Says Hiranya Ashar, CFO, Rolta, "Going ahead, the growth driver for the company will be engineering design space that will account for 35-40 per cent of the total revenue from the current 31 per cent. And the GIS segment will account for 50 per cent of the total growth in revenues." For the year ended June 2008, the company has projected a topline and bottom line growth of 35 per cent each. By 2008, the company has projected to be close to Rs 1,000 crore in revenues with the company growth strategy being two-pronged-organic and inorganic through joint ventures. A step in this direction was taken early this month when Rolta acquired Canadian software company Orion Technology.
SUBEX AZURE
Walking The Talk
A great deal: Menon made sure the company met all its targets



In April last year when Subex Systems, a Bangalore-based telecom software products firm, decided to acquire Azure in a landmark $140-million deal, its first move was to speak to investors and communicate the reasons for the deal and the business plans for the merged entity going forward. "We communicated with our investors to give them specific information on how we would integrate a larger company and the redundancy caused by the integration," says Subash Menon, Founder and CEO of the new entity Subex Azure. The company then followed up to make sure it met all targets.
The deal gave the company access to 23 of the 40 largest telecom companies globally and a combined market share of over 30 per cent in the $250-million telecom revenue assurance market and perhaps more importantly, a global footprint to tackle competition.
While long-term investors have been rewarded with a couple of bonus issues and open channels of communications with the top management, Subex Azure's financials too have been eye-catching. For a company in the slow-gestation (and high upfront investment) software products market, the firm's topline grew 88 per cent for the last fiscal and net jumped 78.5 per cent. While Subex Azure may have been slow to get noticed when it listed way back in 1999, it certainly seems to have caught the investor fancy eight years on.
EMCO
Expanding Horizons
It has a market capitalisation of rs 1,000 crore and has continuously been creating wealth for its shareholders with its share price zooming nearly 600 per cent in the last three years. The stock of the power transformer company EMCO has risen from Rs 124.95 in March 2004 to Rs 825.85 in March 2007. The rise in stock price is on account of sustained growth following product diversification that has seen the company's profit jump 10-fold in the past three years from Rs 4.02 crore in March 2004 to Rs 40.60 crore in March 2007.
What started as a transformer-making business has now become an assortment of businesses like manufacture of electronic energy meters as well as setting up of a project division for undertaking turnkey projects. Says Shailesh Jain, MD, EMCO: "Going ahead, the transformers and turnkey projects in 400 kV range would be the main growth drivers for the company."
The third-largest manufacturer of transformers in the country has also doubled its capacity to 20,000 mva. The foray into other power equipment like switch gears and setting up of power generation plants (270 mw coal-based power generation plant in Maharashtra) will be the future growth drivers for the company. Despite increasing cost, the company is confident of improving its margins. Says Jain: "Better capacity utilisation will improve our margin by 1 per cent from the current 13 per cent".


Maharashtra Seamless
The Quiet Performer
A strong pipeline: Improving capacities has helped Jindal
Saket Jindal, MD, Maharashtra Seamless (MSL), a Raigad-based manufacturer of carbon and alloy steel seamless pipes, believes in generating wealth for all stakeholders and goes about his task quietly. Towards this end, his company set about improving its efficiencies and capacities last year. For the year ended March 31, 2007, MSL's net sales grew 43.44 per cent over the same period last year to Rs 1,394.73 crore. while net profit grew 71.90 per cent to Rs 235.3 crore. To keep its growth engine humming, the company has lined up investment in quality control systems, a move that will give it access to overseas clients, such as Shell and Total.
Jindal Saw
A Pipeline to Returns
In an economy growing at 9 per cent and needing large-scale energy transportation and water and sewage infrastructure, pipelines have to be big business-a reason why Jindal SAW (JSL) is experiencing handsome growth and making its investors happy. "India's GDP growth is passing through a very energy-intensive phase. A 9 per cent growth needs at least 15-20 per cent growth in pipeline infrastructure for oil and gas transportation. So, our business is going to ride on strong growth in the sectors we serve," says Indresh Batra, MD, Jindal SAW, which makes submerged arc-welded (SAW) pipes, ductile iron pipes and seamless tubes.
A part of the O.P Jindal Group, JSL, however, currently derives 75 per cent of its revenues from exports, serving markets like North America and West Asia. For the half year ended March 31, 2007 (October-September financial year), Jindal SAW's net sales grew 38.9 per cent over the same period last year to Rs 2461.9 crore. It's order book stands at about $1.5 billion.
Batra asserts, "We'll never take the risk that we don't understand just because easy liquidity is available." Investors wouldn't mind that at all.
MARICO
Nurturing Investors


Numbers tell the growth story: At Mariwala's Marico
Numbers vouch for the fact that the last five years have been a period of sustained business growth for Marico. For 2002-03, the company turnover stood at Rs 775 crore, while net profits were at Rs 56 crore. For 2006-07, the company's turnover stood at Rs 1,557 crore with net profits at Rs 113 crore. "For about 3-4 years after listing, Marico was perceived as being a commodity company rather than an FMCG company," recalls Harsh Mariwala, Chairman and Managing Director, Marico.
All that seems to have changed now and Mariwala has the numbers to prove it. His company has had a topline growth over the last 26 quarters and the bottom line has consistently grown for 30 quarters. "We are one of the few companies to give out quarterly dividends on a regular basis," says Mariwala.
Investor friendly: Morparia says easy access to information is the key

ICICI Bank
Banking on Transparency
Investor friendly: Morparia says easy access to information is the key
Few can replicate the remarkable run ICICI Bank has had over the past few years. It has a balance sheet size of Rs 2,82,400 crore and recently crossed the one trillion-mark in market capitalisation. The bank's holding company, ICICI Holdings, is estimated to have a valuation of Rs 44,000 crore.The board recommended a higher dividend of 100 per cent for the year ended March 31, 2007, as compared to 85 per cent for 2005-06.
On the bank's investor-friendliness, Kalpana Morparia, Chief Strategy & Communications Officer, ICICI Group says: "One of the key things we have focussed on for over a decade now at ICICI is to provide easy access to information to all our investors on a regular basis."
Firmly set on a growth trajectory, the bank has recently raised over Rs 8,500 crore through a domestic issue for expansion.
ABB (INDIA)
Smart Innovator
Despite playing in a highly regulated market where public sector rivals are often preferred for large contracts, Swedish power and industrial automation giant ABB has managed to grow its order book by 43 per cent, revenues 62 per cent and profits by 69 per cent in the first quarter of its financial (January to December) year. "ABB in India has focussed on profitable and sustainable growth by generating new revenue streams to support the expansion of core businesses. While growing the topline, we have kept a constant watch on our working capital, kept costs in check and maximised operational efficiencies," says Ravi Uppal, VC & MD, ABB India and company's President (South Asia Pacific).
While the company has bagged orders from the likes of JSW Steel, Grasim, kptcl and Delhi Metro in the last few months, it is on this list because of its generosity towards investors, in the form of a 1:5 stock split and regular dividends. "Investors are a key stakeholder group and provide direct capital support. They are part and parcel of the company's fortunes and prime beneficiaries when it comes to sharing the rewards of our strong business performance," says Uppal. With the power sector expected to require investments of over $200 billion by 2012, the good times may have just begun for ABB and its shareholders.
Century Textiles & INDS

A Cord of Trust
Quiz B.K. Birla on the most investor-friendly move his company Century Textile and Industries has made, and the 87-year-old Chairman is quick to reply, "The most significant step has been the successful closure of the composite textile mill in Mumbai."
On the performance front, the company's net sales are up from Rs 503.82 crore in 2005-06 to Rs 592.42 crore in 2006-07 and the net profit has risen from Rs 109.05 crore to Rs 272.81 crore. The dividend has also moved up from 30 per cent to 37.50 per cent.
The next step: "To utilise the 40 acre of mill land meaningfully and profitably," says Birla.

How we did it
Screening
Only those companies that are listed on both BSE and NSE and have more than Rs 250 crore in market capitalisation (as on March 31, 2007) were selected. This was done to eliminate companies with insignificant market value and also to make sure that only companies with high investor interest were selected. A total of 697 companies cleared this stage. Thereafter, only companies that outperformed the BT 50 index over the last three years (not just for three years overall, but for each of the three years-i.e. on a year-on-year basis) were considered. The three-year year-on-year criterion helped ensure that no sudden gainers got into the list. Only 112 companies cleared this test.
Parameters
The first and the most important parameter is the return given to investors, and carries 35 marks (out of 100). This is measured by the share price (adjusted for rights/bonus issues, etc) appreciation for the last three years. The companies that gave more than 1,000 per cent return (total and not annualised) got the full 35 marks. Else, the marks were awarded on a proportional basis.
Second is investor care and carries 65 marks, distributed over four subheads comprising:

Regular dividend distribution. We considered the average dividend payout for the last three years. Companies with over 100 per cent average dividend payout got the full 20 marks, while the ones below 10 per cent weren't given any marks. The others got marks on a proportional basis.


Disclosing shareholder information on time. Companies where the average gap between quarter ending and results declaration date (for the last 4 quarters) was below 10 days, got the full 15 marks. The ones where the gap was more than 25 days did not get any marks, and those who had a gap of 10-25 days, got marks on a proportional basis.


Number of investor complaints. It is natural that big companies with large shareholder base will have more absolute complaints. So we have considered the average investor complaints (for the last 4 quarters) in respect to the public holding (in Rs crore). Companies where the average investor complaints were more than one per Rs 1 crore of public holding did not get any marks. All others, got marks proportionately.


Holding AGM on time. Companies that conducted the AGM within 60 days (of their year financial year ending), got the full 15 marks. And the ones where the gap was more than 180 days got zero marks. Companies with gaps of 60-180 days got marks on a proportional basis.
The sanity test: Companies that scored no marks on any of the above parameters were eliminated, and only those with a minimum average daily turnover of Rs 1 crore (on BSE + NSE) were considered.
(With Kapil Bajaj, Nitya Varadarajan, Mahesh Nayak, Anusha Subramanian, Krishna Gopalan, Mahesh Nayak, Shalini S. Dagar, Krishna Gopalan, Venkatesha Babu, Mahesh Nayak, Rahul Sachitanand, Mahesh Nayak, Ritwik Mukherjee)