It pays to be prudent, and to have State Bank of India as the parent brand. SBI Life Insurance Company Ltd., the 74:26 venture between India's largest bank and France's BNP Paribas Assurance, has also become the largest private sector life insurer after overtaking ICICI Prudential Life Insurance in June.
According to the Insurance Regulatory & Development Authority data for June 2009, SBI Life mopped up new-business premium of Rs 1,072 crore against ICICI Prudential's Rs 807 crore and Bajaj Allianz's Rs 577 crore.
And it did this with an agency and branch network that is less than a third of ICICI Prudential's. Its formula: conservative product designs, methodical expansion and its parent's brand value, at a time when the sector was struggling under accumulated losses brought about by aggressive strategies and the crippling shrinkage of premium income from bread-and-butter unit-linked plans.
In fact, SBI Life did not begin with a big bang across SBI's vast branch network—and used to be criticised for not doing so. It went about training people and putting processes in place. Today, SBI Life sells its products through the 16,000-odd branch network of SBI and its affiliates, its own network of 420 branches and 70,000-odd agents. ICICI Prudential Life, on the other hand, has 2,76,000 agents and 2,100 branches of its own.
While rivals also have multiple channels, it is SBI Life's bancassurance model that has become the benchmark. Anand Pejawar, Executive Director for Marketing, SBI Life, explains that when customers walk into a State Bank branch, the insurance sales pitch is made by familiar faces like the branch or relationship manager, and not by some independent agent given table space. The industry practice is to position an agent of the life insurance arm in the bank to generate leads.
Says Pejawar: "These days when the persistency level among customers has come down and they don't want to put money in unit-linked products, our model works as the customer sees a familiar face on the other side."
Bancassurance contributes 40 per cent to its premium income in the retail segment, and the agency force around 60 per cent. (The force has been expanded eight-fold since 2005 against 2-3 times at rivals'.) Rajiv Kumar Gupta, Executive Director, SBI Life, claims that his agent costs are almost one-fifth of industry levels and agent productivity two to three times that of peers.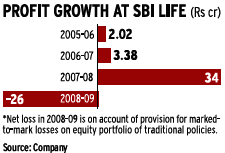 SBI also helped by cross-selling corporate insurance to its corporate clients. The share of group policies in new business premium shot up from 19 per cent in 2007 to 49 per cent today, the highest contribution among insurers. The corporate solutions group, which accounted for 20 per cent of the total premium during 2008-09, came up after the bancassurance network. Pejawar's next target is to integrate 3,200 branches of the regional rural banks attached to SBI on the insurance platform to sell micro-insurance and health products for lower-income groups.
Says U.S. Roy, who has just retired as MD & CEO of SBI Life after a two-and-ahalf-year stint: "The rural and semi-urban areas have large uninsured population. This will be the next big focus area for us." Being a late entrant also gave it an edge in the business of ULIPs, which goes up and down with market cycles. SBI Life has re-aligned its focus on non-market linked products from time to time. In 2006, when markets were roaring, it increased the share of market-linked products from 60 per cent to 70 per cent, but went back to 60 per cent in 2009.
The costs saved by not expanding branches or agents in a big way helped it focus more on offering traditional products like retirement-benefit plans. Roy says being a capital-efficient insurer helped it check expenses and wipe out accumulated losses. So, right now, it's advantage SBI Life.