Highway to high growth
Maytas Infra is well-entrenched in sectors ranging from transportation to power.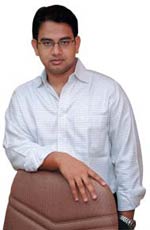 It is the exact opposite of Satyam. And we're talking only about its name. Maytas, which is Satyam spelt backwards, quite like the IT services giant that is today the flagship of the Raju business empire, is in a high-growth sector and doing pretty well for itself, thank you. Maytas started out in 1988 when it was incorporated as Satyam Constructions, but shot into the limelight last month when, as part of a consortium, it emerged as the lowest bidder for a proposed Rs 12,000-crore elevated metro rail system in Hyderabad that will be constructed on three corridors of 71.16 km.
But its biggest break came in 2000, when it won the bid to build a part of the Rs 1,500-crore, six-lane Mumbai-Pune expressway. It hasn't looked back since. "Our order book stands at around Rs 11,000 crore in construction; in BOT, we are today involved in projects worth around Rs 20,000 crore," says B. Teja Raju, Vice Chairman of Maytas, and son of Satyam Computer Services Chairman B. Ramalinga Raju. In BOT, it is present across sectors like transportation and power.
Long distance runner
Nagarjuna Construction has made a seamless transition, and it shows in its heady growth.
It first hit an annual turnover of Rs 100 crore in 1995. A decade later, it crossed the Rs 1,000-crore mark. The latest annual report card of Nagarjuna Construction Company (NCC) reveals that the Hyderabad-headquartered construction major closed the year ended March 31, 2008 with a net profit of Rs 162 crore on a top line of Rs 3,478 crore.
NCC has a presence across nine verticals, ranging from water and irrigation to buildings and housing to oil and gas and power. That translates into an order book valued at Rs 12,500 crore at present. Thanks to its rapidly expanding order book, NCC has steamed ahead at a compounded annual growth rate of 36 per cent over the past five years. The company is currently involved in 10 BOT projects in consortia with other companies. Says A. Ranga Raju, Managing Director, NCC: "We hope to grow at a 25-30 per cent cumulative average rate over the next 3-4 years...we can touch a turnover of Rs 10,000 crore in four years."
Eyeing the big league
IVRCL Infrastructures has set a dizzying pace of growth.
Rs 10,000 crore in top line in three years— that's the target IVRCL Infrastructures & Projects has set for itself. That would appear daunting at first glance for this Hyderabad-based infrastructure major, which closed last year with revenues of Rs 3,698 crore.
But a look at its compounded annual growth rate over the past four years—of 52 per cent for top line and 55 per cent at the post-tax profit level—reveals that the goal is possible.
That is quite a pace for a company that five years ago would call a Rs 200-crore project its biggest. Today, the biggest is a little over four times that figure.

It has just bagged a Rs 837-crore turnkey project from ONGC. Says E. Sudhir Reddy, CMD, IVRCL Infrastructures & Projects: "We have reached a stage where we do not need to associate with a foreign company for Rs 1,000-crore projects just for the strengths of its balance sheet. We are now building our project management and design skills by leveraging our subsidiary Hindustan Dorr Oliver.''
High-octane growth
Developing highways and ports as well as generating power go hand in hand for Lanco Infratech.
In 1964, when Lagadapati Amarappa Naidu decided to switch from the agri-business to construction, little would he have thought that his company, under its second-generation leadership, would talk big numbers and grab national attention in construction and infrastructure development.
Lanco Infratech (LAN in Lanco being the initials of the patriarch's name), which has L. Madhusudhan Rao as Chairman (he is Naidu's nephew), closed the year ended March 31, 2008 with income of Rs 3,241 crore, a net profit of Rs 354 crore and a construction and EPC order book of Rs 13,017 crore.
Lanco shot into the limelight in June 2006, when it outbid Reliance Energy and Essar Power to bag a 1,200 MW thermal project at Anpara in Uttar Pradesh (initially it was 1,000 MW). A consortium of which it was a part also bagged a 4,000 MW ultra-mega power project at Sasan in Madhya Pradesh. Lanco, however, eventually lost it to Reliance Energy when its Singapore partner, Globeleq, exited power generation.
But that hasn't dampened Rao's ambitions in power. According to the company, its portfolio includes an operating capacity of 518 MW and a little over 8,000 MW that is under implementation. And there's more than just power. Lanco is also developing 163 km of national highways on a BOT basis and has won a bid to develop a major transhipment container port in Kerala.
Flying high
Airports, roads, oil & gas, mining, ports… GVK wants a piece of all the action.
Gunapati Venkata Krishna Reddy or GVK, the man behind his eponymous group, began his entrepreneurial career as a small-time contractor in the '50s. But it was in the third quarter of 1990 that GVK hit its first major milestone. His group bid for the Rs 817-crore Jegurupadu Phase I Power Project.
"Winning that project changed the entire face and focus of GVK," G.V. Sanjay Reddy, Vice Chairman of the Group and Director of GVK Power & Infrastructure, recently told BT. GVK Power & Infrastructure went on to execute a major project for the National Highways Authority of India (NHAI)—the Rs 614-crore Jaipur-Kishangarh Expressway.

The scale of GVK's operations got even bigger in 2006 when it was awarded a contract to modernise the Mumbai airport. That's estimated to call for an outlay of Rs 9,800 crore, and is slated to be completed in December 2012.
GVK also has aggressive growth plans in the oil & gas, mining, ports and urban infrastructure sectors. It is now focusing on captive and merchant power opportunities and also preparing to transmit and distribute power. In oil and gas, it is developing seven deepwater blocks that were awarded to it, in partnership with global players, in Round VII of the New Exploration Licensing Policy.
On the right track
Madhucon Projects wants to emerge as an integrated infrastructure developer.
The mid-'80s was when Madhucon Projects saw a giant opportunity to earn its spurs. That's when the Hyderabad-based construction firm got a piece of a once-in-a-lifetime project—the Konkan Railway, which was built along the west coast of the country. Madhucon laid 9 per cent of the total rail link.
In the late '90s, Madhucon got involved with the NHAI's Golden Quadrilateral project—it rolled out 360 km of road, or around 7 per cent of the project (which connects the four major metros via four and six-lane expressways). These were prestigious assignments, but not enough to propel Madhucon into the big league—till a decade ago, it had revenues of Rs 34 crore.
Things are a bit different these days. Madhucon closed 2007-08 with a bottom line of Rs 52 crore, on a top line of Rs 738 crore. In five years, it hopes to touch a turnover of Rs 5,000 crore. Says Managing Director Nama Seethiah: "We hope to get more into EPC and BOT projects. For instance, in roads alone, the target is to build 1,000 km over the next three years.''
The developer's edge
Why is Gammon Infrastructure more valuable than its parent company?
Figure this out: Gammon Infrastructure, a 76 per cent subsidiary of Gammon India, has a net profit that is less than a fourth of its parent's. Yet, its market value on the stock exchanges is three fourths that of the flagship. There's a rather simple explanation for this: the markets see more value in an infrastructure developer (read Gammon Infrastructure) than a pure contractor.
That's precisely why the management of Gammon India chose to spin off Gammon Infrastructure, which undertakes BOT projects, into a separate company. "There is more value in being an infrastructure developer than a contractor," avers Parvez Umrigar, Managing Director, Gammon Infrastructure. That's because operating margins in BOT projects can be as high as 90 per cent; in construction, they're 20 per cent.
Gammon Infrastructure has taken up BOT projects in roads, ports, container terminals and power. Umrigar expects to take Gammon Infrastructure's revenues up to Rs 500 crore in three years from around Rs 160 crore in 2007-08.
Collecting the cream
IRB Infrastructure Developers is a major operator of toll roads.
Thirty years ago, the IRB Group entered the road construction activity with a privatelyheld company, Ideal Road Builders. But once it moved beyond building roads, it was made a subsidiary of IRB Infrastructure Developers, which claims to be one of the biggest operators of toll roads, with some 800 km under its belt. "IRB has experience in building and maintaining roads, and shifting to BOT road projects was the next step," says its 37-year-old CMD Virendra D. Mhaiskar.
The prominent toll roads IRB has on its hands include the Mumbai-Pune Expressway, along with two highways that connect Pune with Sholapur and Pune with Nashik. The company also recently bagged toll collection rights for a 239-km highway between Mumbai and Surat. "Currently our toll collections are Rs 1.2 crore a day, and from next year, it will be Rs 3 crore," says Mhaiskar.

In 2007-08, IRB's revenues of Rs 785 crore were equally split between construction and BOT projects. When executing BOT projects, IRB functions as a holding company, and each project is spun off into a special purpose vehicle (SPV). These separate entities help diffuse risk and make capital-raising simpler.

To further mitigate risk, the company is looking at developing the area around highways. For instance, along with road development in Kolhapur city in Maharashtra, IRB has taken on a 99-year-lease a 30,000 sq. metre plot.