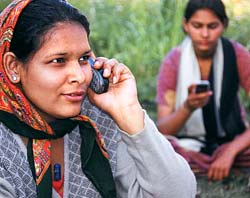 The Indian Telecom Industry is one of the fastest-growing Telecom markets in the world, with a huge potential to expand in the wireless segment. Teledensity is up from 18 per cent to 24 per cent over the last year.
However, aggressive subscriber growth of over 40 per cent could not curtail the southward trend for the industry ARPU, which declined by nearly 8 per cent to 10 per cent during July-September 2007.
Passive infrastructure (PI) witnessed significant activity with most telcos hiving off their assets into a separate company in order to create value. Addition of new players coupled with the fast-paced evolution of PI will make the industry more competitive.
Therefore, the success of the service providers will depend on their ability to provide differentiated service levels and products, diversification of the existing voice-dominated revenues and ability to use innovation to reduce costs. The industry witnessed the largest deal with Vodafone's acquisition of Hutchison Essar for $18.6 billion (Rs 74,400 crore).
Corporate impact
"We believe that the thrust on rural India will complement Airtel's rural roll-out strategy. The customers and revenue we are planning from there will surely be achieved soon"

— Manoj Kohli

BPL Mobile: A reduction in the project import duty is expected to benefit new telecom service providers like BPL Mobile, Videocon's subsidiary Datacom Solutions, Unitech and others, who would be rolling out their services nationwide


Nokia: Manufacturers of handsets like Nokia and others will benefit from the reduction in CENVAT from 16 per cent to 14 per cent.


Bharti: A cut in the excise duty on convergence products, which bundle broadcasting and data services together, is expected to boost the sales of makers of such products
Sectoral impact
Cellphones to be costlier as a 1 per cent National Calamity Contingent duty (NCCD) has been imposed


Price of telecom software may be affected as excise duty on packaged software has been increased from 8 per cent to 12 per cent. A new category of service has been proposed. And services such as study, design, upgradation, consultancy, acquiring right to use (even electronic download), in relation to IT software have been brought under the service tax net


Wireless data modem cards have been exempted from payment of excise duty. Further, excise duty has been reduced from 16 per cent to 8 per cent on specified convergence products which is likely to bring down prices


Rationalisation in the Cenvat Credit utilisation scheme has been proposed, which would have significant benefit for telecom operators and the telecom industry in general