The 2007 list: How are they doing?
24X7 Learning Solutions:
The Bangalore-based e-learning solutions company raised $4 million from Capital 18 in November last year to fund its expansion plans, including the establishment of 400 centres across the country.
Adventity: The Norwest Venture-funded company has just opened its Chennai centre and forayed overseas by unveiling its Dubai operations as well. The company has a headcount of over 4,000 and says it will double this in the next 12 months. Adventity is also looking to expand its footprint overseas, besides going public in the third quarter of 2008-09.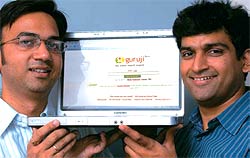 Guruji.com:
Since its launch two years ago, this local search start-up has got 10 million users, claim its founders. An ad-serving revenue model was launched in February this year, with Guruji earning revenue per click from advertisers on its site. It recently launched its mobile search solution and will soon close its second round of funding.
Jigrahak:
This mobile services startup began with just low-cost carrier Air Deccan as its anchor customer, but has since expanded its business to cover travel, entertainment, banking and bill payments. Today, JiGrahak has 25 partners for its NGPay mobile commerce platform and claims to be adding 15 partners a month to this list. At the same time, user base is growing at 1,000 a month and will soon cross 100,000, say company officials.
Asia Cryo-Cell: Renamed LifeCell recently, the Chennai-based stem cell bank opened a new centre in Indore in March this year and tied up with US-based Cryo Cell to collect stem cells from menstrual blood. It expects to have 50 centres soon.
Nautanki.TV: From being an online video channel, Nautanki has expanded its focus to look at games, with an application developed with gaming site games2win, available across 2,500 sites and blogs.
Seventymm: It kicked off consolidation in the online movie rental business by acquiring Delhi?fs Madhouse Media in July last year. It has also tied up with Palador Pictures to introduce foreign language films from cult directors such as Akira Kurosawa to Indian audiences.
UFO Moviez: The company has crossed 1,000 installations in the country and as part of its aggressive expansion plan, has begun to open up SEC B and C towns with its digital projection systems.
Drishtee: The six-year-old company has expanded its service by starting a pilot rural BPO programme in a village called Saurath and has also expanded its partner list to include the likes of Amaron for batteries and it claims to employ around 1,500 people and reach 1.5 million villagers through its network of partners, including Microsoft.
Onyomo:
The mobile search startup has expanded its reach to nearly a dozen cities and has tied up with the likes of iXiGO, a travel search portal to expand its reach. It has launched new services such as SMS search and Text It, which allows users to message the contact details of a specific outlet to a mobile phone.