Last fortnight, amid a light drizzle, and with Beethoven's Fifth Symphony playing, Delhi Airport acquired its third and the country's longest runway. Among those present was an appreciative Civil Aviation Minister Praful Patel, top bureaucrats and executives from developer GMR Group, including G.M. Rao himself. The cause for celebration: The third runway made Delhi one of the few airports in Asia to have one. The icing on the cake: it was completed about six months ahead of schedule. And it is one of the few demonstrable examples of partial success of the much-hyped policy of public-private partnership (PPP). Civil aviation and telecom are the tiny glimmers in an otherwise gloomy infrastructure story for India.
Infrastructure seems to be one area where India as a country finds it almost impossible to deliver on the scale required. Many projects are delayed at the conception stage itself. Getting subsequent regulatory approvals is a maze in which many infrastructure providers have got stuck.
Why should this be so? After all, there is a ready market of infrastructure users who have time and again demonstrated their willingness to pay; the private sector's capacity to fund and execute projects is hardly in doubt and even the government, at the highest level, believes infrastructure is the mantra for double digit growth (a government committee reckons India will need $500-billion or Rs 22 lakh crore investments in the sector during the 11th Five Year Plan).

Why, then, is service still not delivered? It is the nature of the animal, believes Gajendra Haldea, advisor on infrastructure to the Deputy Chairman of the Planning Commission. In infrastructure, he says, the commandand-control psyche survives despite the end of license raj.
"…state-owned monopolies continue to dominate different infrastructure sectors and the main resistance to change comes from their contract raj," he says. That may well be the immovable force permeating the entire sector as roughly 70-80 per cent of the infrastructure spend is through the public sector.
Hit by roadblocks
Delays in land acquisition and regulatory approvals occur frequently
Air ports
Project: Mumbai International Airport
Value: Rs 7,000 crore
Power
Project: Reliance Power's Dadri Power Project
Value: Rs 22,440 crore
Shipping infrastructure
Project: Jawaharlal Nehru Port Trust (IV Container and Marine Chemical Terminal Project)
Value: Rs 4,600 crore
Roads
Project: Kerala High Speed Corridor
Value: Rs 7,000 crore
Project: MSRDC Mumbai Trans Harbour ink
Value: Rs 6,000 crore
Special Economic Zones
Project : Reliance Mumbai Integrated SEZ
Value: Rs 4,800 crore
Hyderabad Metro Rail
Project: Hyderabad Metro Rail
Value: Rs 12,100 crore
Source: Projects Today, July 31, 2008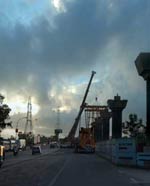 "Unless there is a strong CEO driving it (example E. Sreedharan at Delhi Metro and Konkan Railway and R. C. Sinha and Nitin Gadkari for the Mumbai-Pune Expressway), the nature of the usual government contract often leads to a perverse incentive structure that rewards delay and cost escalation, rather than on-time performance," says Shailesh Pathak, Senior Director, Investments, ICICI Venture, who himself has been in the public sector for 16 years.
In fact, ICICI Venture will shortly launch a Rs 6,000-8,000 crore equity fund for investments in infrastructure projects over the next four years.
Naturally, then, the private sector has been welcomed to bring efficiency and accountability—along with 20-30 per cent of the funds needed. And PPPs have become the buzzword.
Yet, as an exasperated Ajit Gulabchand, Chairman and MD, Hindustan Construction Company, says: "The handshake has to be a good one." He cites an example: according to the NHAI, any increase in taxes after the award of the contract would be reimbursed. Yet, the same has been challenged right up to the level of the Supreme Court. Such uncertainties are additional risks, and the private sector abhors non-quantified, unmitigated risks. According to ballpark industry figures, roughly Rs 75,000 crore worth of infrastructure projects are stuck due to disputes.
Pradeep Singh, Vice President and MD, IDFC Projects, says both the public and the private sector try to play "cute and clever" with each other. "There is inadequate appreciation and identification of the risks…To encourage private sector investments, these must be allocated upfront in a transparent manner," he says.
The private sector is wary of taking the huge risks alone. Take land acquisition—the biggest factor delaying large-footprint infrastructure projects. Lagadapati Madhusudhan Rao, Chairman, Lanco Infratech, says: "Most major power projects require 1,000-2,000 acres and they need to be near highways, railways and water sources (up to maximum of 15 km away). All of this cannot be left to the private developer. There is need for government support here." Yet, land acquisition is a messy affair even for the government and needs long-term sustainable solutions.
Environmental clearances still play havoc, more often than not. E Sudhir Reddy, Chairman & MD, IVRCL Infrastructures & Projects, recounts how the likelihood of there being a rare bird in the Budwel region of Cuddapah in Andhra Pradesh got the company into trouble during its work on an irrigation project. Company executives were jailed and equipment worth Rs 5-7 crore was seized. "For the next nine months, it was just visits to the courts, spending on court fees, spending man hours on getting the people freed and our equipment released," he says, yet again pointing to the need for a greater government role in such issues.
Transparent rules and frameworks, with clear division of responsibilities between the two partners, are imperative for the success of PPPs. Here, Vinayak Chatterjee, Chairman of infrastructure consulting firm Feedback Ventures, says the government needs to play a crucial role in structuring or "cooking" bankable projects. "The private sector is willing to be the change agent. Yet, it needs a framework to operate in," says Chatterjee.
And that framework has to be provided by the government— that is what the many failed and some successful projects have shown. Where the framework is clear and transparent with defined risks and returns, the private sector response has been overwhelming. Initially, private road operators were unwilling to take the market risk of tolling.
Infrastructure deficit
Highways: 66,590 km of National Highways carry 40% of traffic; but only 12% are four-laned
Ports: Inadequate berths, low drafts and poor rail / road connectivity add
Airports: Inadequate runways, aircraft handling capacity and terminal buildings cause congestion
Railways: Old technology, slow speeds, saturated and low payloads curb operations and growth
Power: 14% peak deficit, 10% energy shortage, 40% transmission and distribution losses
Telecom: Despite its obvious success, telecom services access only 18% of the addressible market
Once the annuity projects demonstrated the manageability of that risk, their aversion has gone down. But the list of bankable projects is not too long. "Should we not have had a larger volume of cooked projects farmed out to the private sector than what we have managed to do?" asks Feedback's Chatterjee. Is there a lack of will? People like Haldea debunk the idea. "Which politician does not want to be associated with development?" he asks. Yet, development does drop off the agenda in the face of political exigencies. Despite having well-intentioned, competent people at the helm, the record of the UPA government has been sub-optimal. The same NHAI, which was delivering a few kilometres of road every day during the NDA regime, is now almost immobilised.
There are other examples of delivery backed by will and determination to get things done. When bureaucrats were allowed to take complete ownership of projects and given full autonomy by smart political masters, the performing ones worked wonders.
M.V. Subba Rao, Director, GMR Energy, says: "It is important that bureaucrats handling government infrastructure projects are retained till the project is completed. Changing them midway slows down projects." Moreover, there has to be a means of institutionalising freedom as happened in case of NHAI's creation or, indeed, in the case of the formation of Delhi Metro Rail Corporation (DMRC) as a joint venture.
So, what is the way out? Haldea believes the easiest way to improve efficiency in the sector is through the demonstration impact of PPPs and by increasing competition in different sectors. Singh of IDFC Projects agrees. "Our best hope is not in the government improving but in it becoming less relevant."
However, as the macroeconomic situation becomes tougher, it is not going to be easy to entice private capital into infrastructure projects. "For every percentage point increase in interest rates, the internal rate of return for the infrastructure projects drops drastically," says Gulabchand. Add to that the absence of deep and liquid long-term debt markets and even the capital that is sitting on the shelf waiting to be invested suddenly looks more remote. Infrastructure necessarily needs long-term funding, and most current financiers do not have lending horizons beyond 10 years.
Then, there is apathy at the state level even though half the public spending in infrastructure is happening there. "A large number of infrastructure PPP projects are in the states and without their active participation, it will not be possible to achieve satisfactory results," says Somak Ghosh, President, Corporate Finance & Development Banking, YES Bank. A few dynamic chief ministers could change the climate.
Standardisation of bid documents, processes and issues will help (too much can kill: at Ennore Port, the bid process eliminated two major global port operators at the technical stage itself). Less competition at the financial bid stage is hardly a desirable outcome. Yet, it is early days for the PPP process. And the hope is that we are learning. The question is: are we learning fast enough for an economy growing as fast as India's?
(Additional reporting by E. Kumar Sharma and K.R. Balasubramanyam)
Movers wanted
The public sector delivers when there is a happy confluence of political will, determination and bureaucratic autonomy. Here are some examples.
E. Sreedharan MD, Delhi Metro Rail Corporation
Why: Delivered a world class metro in a city rife with political interference. And managed to do so with minimum trouble for citizens.
Key takeaway: Autonomy through joint ownership of state and central governments helped.
Sudhir Kumar, Officer on Special Duty, Railway Ministry
Why: Has helped turn around the mammoth public sector organisation. Has managed to leverage public resources to invite private investment in rail infrastructure.
Key takeaway: Complete backing from political master, Railway Minister Laloo Prasad Yadav created wonders. Political mandate and economics do mix but through careful thought, says Kumar.



R.V. Shahi,former Power Secretary
Why: Managed to put together (or cook, as some infrastructure experts say) the ultra mega power projects which received immense private sector interest and subsequently investments.
Key takeaway: Shahi's own intimate knowledge and experience in the private sector led to appropriate structuring of the projects
Deepak Dasgupta, former NHAI Chairman
Why: Managed to kickstart the ambitious National Highways Development Programme.
Key takeaway: Careful planning matters—whether it was the highways cess or the innovation of annuity-based projects.