This year, Business Today and YES Bank decided to add two categories and drop one, as well as use the turnover yardstick (size) to create elbow-room for the small and the medium enterprises within each category. The result was a list of seven categories, against six last year. The new categories are International Trade and Best SME in the Northeast.

The process of inviting applications was launched on June 1 this year, with the target being small and medium enterprises with a turnover of below Rs 200 crore. This universe has a population of around 200,000. We used advertisements in the print media, e-mails, letters and phone calls. The response was a staggering 64,000 applications across categories. Then followed the task of making a shortlist based on the parameters for each category. And no, we did not use lucky dips or darts to arrive at the shortlist or 15-25 companies in each award category.

In Round II, we invited detailed applications from the shortlisted candidates, and drew up a list of three companies in each award category. In this process, we considered only those applications that reached us by the deadline with the financial data that we had sought. For example, all companies here had reported a growth in turnover and profitability over the two years, together with an increase in net worth. No audited balance sheet? Sorry. Next please.

The jury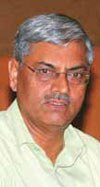 There were specific criteria for the different categories. For example, to compete in the innovator category, a company needed to have spent at least one per cent of its turnover on research and development, and also furnish a record of the number of patents applied for or received. For companies in the CSR, or corporate social responsibility, category, it was the spending on CSR that counted, and for the international trade category, we looked at the foreign exchange revenues as a percentage of turnover (at least 30 per cent for big SMEs and 10 per cent for small ones).
This final shortlist was given to the jury, which consisted of eminent personalities. The members were: Dinesh Rai, Secretary to the Ministry of Micro, Small and Medium Enterprises (since retired); Dr Amit Mitra of the Federation of Indian Chambers of Commerce and Industry (FICCI); Parag Patki of SMERA, or the SME Rating Agency of India; Vishnu R. Dusad of Nucleus Software; and Rana Kapoor, Founder, Managing Director and CEO of YES Bank.