Well Connected
On the glass ceiling:
In my view, the glass ceiling is a myth. However, it is generally much harder for women to get to the same role/responsibility as men… I firmly believe that women can aspire to any role they want to. Each individual has the power to make more of an impact than he or she thinks possible. As a society, we need more women to aspire to top roles and make the path easier for others to come
Kirthiga Reddy, 42, who was Facebook's first employee in India and set up its India operations, says her company believes in investing in women, and has hired some women leaders even while they were pregnant. She is currently relocating from Hyderabad to Mumbai as she leads Facebook's global marketing solutions teams in India. She is playing a key role in building and maintaining strategic relationships with agencies and clients. "There is an increasing shift from seeing Facebook as a community-building platform to one that drives business objectives," she says. "My goal is to partner with brands to understand their objectives and challenges and see how Facebook can help them." An MBA from Stanford University, she is also Vice Chairman of the Internet and Mobile Association of India. As of end-June, Facebook had 82 million monthly active users in India.
E. Kumar Sharma
Forever at Work
On the glass ceiling:
Glass ceiling does not exist in India Inc. As one gets into senior management positions it's not about the glass ceiling that one has to worry about but the lack of mentorship. You need people to guide you and take you to the next level

With economic and political conditions deteriorating rapidly, Archana Hingorani, CEO and Executive Director, IL&FS Investment Managers Ltd, has helped steer the fund to focus its investments on new emerging opportunities, as well as appropriate follow-ons in existing investee companies. "The mandate was to ensure that these investments had the capacity to succeed in a highly challenging economic environment," says Hingorani, 47. IL&FS recently invested Rs 1,200 crore across infrastructure and real estate verticals. In 2012, IL&FS launched its first Middle East-focused infrastructure fund to aggregate resources of $300 million. Work for her is intellectual stimulation. "We are working 24x7. The BlackBerrys make sure that we are on the job, all the time," she says.
Sarika Malhotra
Prized Stock
On the glass ceiling:
Women have known about glass ceilings in the Executive suite and throughout all levels of the workforce. The barriers exist at all levels of an organisation and affect people, both men and women at different levels in various industries. So, women have as much opportunity to immerse themselves in work, work with commitment, bring in their unique strengths and move up the corporate ladder. We have seen enough examples of that in India Inc. and I think we should celebrate those successes instead of flogging the glass ceiling issue
In April this year, Chitra Ramkrishna, 50, who has been with the National Stock Exchange (NSE) since its inception in 1994, became its first woman Managing Director and CEO, indeed the first such at any Indian exchange. She believes in leading from the front. "We are trying to create a workforce that is multicultural, multigenerational and has equipoise leadership," she says. As for her responsibilities, she certainly has her work cut out, with the Bombay Stock Exchange, NSE's closest rival, trying to bring back its glory days, and the new exchange MCX-SX already commencing operations earlier this year. The glass ceiling does not bother her. "Women have known about glass ceiling barriers, but we should celebrate the successes instead of flogging this issue," she says.

Mahesh Nayak

Big Is Beautiful
In a dismal economic climate where everyone is being cautious, Kaku Nakhate, President and Country Head India, Bank of America Merrill Lynch, talks about expanding. Unwilling to follow the herd, all the more over the past year, Nakhate, 47, is now looking at just the biggest deals. "We don't want to be in every small deal," she says. Well, no deal has been written about more in the last few months than the one involving Jet Airways and Etihad, in which Bank of America Merrill Lynch played a major role. A smaller, but in no way less important, one was the Apollo Tyres' acquisition of Cooper Tires, a rare US acquisition by an Indian company.
Suprotip Ghosh
Feathers in her Cap
Work is:
Results and success

Under CEO Aruna Jayanthi, Capgemini India saw a significant revenue increase of more than 16 per cent in 2012 and added nearly 8,000 people at a time when many companies slowed hiring because of the poor macro-economic climate. The French IT company's Indian arm also won landmark deals, one of which was completely engineered out of India. In July 2012, the company took over the operations of German chemicals and pharmaceutical company Bayer's captive IT unit in India. As Jayanthi, 50, puts it: "Any deal that Capgemini does today, doesn't happen without India playing a significant role."

Goutam Das

Art of Gold
I, Me, Myself:
A self- starter with a belief that most things are possible
When Neha Kirpal, 33, started the India Art Fair - today the world's second-largest art fair in terms of footfalls - in 2008, it had only 34 galleries, 10,000 visitors from just two countries and was held in a 3,000 sq. metre venue. The 2013 edition had 105 galleries, 90,000 visitors from 24 countries and was held at a vast 21,000 sq. metre venue. It garnered revenues of Rs 10 crore. "In the last two years, there has been a surge in corporate sponsorship. Companies see the art fair as a platform to target HNIs (high net worth individuals)," says Kirpal. She expects revenues of Rs 12 crore from the 2014 edition. As for work-life balance, few manage it better than her. "I delivered my baby in October 2012 and delivered the art fair in January 2013," she says.
Dearton Thomas Hector

Sage Advisor
Biggest advantage of being an MPW
Even people outside the finance world recognise me
There are top industrialists consulting her all the time, on every financial matter from investing to restructuring. "Conserve cash, that is what I tell my clients," says Zarin Daruwala, 48, President, Wholesale Banking, ICICI Bank. The bank's domestic corporate loans stood at 32.5 per cent on March 31, 2013, as compared to 28.6 per cent last year. Net interest income from the wholesale banking segment rose 38.7 per cent to Rs 6,846 crore. The biggest challenge, says Daruwala, is "to ensure that clients do what we recommend in this challenging environment". Away from her job, she loves to read, especially on flights. The last book she read - Great by Choice by Jim Collins - discusses companies that have weathered crises.
Suprotip Ghosh
Promoting Choice
On the glass ceiling: :
It's not a ceiling. It's like a game of snakes and ladders. It's up to the women to navigate and find a way through the barriers in their career and move ahead. The snakes can vary - it could be work-life balance being affected or organizations inherently unfriendly to women. It is not just about dealing with men who perceive women as a threat.

In 2012, while still with Hindustan Unilever, Leena Nair introduced the innovative 'Career by Choice' programme to enable women who had dropped out to return to work. She brought back 28 such women, improving the gender balance in the organisation. Nair, 43, now London-based Senior VP, Leadership and Organisation Development at parent company Unilever, also has the distinction of being the first woman at HUL to deal with employee relations in a factory. "Before my (current) assignment not many knew me, but the fact that I had the MPW recognition, gave them the confidence I could deliver," she says.

Sarika Malhotra
Highly Rated
Biggest advantage of being an MPW
It enables me to make a difference -- whether it is bringing transparency to markets, helping small enterprises improve their access to funding, or running financial literacy initiatives in North-East India through our Pragati programme
In the past year. CRISIL Ltd has rated more than 10,000 small and medium enterprises, improving their chances of accessing funding from banks. But the challenge for Roopa Kudva, MD and CEO, remains that of "the difficult economic scenario and managing international expansion" during it. CRISIL has also launched Inclusix, an index that tracks financial inclusion in each of India's 630 districts. This non-profit exercise is the country's first attempt at calibrating financial inclusion. In her spare time, Kudva, 49, likes reading biographies and autobiographies. "I am interested in people and what makes them tick." The one that made the deepest impression was a biography of the late Yehudi Menuhin, the celebrated American conductor and violinist.
Suprotip Ghosh

Bright Spark
In 2006 the Godrej Group, under the leadership of Executive Director and Chief Brand Officer Tanya Dubash, kicked off an ambitious brand valuation exercise. Dubash, 44, identified four segments - consumer products, furniture, appliances and properties - and decided to promote them as the group's 'hero' categories, which provide 'brighter living' to its consumers. In the past year, Dubash has taken the brighter living positioning a step forward by introducing an 'innovation' quotient - the most innovative consumer offerings would come from the group. The company's new ad campaign, 'Ideas that Make life Brighter' says it all.
Ajita Shashidhar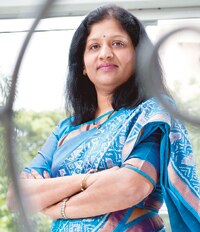 Capital Performance
On the glass ceiling:
Glass Ceiling is a reality in India, although not in ICICI as is evident from the fact that our MD & CEO is a woman. However, that's the feeling one gets while interacting with women across sectors and segments. But with more women coming into the workforce, gradually things should change for the better

Raising capital comes naturally to Vishakha Mulye, Managing Director and CEO, ICICI Venture Funds Management Company. From 2005 to 2007, she was the Chief Financial Officer at ICICI Bank - under her the bank raised close to $7 billion in equity capital and several billion dollars in debt financing. Mulye, 44, finds raising capital in the post-Lehman world "tough yet truly satisfying" and insists that private equity investment "is a long-term game". In 2012/13, she led investments worth $100 million, including a couple in the beleaguered real estate sector. And even as fund raising and exits became increasingly difficult, she helped raise funds worth $500 million and had an impressive $125 million worth of exits the same year.
Sarika Malhotra
Unchallenged
"A good year" is how Vinita Gupta, Group President and CEO at Lupin Pharmaceuticals, describes her company's performance at a time when unsettling news was the key takeaway for pharma companies. Lupin grew by an impressive 35.9 per cent globally and 24 per cent in India. New product launches helped it grow its generics business by 52 per cent, making it the sixth-largest generics pharmaceutical company globally by market capitalisation and the third-largest Indian pharmaceutical company by revenues. "I can't think of any challenges that affected Lupin's performance during the last fiscal year," says Gupta, 44. The company's strategy now is to focus strongly on building its branded business globally.
Manisha Singhal
Raising a Reputation
I, Me, Myself:
I am a person with integrity who holds high ethical standards. I'm also someone with high expectations who strive in every aspect in life

At a time when banking stocks are falling due to liquidity tightening by the Reserve Bank of India, Vedika Bhandarkar, Vice Chairman and Head of Investment Banking, Credit Suisse, managed to raise close to Rs 1,840 crore for ING Vysya Bank. Indeed, the money came in at a premium of Rs 611 per share against the market price of Rs 605. In the last 18 months, Bhandarkar, 45, has been involved in some 16 deals, the most important being the one where she helped Thomas Cook sell its India business. "Clients have long memories and they keep in mind who has delivered what. You have to come up with ideas that catch clients' attention. Walk-in business is very rare in our business," she says.
Mahesh Nayak
Hard Work in Lean Times
Biggest advantage of being an MPW
It provides you with a platform to influence change
The past six months may have been quiet for Indian equity markets, but not for Aisha de Sequeira, 43, Co-Country Head and Head of Investment Banking at Morgan Stanley, and her team. While last year she was busy advising domestic clients such as the Vedanta Group on restructuring, this year she has been deeply involved in M&A advisory, what with Morgan Stanley holding a 30 per cent market share in cross border transactions in the past five years. She feels that despite the current volatility, India is strategic and has become important for global corporations.

Mahesh Nayak