Gadgets and Gizmos lists tech gadgets and accessories launched in the market in February.
Lenovo A6000
Lenovo Recently launched India's cheapest LTE smartphone, the A6000. It is powered by the 1.2GHz 64-bit quad-core Qualcomm Snapdragon 410 processor along with Adreno 306 GPU , 8GB internal memory, 1GB RAM and a 2300 mAh battery. The device has an 8MP rear camera along with a 2MP fixed focus front camera. Running on Android 4.4 KitKat OS, it has two SIM slots.
Acer One
Acer has unveiled its new 2-in-1 Acer One notebook cum tablet. This machine comes with four modes for touch, typing, viewing, and sharing at any time. Running on Windows 8.1 operating system, it has got a 10 inch HD Display and Intel Quad-core CPU. It has got 32GB onboard storage and will be available in two variants -1GB and 2GB RAM.
Price: Rs 19,999
Strontium OTG IDrives
Strontium Technology has launched a new line of drives -Strontium 128GB NITRO UHS-1 (U1) microSDXC flash card, Strontium On-The-Go (OTG) USB flash drive 3.0 and exclusive Strontium iDrive 3.0 (external storage for iPhone 6 and 6+).These external storage drives are designed for iPhones and iPads allowing users to store and transfer data between iPhone, iPad and Mac/PC without needing any cable. Up to 960 minutes of HD video, 26,208 photos or 16,000 MP3 songs can be stored in 64GB iDrive and played directly on iPhone or iPad. It is available in 16GB, 32GB and 64GB capacities and comes with 2 years Strontium Limited Warranty.
Price: Rs 17,999 and Rs 20,999
Hike Calls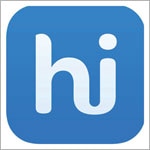 Hike Messenger has introduced a new feature, Hike Calls. The introduction of this feature will allow hike users to call each other for free, over 2G, 3G and Wi-Fi and across the globe in over 200 countries. Hike calls are optimized to consume very little data, giving its users more calling minutes per MB of data.
Asus FonePad 8
Asus has la unched an 8inch tablet with 3G functionality. This Android tablet has got a display with 1280x800 pixel IPS panel and dual front speakers. It is equipped with a 64-bit quad-core Intel Atom processor Z3530 1.33GHz that can run the latest apps and games. Built-in 3G connectivity and dual SIM slots provide crystal-clear voice calls. Fonepad8 is available with 16GB of onboard storage, which can be further expanded with up to 64GB of Micro SD Card storage. It has got a 4000 mAh battery.
Price: Rs 13,999
LG Inverter V Air Conditioner
LG El ectronics has announced the launch of its new range of air-conditioners, the Inverter V Air Conditioners with Mosquito Away technology. The new models also come with Himalaya Cool and Monsoon Comfort technologies, developed especially for Indian weather conditions. Ensuring 1.7 times faster cooling, the Inverter V Mosquito Away Air Conditioner has the Variable Tonnage Technology which reduces energy consumption by up to 66% along with protection from mosquito-borne diseases.
Price: Rs 45,500 onwards
X Rocker
This new state-of-the-ar t sound chair for X Rocker has been designed by Ace Bayou Corp. The chair comes with inbuilt speakers and subwoofer for an enhanced entertainment experience. The chair has a racy red trim with a black and grey frame and seat. It has a foldable construction and has got side control panel with volume, bass control and band switch. It has got an ergonomic design with full back support. It has also got a headphone jack for personal use and even plays content through Bluetooth devices.
Price: Rs 12,999
TomTom GPS Sports Watch
TomTom has launched its GPS Sports Watches in India. This range comprises four watches -- TomTom Runner, Multi Sport, Runner Cardio and Multi-sport Cardio -- starting at Rs 12,999 and going up to Rs 23,499. Aimed at runners, the TomTom Runner and Multi-Sport GPS watches offer real time information such as time, distance, heart rate, place, speed and calories burnt to runners, cyclists and swimmers.
Price: Rs 12,999 onwards
Xiaomi Mi4
After the success of the Mi3 in India, Xiaomi has now announced the launch of the Mi4. The Mi 4 has a stainless steel body and features a 5-inch IPS display with 1920 x 1080 pixels resolution at 441 ppi. It has a Corning Gorilla Glass 3 protection display. The smartphone runs on a 2.5-GHz quad-core Qualcomm Snapdragon 801 CPU and has 3 GB of RAM. It runs on Android 4.4.3 KitKat operating system and is loaded with the MIUI 6 user interface. It packs in a 3080 mAh battery and quick charge 2.0.
Price: Rs 19,999
Sony MDR Z7
The MD R Z7 headphone from Sony is designed with 70mm HD driver unit. It offers powerful sub-bass lows to crystalline highs and allows a much greater 3D listening experience. The MDR Z7 has special inward axis structure for maximum wearing stability. It has special silver-coated OFC (Oxygen Free Copper) cable that reduces signal transmission loss.
Price: Rs 41,999
eKavach
It is yet another mobile application for parents that helps them in keeping control over a child's activities across various digital media. It offers unique insights about the behavior and activities of kids when they are online and on the move, which can help parents to make better and more informed decisions about their children. It claims to offer protection to kids from falling prey to cyber bullying, inappropriate web content and other forms of online security risks.
Microsoft Xbox 360
After launching the XBox One in India in September last year, the company has now announced a price drop for Xbox 360 4GB variant. The gaming console will be available for Rs 12,990 and Xbox 360 with Kinect with the same storage for Rs 21,990. The 250GB variant with Kinect is also getting a price drop. It is now available in the market for Rs 29,990. Microsoft has also launched a new Xbox 360 variant with 500GB storage, priced at Rs 19,990.
Boat Pitcher
mosimageBoat has launched a stylish and trend setter Bluetooth speaker - Pitcher. It is a compact Bluetooth speaker with 10 hours of battery backup of a single charge. It has an interactive prompts and speakerphone with mic. Its sophisticated airflow technology delivers ultra strong bass and dynamic sound performance. It is available in three colours - blue, black and mint.
Price: Rs 3,990