Mobile World Congress (MWC), the much-awaited annual event where new smartphones are unveiled, has set the tone for the year. With iconic brands such as Nokia and BlackBerry slated to make a stylish re-entry, dual-camera lens phones set to become the rage in flagship phones, and Windows hybrids taking centrestage, consumers have much to look forward to.
Here are the highlights from MWC 2017
The Return Of...
Nokia and BlackBerry ruled the roost before Apple crashed their party with the first iPhone in 2007 and changed the game altogether. Nokia and BlackBerry gradually lost their grip on the market. The two brands are set to make a comeback, banking heavily on the nostalgia factor.
HMD Global, which has the brand rights for Nokia, is reintroducing the brand with Android-powered smartphones (yes, finally). But the bigger piece of news is the return of the Nokia 3310 - the humble feature phone with monochrome display, no camera, the famous Snake game, and long-lasting battery launched way back in 2000. While it will continue to boast basic specifications, a few additions have been made - a 2.4-inch QVGA display, a 2-MP camera with LED flash, 2,100-mAh battery, and support for a microSD card slot.
The revamped version will be available in different colours. It runs on Nokia Symbian 30+ and has apps such as FM Radio, MP 3 Player, Opera Mini for browsing, and, of course, the Snake game. It may seem too rudimentary for today's smartphone age, but let's not forget that there is still a large market for feature phones. And, perhaps, large-hearted Nokia loyalists may choose to buy one for old times' sake.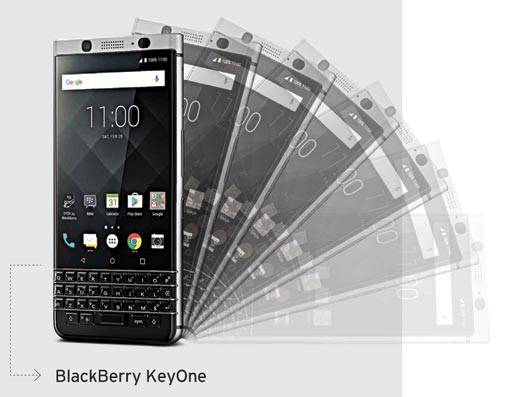 BlackBerry is bringing its QWERTY keyboard back with the BlackBerry KeyOne. It has a 4.5-inch touch display with the 52-key QWERTY keyboard, and a fingerprint sensor that has been built into the home button. Interestingly, the physical keyboard enables multiple tricks - for instance, swiping the keyboard switches screens - and one can assign shortcuts to launch apps and tasks to all the keys. It runs on the Android Nougat (v7.1) operating system with BlackBerry's DTEK security app.
Dual Power
Smartphone manufacturers are waking up to the popularity of dual-lens camera modules. The MWC saw the launch of several new smartphones with dual-lens cameras.
Huawei has been adding dual-lens cameras to quite a few of its smartphones, and has now announced a new premium smartphone with Leica-branded cameras. Successors to the Huawei P9 - P10 and P10 Plus - are equipped with a 20-MP monochrome sensor and a 12-MP camera for colour. It also has a Portrait mode similar to that of the iPhone 7 Plus. The P10 Plus has a wider f/1.8 aperture compared to P10's f/2.2.
LG is ditching the modular design introduced in the G5 and adopting a 'glassy' form for the G6. It has added a dual-lens 13-MP camera to the rear. But unlike iPhone's telephoto lens, the extra lens in this smartphone is a wide angle one. There is also a dual shot mode using which you can take both wide-angle and standard short at the same time.
Oppo has gone a step further and announced a '5X dual camera zoom' technology with a periscope-style set-up for smartphones. The company says that by shifting the angle of the telephoto lens by 90 degrees, it will have the space it needs for a deep zoom. A periscope-style prism then directs the path of light entering the camera by 90 degrees, and sends the image through the telephoto lens when the user zooms in on a subject or object. Sounds fascinating? But there is no word on when the first smartphone with this technology will be launched.
2-in-1s in Vogue
Apart from smartphones, several tablets and wearables were announced, too. Banking on the popularity of Microsoft Surface Pro 4 - a brilliant fusion of a tablet and a laptop - companies are announcing 2-in-1 Windows hybrids. HP announced its new 2-in-1 detachable targeted at professionals. It runs on 7th generation Intel processor and features a presentation mode, inking mode for taking notes, tablet mode for data collection, and a notebook mode. HP also has a rugged case designed for extreme work environments with a 360-degree rotating hand strap, shoulder strap, stylus holder and optional port plugs.
Samsung took to the stage to announce not the Galaxy S8, but the 12-inch Galaxy Book. With a 2-in-1 form factor, it has a detachable keyboard and an S Pen stylus. Featuring a 12-inch super AMOLED display, it will be powered by 7th generation Intel Core i5 processor, 4/ 8 GB RAM, 128/ 256 GB eMMC, and will run on Windows 10. Samsung has also announced a 10.6-inch Windows 2-in-1 with detachable keyboard and an S Pen Stylus running on Intel mCore processor.
Lenovo has upgraded its Yoga line-up and also announced the Miix 320 Detachable. This detachable comes with a 10.1-inch full-HD screen, is powered by Intel Atom X5 processor with up to 4 GB RAM and up to 128 GB eMMC storage.
Watch Out for Smartwatches
There hasn't been much action in the smartwatches space recently. But wearable manufacturers are betting big on Google's OS for smartwatches, Android Wear 2.0, to launch a slew of smartwatches. The highlight of the Android Wear 2.0 platform is the new scrolling mechanism that makes it refreshing and easy to use. Huawei announced its Watch 2 this year. This is a 4G smartwatch that runs on Android Wear 2.0 and has a 1.2-inch circular display packed in a 12.6-mm thick dial. It is a perfect workout companion with features such as live mapping, heart rate monitoring, real-time guidance, workout data report, and offline music. It also has Google Assistant and Watch Pay support.
LG Watch Style and Sport were the first two Android Wear 2.0 smartwatches announced earlier in February. The Style is a slim smartwatch with a 1.2-inch display, with a dial that can be pressed or rotated. This is water and dust resistant with a 240 mAh battery, 1.1 GHz Snapdragon Wear processor, 4 GB internal storage, and 512 MB RAM.
@nidhisingal