In the three years since April 2014, French hotel chain AccorHotels has more than doubled its India portfolio from 25 to 54 hotels, added new brands to its global portfolio and acquired companies in hospitality and technology sectors. On his recent visit to India, Chairman and CEO Sebastien Bazin shared with BT's Manu Kaushik his views about the global hospitality industry and disruptions the sector is witnessing.
Q: How has the hotel business changed?
Bazin: What has changed is probably a confirmation that if you don't move, you will die. The pace, size and strength of digital players such as Booking, Expedia, Airbnb and Ctrip have never been better. And clients have never been more demanding of seamless journey and mobile payments. Accor, too, has never been as strong in the last 50 years as it is today.
Fairmont Raffles Hotels was a major acquisition for us. So are the acquisitions of Onefinestay, John Paul, Travel Keys, Squarebreak and Gekko. We made several acquisitions, one every month, in the past three years, and invested over 4 billion euro, of which 3.5 billion euro went into hotels and 0.5 billion euro into new technologies. My mission is to be the leading hospitality player in markets where we operate. We operate in 95 countries and lead in 75.
Q: There's consolidation happening in the hospitality sector..
A: I am waiting for the offer but have not received any yet. Consolidation gives scale and speed. Globally, you have dominant players in the US - Hilton, IHG and Hyatt; in China, you have Jin Jiang, BTG. You have one big dominant player outside of the US and China, which is Accor. Accor is dominant in South America, Asia-Pacific, West Asia, Africa and Europe. Four years ago, Accor was 70 per cent dependent on Europe. Next year, Europe and Asia-Pacific will account for 40 per cent each.
Q: So, are you focusing on Asia-Pacific?
A: I am focusing on growth markets. India is seeing 10 per cent demand growth. So are China and Latin America. Brazil is lower and Europe is at 3-4 per cent. I am going where I can penetrate the market and take advantage of higher domestic and international demand.
India is fabulous for education, geography, size, civilisation and architecture. It is one of the toughest countries to penetrate because it's extremely fragmented. The government is carrying out reforms to increase the ease of doing business. It increases my confidence in putting more resources. It's going in the right direction. You just need to be patient.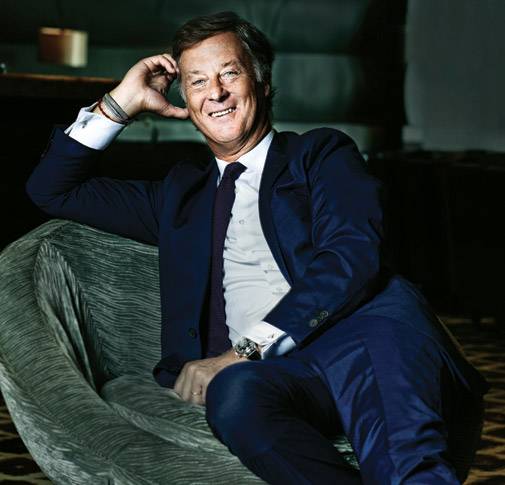 Q: What's the big-picture scenario, globally? Do you expect the number of players to go down in the future?
A: We are in a blessed industry. One job out of 10 on the planet is in the travel and tourism industry. It grew 5 per cent per annum in the past 20 years and will probably grow at 5 per cent per annum for the next 20 years.
The international travel segment today is 1.3 billion (travellers) a year as against just 200 million in 1980. We should hit two billion in 15-20 years. China, the fastest-growing market, is at 120 million and will go to 200 million. Only 10 per cent Chinese go to Europe and the US.
Due to low-cost airlines, Indians will travel more. The travel cost today is one-third less than it was five years ago. You have a large middle-class population that can afford to travel. The supply of new hotel rooms globally is half the demand. It's a healthy industry and that is why it has the biggest disruptors
Q: Do you think the key driver for large-scale consolidation is the rising power of online travel aggregators?
A: I wish it was true. Power is in the hands of consumers. The clients want to pay less and want the widest selection and the best experience. They are demanding the best value. If he's not happy, he will tell everyone. If he's happy, unfortunately he doesn't tell anyone, which is a problem. The main difference between me and my competitor in the tech environment is that Amazon, Facebook, Airbnb, Booking, Expedia, Google never see their clients. There's no interface. That's a big difference. That's why I have 260,000 employees.
Q: How much traffic are you getting from your own website compared to third-party channels?
A: Around 35 per cent revenue comes from the web. Sixty-five per cent of our clients come via e-mail, GDS (global distribution system), walk-ins and phone calls. Four years ago, the web was 28 per cent, and it is not growing as rapidly as expected. Of the web component, half comes though the Accor website and the other half through Booking, Expedia and Ctrip. What's growing faster is mobile applications and mobile check-ins. The Chinese are ahead of the game in mobile app and mobile payments. I go to China almost five-six times a year. It's interesting to watch what China is doing when it comes to guest relationships.
We have a new team - disruptive and growth - at Accor with 23 people. Their average age is 26 years. They survey and identify all start-ups in the travel and tourism space. We have a relationship with 429 start-ups in Israel, South Korea, Japan and New Zealand - either we have 5-20 per cent ownership or we have commercial agreements or we give them technology.
Q: Are you looking beyond the managed model to grow in India?
A: Accor has all the models. We construct hotels from ground-up, buy existing projects, lease the building, manage, franchise and distribute. For India - and for Chile and Colombia as well - if you want to penetrate the market, you have to buy and own properties. You build a network, and once it is big, go for the franchise model.
We have 50 hotels in India [the number has gone up to 54 since the meeting], which should go up to 80 by 2020. The difficulty is the pace of investment. The time between making a decision and opening a hotel is five-seven years. It should be two-three years. The aim is to grow bigger. The key is to be present in more cities.
Q: How are you funding the investments and acquisitions?
A: Accor has a big balance sheet and $12.5 billion market cap. We have very little debt and sophisticated shareholders. The money comes from shareholders, partners and lenders. The issue is to be prudent and understand that every investment has a risk because you don't control everything. The world is moving so fast. Fairmont Raffles Hotels was a significant acquisition. We inherited only 115 hotels and it had cost us $2.8 billion. In 12 months, we have signed 35 more contracts via Fairmont Raffles.
We have been investing in China and Brazil for 45 years. For the first 25 years, we lost money in both the countries. I am here 50 years later, and Accor is the biggest operator in South America, apart from being very big in China. I have to thank my predecessors as they had wisdom and vision. I need to take the risk of going to Africa. I need to accept that I may lose money for a while. You have to gauge how much risk you can take.
Q: Your competitors have different brands. Is launching more brands the way to go?
A: Clients are demanding more brands because they want more unique experiences. I am not afraid of having more brands. I cannot afford to spend hundreds of millions on 20 brands. You can have hyper-niche brands but visibility has to be minimal, because you don't have the budget. Some brands - ibis, Novotel, Raffles - should be highly visible and we allocate as much money as we can.
Q: How much have you earmarked for investing in India?
A: I never earmark anything to any country. I shift money from one to another. So far, we have invested over $200-250 million in India.
Q: What's your perception of new-age hospitality start-ups like Airbnb?
A: I have a lot of respect for Airbnb. It's a good model. We are not competing. We are rendering similar services for different clients. Airbnb, on an average, has 3.5 nights stays and gets groups of three-four people. In Accor, 80 per cent of my business is less than three nights and less than two people. Accor is entering the Airbnb space with services attached. But I am not competing at the same price.