Piyush Goyal, the Union Minister of Commerce and Industry, recently cancelled a trip to China as the Budget Session of the Lok Sabha got extended until August 7 instead of ending on July 26 as scheduled. Such cancellations happen all the time, but this one was different. Goyal was expected to represent India in a key ministerial meeting - the 8th round of Regional Comprehensive Economic Partnership (RCEP) Ministerial in Beijing - to stitch together a 16-nation free trade agreement (FTA) that covers 45 per cent of the world's population and 40 per cent of global trade. Although high-level officials represented India, the absence of the political leadership only deepened the suspicion that India is reluctant to open up its economy to global free trade, but the country is not willing to admit it. RCEP has its pitfalls, though.
India already has an FTA with ASEAN, the 10-country bloc that remains the core of RCEP discussions. Besides, it has bilateral agreements with two others - Japan and South Korea. Although these FTAs have helped India expand its export base, the trade balance has not been in our favour so far. Hence, the critics of RCEP (there are many within the government and outside) argue that it is, in effect, an FTA with the other three negotiating partners - Australia, New Zealand and China. Given the ballooning trade deficit with China, the sceptics are wary of another surrogate FTA with the Asian giant in the form of RCEP. "We have not benefited from FTAs in the past, and now that we are negotiating RCEP, automobiles should be kept out of it to prevent China from getting a backdoor entry," says Vinnie Mehta, Director General of the Automotive Component Manufacturers Association (ACMA).
That the country should avoid non-lucrative FTAs is a valid point. And no one could have questioned the minister's decision had India limited its export ambition to opportunities which are solely trade-positive. Unfortunately, that is not the case. India is increasingly pushing its exports to drive overall growth. And a missed negotiation of this scale does not augur well as none of the tall targets of the Narendra Modi government can be met without ramping up its exports. This is especially true as other growth engines have not delivered as expected. Private investment is not picking up and domestic consumption has slowed down.
Government expenditure has been pushing growth for the past couple of years, but that alone is not enough to take the country's real GDP growth to 8 per cent in the current financial year (it was below 7 per cent in FY2018/19). In fact, India has to almost double its GDP growth to become a $5 trillion economy by 2025 as envisioned by Prime Minister Modi. Even Chief Economic Advisor Krishnamurthy Subramanian pointed out that the prime minister's $5 trillion dream will be possible only if "the country's investments grow, and for investments to happen, domestic consumption alone is not enough, an equal or bigger support through exports is also essential".
Subramanian dwells on this in great detail in the Economic Survey 2018/19. He has examined the economic growth drivers pursued by other countries and found that investments and exports play a critical role in all growing economies. "The overwhelming evidence across the globe, especially from China and East Asia in recent times, is that high growth rates have only been sustained by a growth model driven by a virtuous cycle of savings, investment and exports, catalysed and supported by a favourable demographic phase," he states.
The survey also points out that all three macro variables - shares of GCF (gross capital formation), savings and exports in GDP - increased as the countries became richer. For instance, when China's economy saw an uptick measured by the rising GDP per capita, the country's savings, investments and exports increased further. The same inference was made in the cases of four Asian countries - Thailand, Indonesia, Malaysia and South Korea. "The global market is extremely competitive with firms which are able to produce at the lowest costs having the ability to gain market share in exports. So, the average productivity of firms in the economy becomes crucial to export competitiveness. Capital investment enhances total factor productivity, which in turn enhances export performance. Therefore, investment becomes crucial to enhancing export performance," the survey says.
A quick look at India's economic growth also affirms that high GDP growth has always been paired with even higher growth in exports ever since the economic liberalisation two decades ago. "Exports grew 20 per cent year over year when the Indian economy grew the fastest. Globally, too, no middle-income or low-income country has ever taken off without robust growth in exports. Exports make you (the domestic industry) more competitive and allow you to implement structural changes, leading to better technology adoption and more investments in innovations. That is why we should focus on exports and not just rely on the domestic market even though that market has high growth potential," says Rajat Kathuria, Director and Chief Executive of Indian Council for Research on International Economic Relations (ICRIER). Exports accounted for 17 per cent of GDP in 2010/11 compared to 12 per cent in 2017/18 - a big decline, he adds.
Simply put, without a significant rise in exports, capacity expansion in manufacturing and its subsequent contribution to GDP from the current 17 per cent to 25 per cent will be near impossible. Even the promise of doubling farmers' income by 2022 looks unrealistic without an export push as the domestic price of agricultural produce tends to dip sharply when the production volume is up. The Ministry of Commerce and Industry has recently came out with an agri export policy to address this pain point. However, India must focus on all three critical components - exports of manufacturing goods, agri produce and services - if it wishes to improve its trade prospects.
It is easier said than done. In June this year, merchandise exports fell 9.71 per cent to $25.01 billion, hitting a 41-month low as almost all major sectors earning foreign exchange (oil, petroleum products, gems and jewellery and engineering goods) registered subdued or negative growth. Former commerce minister Suresh Prabhu admits that Indian exporters were struggling for most of the time during 2014-2019, the first term of the Modi government. It was only in 2018/19 when the country was able to earn more foreign exchange via exports than what it made in 2013/14 and thus set a new record. Prabhu, during whose tenure exports peaked, attributes it to the changes he spearheaded, but the current numbers suggest that the growth was transient and the road ahead could be tough. Seen in that context, Goyal's absence in the RCEP meeting raises eyebrows.
What's Containing Exports
Within a week of taking charge as commerce minister, Goyal organised a joint meeting of the Board of Trade (a top advisory body on external commerce comprising trade experts and export promotion councils) and the Council for Trade Development and Promotion (a group of state trade ministers and officials) in Delhi to figure out the reason behind the slowdown in Indian exports. The discussions held largely focussed on the need to increase logistics efficiency, improve ease of doing business and monitor the progress of infrastructure projects, which revealed the long-drawn-out nature of the problems and not-so-forthcoming solutions. Earlier, Surjit Bhalla, a former member of the Prime Minister's Economic Advisory Council, headed a high-level advisory group (HLAG) on trade policy at the behest of then commerce minister Prabhu. Even then, the experts concerned zeroed in on the same issues.
The world economy is in a flux and India must respond strategically to current and chronic challenges, the HLAG noted in its presentation to Prabhu. While trade disruptions with the US, a huge trade deficit with China, India's weak links with global value chains and the increasing role of FTAs in directing trade flows were marked as current challenges, the chronic ones were all about the country's reluctance to negotiate trade deals (a likely reason for Goyal to opt out of RCEP meet), high cost of capital and corporate tax, and archaic labour laws.
Biswajit Dhar, a professor at the Centre for Economic Studies and Planning under Jawaharlal Nehru University, concurs. "We cannot stand up to the international competition. What is most worrying is that we are integrating with the global economy without knowing how to cope with the challenges posed by our inefficiencies. All our past sins are coming home to roost." Dhar cites agriculture as an example. "We are in a serious bind; we cannot decrease the tariffs because inefficiencies are spilling over, and now we are also facing a deflationary situation. For India to be part of the global economy, and not to sort of withdraw, is going to be the major challenge."
Infrastructure bottlenecks also affect export competitiveness and trade volume. Too few ports and their poor turnaround time, coupled with bad roads, slow freight trains and yet-to-be-functional freight corridors have put the country way behind rival nations. Inadequate power supply, stiff electricity tariffs and delayed GST refunds are also piling more misery on embattled export entities.
According to Kathuria of ICRIER, India's export prospects can be hurt by its import policies. "This is especially interesting at this point. Earlier, China was the global manufacturing hub. But now that it is locked in a trade tussle with the US and its manufacturing costs are rising, dozens of companies are looking to exit China and set up their manufacturing units elsewhere. Besides, many of the foreign investors are trying to diversify their supply chains. However, India is in no position to take this advantage as its rising import tariffs keep it out of the global value chain (GVC).
"Every year, we are increasing customs duty on primary goods. The hypothesis is that if we increase customs duty, we are promoting local manufacturing and generating more domestic jobs. But an import tariff is an export tax. Since 1995, the import component in our export has been rising. If the percentage of foreign components in merchandise exports was 11 per cent in 1995, it was 25.7 per cent in 2011, and mostly included electronics and machinery. So, backward linkages are crucial for exports. Customs duties on imports will increase the cost of exports," he explains.
Kathuria also stresses the need to maintain a balance when it comes to import duty structures, especially what applies to electronic products. He also wants the authorities to focus on the ease of doing business, as "the time taken for border compliance of imports is five times more than that of Vietnam, and the cost is nearly 25 per cent higher, as per the World Bank. China, Japan, South Korea, Thailand and Malaysia have become part of the GVCs through the quality trade infrastructure route. GVCs demand high-quality products and on-time delivery, necessitating behind-the-border logistics support, with high-speed and reliable linking of industrial parks and ports," he adds.
Even the pharma sector, one of the bright spots in Indian exports, is not without its share of problems. "This sector has always been export-oriented, but IT services get the tax sops most of the times. Pharma exports cannot be scaled sharply without such sops and an enabling policy environment that consistently encourages new capacity creation," says Kiran Mazumdar-Shaw, Chairperson and MD of Biocon.
But the IT and ITeS industry will find it difficult to sustain its earlier growth, says Siddharth (Sid) Pai, Founder and Managing Partner at Bengaluru-based Siana Capital Management. "It has become too large and mature to grow at 30 per cent. Also, we think that outsourcing is not impacted by the overseas recession (the perception is that more work is pushed out due to cheaper cost). But outsourcing is equally impacted as tax and non-tax trade barriers are coming up every day due to the rise of hypernationalism. The IT sector is not immune to curbs on the free flow of labour or additional taxes for work outside of local jurisdiction."
Auto exports have also been down for two straight fiscals, the first such decline in a decade. The bulk of the exports include motorcycles (70 per cent) and passenger vehicles (PVs). While two-wheelers are mostly shipped to developing regions such as Africa and South-east Asian countries, PVs used to be exported to mature markets such as the US, Europe and Japan. The PV business is dwindling, though, due to sluggish demand worldwide, increasing trade conflicts and a relative weakening of India's export potential.
In a recent interaction with Business Today, Samiran Chakraborty, Chief Economist at Citibank India said the government should be extremely focussed in its approach if it wants to solve the export puzzle. He argues that it does not matter what industry is picked up, but the government should back two or three chosen sectors all the way to create global brands.
---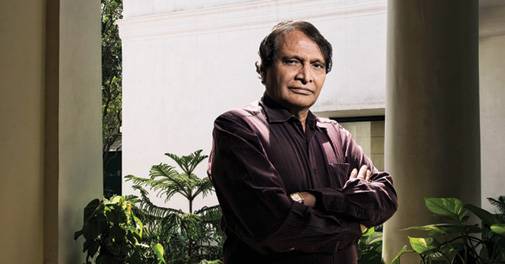 "A very calibrated approach has to be adopted"
Former Commerce Minister Suresh Prabhu tells BT Editor Prosenjit Datta and Senior Editor Joe C. Mathew about the long-term strategic plans to boost exports.
Q. What is happening to our exports?
A. Our exports have been decelerating for almost three years since 2014. We started analysing each and every sub-sect of the export basket. We mapped entire geographies and created new metrics to see which product can go to which geography. The result was that we could reverse this declining trend and we achieved highest exports in 2018/19. I was also working on reducing our trade deficit with China. For the first time, we reduced it from $63 billion to $53 billion. Our exports to China have increased by almost 30 per cent during this period.
Q. What can be done to re-accelerate exports?
A. We have been trying several things, but not everything has succeeded. For instance, I had suggested that banks create a protocol to fund exporters. Trade cannot be done in a manner that banks want it to be done. I am also following up with a proposal to make exports a priority credit lending as there is a disconnect there. Everybody says exports will be the priority for India. But priority sector lending does not capture that priority. Merchant exporters also need to be promoted because they are the ones who connect the small scale players.
Q. Can India take advantage of China-US trade tensions?
A. I had prepared a strategy on how to balance trade with China. There is a misconception (about the India advantage). Why is US fighting China? It is because
of trade deficit. Why does US have issues with India? It's again trade deficit. Suppose you feel that because of the US-China trade war, we will be able to increase our exports to the US. Then our trade deficit will increase. Why will US do this? The geography to product metrics is very important. What we will sell to which country and why it will go to that country should be understood through market research. I started from the basics. I feel we have to work on it.
We are also working on participating in the global multilateral trading order, which was appreciated by everyone, including the WTO head.
If you feel that you can only export and not import, it is a brilliant idea. But the only problem with that brilliant idea is that it is so brilliant, so good, that other countries would also like to adopt it. Therefore, imports and exports many times go hand in hand.
If we say that we are going to put restrictions on their imports, they would like to put restrictions on our imports as well. So, we have to balance it very carefully. A very calibrated approach has to be adopted. We did that.
Q. What is the current status?
A. To be able to export, you have to manufacture first. For the first time, I prepared a vision for a $5 trillion-economy where the industry's contribution has been projected to be 20 per cent. Another $3 trillion will come from the 12 champion sectors of services that we will promote. Third, agriculture. Agricultural export itself has the ability to boost farmers' income. The problem with agriculture is that the moment you have more production, the prices fall because consumption will not increase commensurate with the production. I have also proposed that if all districts in India can increase their GDP by two or three per cent more than normal, India's GDP will increase by two or three per cent more than normal. So, we took six districts in five states as pilots, identified the uniqueness and potential of these districts. The second phase is already on.
Export is just one part, and you cannot deal with one part unless you understand the economy as a whole. That is what we are aiming at.
---
No Easy Way Out
CEA Subramanian agrees that world trade is currently facing some disruptions, but the country's share in global exports is so low that it should focus on increasing market share. Arguing that the current scenario provides India with an opportunity to enter global supply chains, he advocates a closer look at the Surjit Bhalla panel's recommendations to improve growth prospects. The panel gives nine non-industry-specific recommendations and seven industry-specific ones to revive Indian exports. Increasing the capital base of the Exim Bank by another Rs 20,000 crore and that of Export Credit Guarantee Corporation by Rs 350 crore, and increasing the bank's borrowing limit have been suggested to solve the credit crunch faced by exporters. Setting up an empowered investment promotion agency, active engagement at the World Trade Organization (WTO), reducing corporate tax rates and cost of capital, skilling of human resources and optimising FTA negotiations are some of the non-specific measures suggested by the HLAG as well. Specific suggestions to improve export performances of electronics, textile, pharmaceuticals and financial services have also been listed.
HLAG is not the only expert group looking for remedies. Much like Prabhu, Goyal is also getting stakeholders' feedback to give the right push. In June this year, the Confederation of Indian Industry (CII) released a discussion paper that mapped the products and destinations to take Indian exports to a new level. It undertakes a dual identification process - one that outlines the top imported products by top importers and another that studies India's current export profile in those products. Using various filtration factors, it has determined 37 products where India has production capabilities so that those can be promoted extensively across the top 10 importing nations.
A similar exercise, carried out by the commerce ministry a few months ago, led to the identification of a select set of products and the details were passed on to respective export promotion councils for follow-ups. Additionally, the ministry has undertaken an exercise to shortlist products, which may reap the benefits from the China-US sparring. With China's exports to the US contracting and vice-versa, the field has been thrown wide open for trade expansion. As a result, textiles, pharmaceuticals, meat and meat products and soya bean products have seen better order books.
On July 31, Goyal addressed a special stakeholders' meeting in Delhi to capitalise on the opportunity emanating from the US-China trade war. According to him, the government is working on a new WTO-compliant scheme to replace the current product subsidy scheme. Another new scheme called the Rebate of State and Central Taxes and Levies (RoSCTL), is already operational for garments and clothing accessories. Goyal wanted the industry to collect all relevant data to get indirect tax and cess rebates via RoSCTL. These will cover areas such as power tariffs, coal cess and royalty paid on mining to help reduce the cost of exports. The minister also said that a review of all existing FTAs is being carried out to assess their impact on exports and manufacturing, and new negotiations will keep industry and consumer interests at the top of the agenda.
While Goyal's endeavours may provide relief to the merchandising and services sectors, the IT sector is also looking for succour. "The biggest challenge today could be the restrictions slapped on the free movement of people across geographies. The US regulations regarding H1B visa, and similar restrictions soon to be imposed by the UK and other European nations will hurt the industry. The Indian government should work bilaterally with other countries to waive such compulsions," says V. Balakrishnan, former CFO of Infosys. India cannot afford to overlook how other countries are turning protectionists.
Sharad Kumar Saraf, President of the Federation of Indian Export Organisations, says that China has been able to manage its currency, which depreciated by about 9 per cent since the onset of the tariff war, and blunted 25 per cent tariff disadvantage by 11-12 per cent. Meanwhile, the appreciation of rupee by 4-5 per cent further eroded the advantage for Indian exporters. The solution to currency problem may come from allowing exchange rates to become more realistic. If that happens, rupee is likely to be devalued, making Indian exports more competitive in the global market.
India can advocate multilateralism, but its success depends on other countries. As of now, helping industry segments turn competitive and assisting them in creating global brands might be the most viable option, although it is not a short-term goal. Meanwhile, implementing predictable policies are the least that the government can do.
Additional inputs by Rukmini Rao,
E. Kumar Sharma and Sumant Banerji
@joecmathew