The US job market is increasingly becoming unkind to all non-white races. The US Bureau of Labor Statistics data for the month of January 2009 shows as much as 12.6 per cent of all black Americans and 9.7 per cent of Hispanics working in the us have lost their jobs since January 2008. Compare this with a mere 6.9 per cent of white Americans' who faced job cuts—and the picture of "racial equality" championed by the US for years—seems to be falling flat.
The report, based on a house to house survey, clearly shows the racial divide. The unemployment rate for Asians was shown as relatively low, at 6.2 per cent as of December 2008. This however, is misleading for two reasons. As details of the data show, the unemployment rate among Asians rose from a mere 3.2 per in October 2008 to 6.2 per cent in December—a loss of 204,000 jobs across sectors.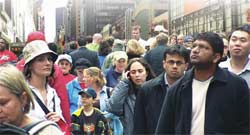 In certain sectors, job losses were dramatic. Manufacturing employment fell by 207,000 in January, the largest one-month decline since October 1982. The much-hyped financial services sector, too, lost 42,000 jobs in January bringing its total to 388,000 cuts since the end of 2007. The numbers are worrying especially since a large number of Indians work in the financial services, manufacturing and IT sectors in the US. The only piece of good news came from the healthcare sector (where many Indian doctors, paramedic staff and nursing staff are employed) where 19,000 new jobs were created in January.
Overall though, it's definitely not the best time to be working in the US, and worse still to be heading out to Uncle Sam's land.
—
Dhiman Chattopadhyay