The last of our top 40 series tells you which gadgets will prove the most useful when you are out of town.


SHARP Plasmacluster Ion Car Air Purifier (Price: Rs 11,990)
On a long drive, the environment in the car could turn stuffy sooner than you expect. Sharp's Plasmacluster Technology generates negative and positive ions which are present in natural environments like a forest. These kill harmful substances like pollen, allergens, virus, mould, etc.
SanDisk 64GB Extreme ProSDXC card (Price: Rs 16,299)
If you are on a long camera -toting trip abroad, one thing you cannot forget is a large-hearted memory card. And memory cards can't get bigger than SanDisk's 64GB Extreme ProSDXC UHS-I Card. With up to 90 MB per second write speeds, it lets photographers capture a series of RAW images using burst mode or record Full HD videos.
Portronics Mojo (Price: Rs1,299
)
An emergency light is a must for the outdoors, but one with an emergency charger is icing on the cake. Portronics Mojo's 2200mAh battery can be used in situations when you are miles away from a plug point.
TomTom Via120 (Price: Rs 12,999)
A perfect road trip is one where you explore unknown locations. But blind driving can be stupid. The Tom Tom Via 120 navigator lets you explore places you could have never thought of. The extensive maps onboard offer landmark based navigation that will ensure you don't miss even a single spot on the drive.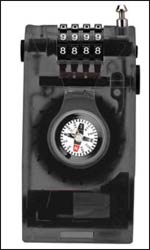 Lock Top (Price: Rs 1,299
)
You should buy a Kensington lock or a Lock Top which will let you lock your precious laptop to a pole or table, even a tree. This works on a combination lock principle and is easily operable by any sober person. There is even a compass thrown in for good measure.
Osim uRelax (Price: Rs 14,120)
Drives can be fun, but not for your muscles. It makes sense to have the Osim uRelax car seat massager that comes with a car charger. It easily fits on the car seat and massages the aches and strains out of the back and shoulders.
Nikon COOLPIX AW100 (Price: Rs 15,450)
The ideal camping camera, this tough-bodied unit from Nikon is waterproof, shockproof and freezeproof. Along with 16 MP, the camera has a 5X optical zoom, 3-inch TFT LCD, in-built GPS and can shoot Full HD movie.
JBL speakers (Price: Rs 2,490)
There is always a level of compromise when you are using tiny speakers. Well, not anymore.The JBL Micro II ultraportable speaker has a built-in bass port in a very compact size. It is the first ultraportable speaker with a rechargeable lithium-ion battery. With a 1-5/8-inch driver and an acoustic volume of 100cc, the JBL Micro II delivers legendary JBL sound with exceptional bass. The device is small enough to fit in a coat pocket or small bag and an ideal companion for the touring types.
Olive V-R9 (Price: Rs 2,999)
Got multiple gadgets that need to survive on a single data card? Well, plug in the data card to the Olive V-R 9 router and instantly get a personal Wi-Fi hotspot. The router comes with an inbuilt battery that can last for up to four hours on a single charge.
Sony Xplod XAV series (Price: Rs 19,990 onwards)
In tune with the times, Sony's latest Xplod XAV series of in-car entertainment systems offers enhanced iPod/iPhone control, USB connectivity options, multi-channel surround sound and more. The new Passenger App Control allows users to connect an iPod or iPhone via USB to see their favourite TV shows, movies, and compatible applications onscreen. The XAV-63 and XAV-64BT are already available in the market.