Year after year, I join the bling brigade, the trio of Europe's fashion capitals, Paris, Milan and Düsseldorf. But I don't come to preen and catwalk—I'm a foodie. Of course, Paris and Milan are well-known haunts for the travelling gourmet—but Düsseldorf? You'd be surprised. I've come to Düsseldorf's glittering style mile, Konigsallee or "Kings Alley". And I'm not here for the fashion, I'm here for the restaurants. It's a dizzying choice. Düsseldorf is a city where centuries coexist in seamless harmony. Cacophonic discotheques and old breweries brew their magic.
You'll find cobbled streets, multiple cuisines at a decent price and Napoleon's favourite beer house, too. Simply called the "Altstadt" (old town), it's just across the street from the shimmering Konigsallee (affectionately called the "Ko"). Düsseldorf has it all—shop till you drop and party till you pop.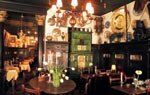 From Napoleon to Brooke Shields…
First, a glass of Altbier, a smokey short glass of bliss. It's a crisp, pale ale brewed to the German laws of purity for over two hundred years in Düsseldorf's "Altstadt" (the only place in the world you'll get it). I am not a beer fan but Altbier has a way of transporting you into another world. So I go for a walk, zigging and zagging in and out of centuries, coming nose to nose with both Napoleon and Brooke Shields along the way.
Here's how you do it. Begin with a short walk by the River Rhine. Skip the touristy river bank restaurants, pause to look at the old sailing boats anchored in an inlet and remember that it was sailors who nurtured this old town. And then veer off into the oldest brew house "My Small Ship" (Zum Schiffchen), which isn't small at all, with over 420 seats, but still manages to be cozy. Wood clad, fireplaces, all kinds of nooks and corners.
The corner I pick is right opposite a bust of Napoleon, though till today no one has been able to tell me what he ate here. My guess is a platter of wurst (sausages) served with a pile of tangy sauerkraut and mugs of Altbier. Napoleon's not the only celebrity to have eaten here. There have been numerous Prime Ministers and Presidents over the years, not to mention Hollywood actors. It turns out Brooke Shields was here a week ago, I just missed her.(Her photo hangs along with a hundred others).
A little further down the road, I pop into yet another old brewery "Zum Schluffel" for a plate of Schweinhaxe (leg of pork) and Sauerbraten (the pot roast)—both hot sellers here. It's an amazing warren of picturesque rooms, and almost 400 years old—it was built in 1632 (Bolkerstrasse. 41-47). I go even further back into time at my next stop. Even the waiters are antique. It is a traditional patrician town house, which has been standing for 500 years now.
Once an imperial coach station, offering accommodation and food for travellers, it became a wine tavern and then a brewery 200 years ago. The name's Uerige, which I think translates into "grumpy" because the owner was so anti-social and never went out. But the food is classic—liver wurst with butter, bread and onions. Another glass of Alt as the stained glass windows filter rainbows into the wood panelled rooms (Uerige, Berger Str 1, 8669 90). Some gourmets may shudder at a sausage. But there's more to Düsseldorf, fear not.
There's a fabulous fish house "Fisch Haus" owned by the family Maasen since 1838, which serves up seafood from the Atlantic, Pacific, Caspian, Mediterranean and the North Sea. Flirtatious Iranian and Italian waiters too, a stark contrast to the sullen antiques in the brew houses. So, I tuck into a giant meal of poached cod Düsseldorf style (plenty of mustard), finished off with Italian desserts from the trolley (Berger Strasse. 3-7).
And come the next meal, I'm off to a Korean barbecue at"Shilla", where I meet Jimeel Singh and Ramesh, two Indian waiters who work here. Then it's off for some okayish paella in the "Spanish restaurant", sushi in "Rappongi" and Lebanese shewarama. Add a regional Italian saltimbocca at "Angelos"—a pounded steak with mozzarella and prosciutto in marsala wine—and it feels like the world has distilled itself here.
Sexy Auntie Anna
My favourite dinner destination in the Alstadt, however, is the glamorous "Wein Haus Tante Anna" (Auntie Anna's Wine House). Six hundred years of history live amid the ceramic fireplaces and burnished copper pots of this one-time Jesuit monastery. For 400 years, the Oxenfort family has been serving regional dishes in this quaint historical environment.

Every time I go back, the set menu thrills. I go for the traditional German menu with it's river perch with shallot and mustard jam, melted black sausage and light horseradish sauce. But there's also the Modern Degustation menu with its panna cotta of milk fed veal with chanterelles. Iced peach espuma (froth) with mousse and ice cream for dessert. A must visit! (Andreasstr. 2, D-40213 Düsseldorf T. +49-211-131163)


Breidenbacher hof

Stop press! This grand old (170 years) dame has returned after 10 years of breathless anticipation. Perfectly located opposite the Konigsallee, close to the Alstadt, the Hotel Breidenbacher Hof is known as Dusseldorf's "drawing room". Many a leading Indian industrialist has lived here, along with the international "Who's Who". Swarovski chandeliers, gilded framed mirrors and an Egyptian doorman addressing me by name—it's a seductive entrance, all right. There is no bustling lobby, just a private drawing room for all the residents.

The service is almost telepathic. My personal assistant Norman books my table at Tante Anna, fixes my laptop and even plays chess with me. Is my last name 'Rockefeller'? A tipple at the black bar (with its huge cigar room) and then dinner at the large, light restaurant "1806". The Ko glitters through the windows as the dishes arrive—giant grilled prawn and Oyster Fine de Claires. Lobster "lady fingers" and north sea turbot with a puree of coco beans. My German guests swear by the steaks from the Lava grill. Maybe tomorrow night. Konigsallee 11 40212 Düsseldorf T: +49 (0) 211-160 9010