The government hopes that bio-fuels, especially jatropha, will replace 20 per cent of India's diesel consumption by 2011.
But there's now a question mark over whether that target can be achieved.
Why? Because the Indian bio-fuels industry is looking abroad for its projects. Several large players in this sector, like construction giant Shapoorji Pallonji & Co., Nandan Biomatrix and Labland Biotech are investing in jatropha cultivation projects in South East Asia and Africa.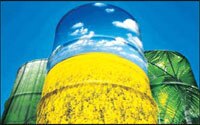 The crop will be processed locally and a major part of the biodiesel produced sold there.
The industry feels that enough is not being done to encourage farmers to shift to jatropha cultivation. Says Jaya Kumar, Technical Director, Nandan Biomatrix: "We need a National Bio-diesel Policy that provides subsidies for jatropha cultivation. And all we need is large chunks of unutilised land as jatropha can be grown anywhere."
A National Bio-diesel Policy is being drafted by the government and experts feel it could go a long way in addressing crucial issues like taxation and pricing of bio-diesel. The ball, then, is in the government's court.