Is common sense finally dawning on realtors? Faced with a drop in sales which has seen bottom lines erode substantially this quarter, real estate developers are betting big on "affordable housing". This means a starting price at under Rs 10 lakh in most cases, going up to a maximum of Rs 25 lakh. So, have the assets become cheaper overnight?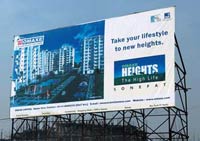 "For the last five years, we were concentrating on the topend clientele, which is just 10 per cent of the total market. That market is completely down today, so we are focussing on the remaining 90 per cent where there is actual end-user demand," points out Pranav Ansal, Vice Chairman and Managing Director, Ansal API. His company has two projects underway—Abhilasha and Fairway— in Tier II cities and on the fringes of the NCR.
In fact, most of these homes will only be available in secondary or tertiary cities and in ticket sizes that are smaller than usual. For instance, a two-bedroom house, which would earlier have offered an area of 1,200 sq. ft., will now come in a compact size of 800 sq. ft. Says Rohtas Goel, Chairman and Managing Director, Omaxe, which is coming up with homes in Greater Noida, Ludhiana and Faridabad, starting at Rs 12 lakh: "A customer will have to compromise on the size, if he's inflexible on the price point. There's no way a developer can offer both size and an attractive price in the current scenario."
The reduction in price is also partly due to the fact that Omaxe's new housing range will come up under its new subsidiary, National Affordable Housing Initiative (NAFHIL). Tie-ups with land-owners and small developers, who do not have the construction or marketing expertise, ensures that Omaxe saves on the cost of asset acquisition. Ansal, on the other hand, is banking on value-engineering to cut down the ticket price—for instance, substituting wood with stone, which is cheaper and more durable.
The affordability factor
The nitty-gritty of cheaper homes.
• Small apartment size, which brings down the total cost to buyer
• Joint venture development with small land-holders
• Developments limited to secondary cities where land price is still low
• Cheaper alternatives in construction materials and lowering of specifications
However, Anshuman Magazine, Chairman and Managing Director, South Asia, CB Richard Ellis, says developers need to guard against the herd mentality that characterised the bull phase till a year ago. "Realtors should be aware that while there is a substantial demand for affordable housing, it's not infinite," he observes.