The 5.3 per cent GDP growth is below the most conservative projections. There are few signs of it improving.
Slowest pace in four years: GDP growth in October-December 2008 decelerated to 5.3 per cent. It was 7.6 per cent in the previous quarter.


Would have been worse but the Sixth Pay Commission gave a boost to public consumption (up 24.6 per cent), offsetting the deceleration in private consumption.
Key casualty of the downturn is investment (up only 5.3 per cent), which is reeling under the demand shock and credit squeeze.
Services led the growth (up 9.9 per cent) largely because of a 17.3 per cent increase in "community services"—direct result of the Pay Commission proceeds.
Contraction in manufacturing slowed industrial growth to 2.4 per cent.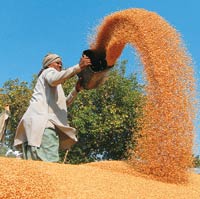 Major drag is agriculture, which declined 2.2 per cent mainly owing to last year's high base. It is poised to rebound, though.
Cushion to the downturn will come from the fiscal measures, which have pushed the consolidated fiscal deficit to 10 per cent of GDP.