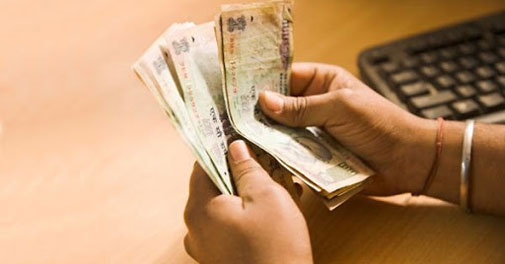 Employee salaries in India will likely grow 10 per cent on average in 2014, the lowest in a decade, but companies will reward their top performers with higher pay hikes to retain talent, consultancy firm Aon Hewitt said in a recent survey.
Top performers are projected to receive an average 15.3 per cent increase in 2014, according to the 18th edition of Aon Hewitt's Annual Salary Increase Survey. This indicates a clear shift in the compensation philosophy of companies that reinforces the link between performance and rewards. The gap between top performers' incentives and the average pay hike has been widening over the past decade.
Moreover, in the last five years, the number of employees receiving the top rating has dropped 30 per cent. This implies that companies are not hesitating to differentiate sharply on the basis of performance and then allocate a disproportionate share of the total increase budget to top performers.
Overall, the 10 per cent increase in salaries for 2014 is marginally better than the 9.8 per cent Aon Hewitt estimated in September 2013.
The survey of 565 companies measures actual and projected salary increases. The data for the survey was collected during December 2013 and January 2014. "When we came with our projections of salary increases in September 2013, the economic sentiment was at its lowest. But companies have seen good growth subsequently and this reflects a pick up from 9.8 per cent to 10 per cent salary increase for 2014," said Anandorup Ghose, Rewards Consulting Practice Leader at Aon Hewitt India.
Ghosh says India, in fact, is projected to see the highest salary increase in Asia. In China, for instance, the average salary increase is projected at 8.4 per cent. The average salary increase in India was 10.2 per cent in 2013 and 10.7 per cent the year before. Salaries grew 12.6 per cent in 2011 and 11.7 per cent in 2010.
This year, industries dependent largely on the domestic economy such as pharmaceuticals, chemicals, engineering services and consumer goods are projecting the highest salary increases, typically above 10 per cent. In these industries, compensation costs represent a smaller percentage of total costs. However, the cautious streak is evident as projections for 2014 have reduced by an average of 30 basis points from the actual increases provided in 2013 by these industries.
Managing salaries has become more important for industries where compensation costs constitute a sizable chunk of total expenses or in cases where businesses have been impacted by the slowing local economy and consumer spending. Sectors that pull down the sentiment include retail, infrastructure and financial institutions.
The gap between the highest- and lowest-paying industries has narrowed in 2014 to about two to three per cent, compared with five to seven per cent in 2013.