The Sensex rose 91 points to 33,679 level and Nifty was up 40 points to 10,389 level with mid cap and small cap stocks lending support to the indices. The rise in the Indian indices came even as many Federal Reserve policymakers expect that interest rates will have to be raised in the "near term." On the BSE, TV18 Broadcast Ltd (9.65 percent), GMR Infrastructure (9.41 percent), Future Retail (8.71 percent) and Sintex 6.28 percent were top gainers. Market breadth was positive with 1,513 stocks closing higher against 1224 falling on the BSE. 157 stocks remained unchanged. Infosys (1.87 percent), Bajaj Auto (1.07percent), and Mahindra and Mahindra 1.05 percent pushed the Sensex higher. The FIIs and DIIs were net buyers of the stocks worth Rs 73.22 crore and Rs 222.21 crore, respectively on Thursday. Here are the key highlights, which affected the market today.
3:45 PM: While 176 stocks closed at their 52-week highs, 49 ended at 52-week lows on the BSE.
3:30 pm: Consumer durables index rise 2.8 percent, IT and TECk indexes add 0.8 percent, auto, power and energy indexes gain 0.4-0.7 percent; metals index slips 0.6 percent.
2:45 pm: Lakshmi Vilas Bank says approves rights issue worth about Rs 787 crore
2:30 pm: Valiant Communications gets orders for metro and dedicated freight corridor projects; shares rise 6.94 percent to Rs 83.25 rupees
2:15 pm: There is a knee-jerk reaction in the market because of the S&P expectation...there could be a bump of 200-300 points, but the markets will consolidate again. However, these upgrades could see new foreign investments coming in, says Guarang Shah, head investment strategist at Geojit Financial Services.
2:12 pm: GMR Infrastructure (10 percent), TV 18 Broadcast (9.87 percent) and Future Retail (8.13 percent) are top gainers on the BSE
2:00 pm: IT stocks were the underperformers when the indexes rallied earlier this month, but better-than-expected quarterly numbers and the ability to scale up operations by launching high margin products will bring traction in this sector, says Guarang Shah, head investment strategist at Geojit Financial Services.

1:45: Manali Petrochemicals gets shareholders' nod to raise up to $50 million via issue of securities.
1:30 pm: Aircel says media reports that it is partly shutting operations are "false and misleading". Firm says continues to engage with stakeholders to build profitable, sustainable business.
1:07 PM: Reliance Industries has completed sale of its interest in one of the three shale gas assets in the US to BKV Chelsea for $126 million. Reliance Marcellus II, LLC, a subsidiary of Reliance Holding USA and RIL, closed the sale of its stake in the Marcellus shale gas asset operated by Carrizo Oil and Gas, the company said. The Reliance Industries stock IS trading 0.58 percent or 5 points higher at 950 level on the BSE.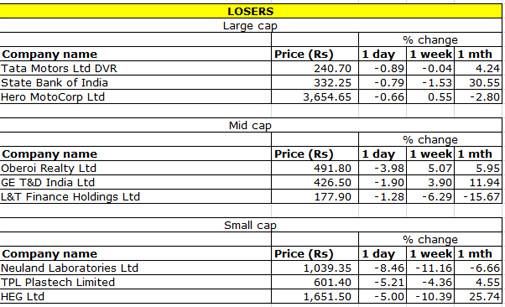 1:05 pm: The rupee is trading at 64.64 versus the dollar, lower than its previous close of 64.58.
1:03 pm: Mahindra and Mahindra says the company and Uber joined have hands to deploy electric vehicles in India.
12:58 pm: Infosys shares up 2.1 percent to Rs 1012 in mid-day trade; stock is top percentage gainer on the NSE Nifty.
12: 20 pm: JM Financial shares up 3 percent at Rs 156 rupees in mid-day trade.
12:10 pm: Sensex is trading higher today, entering its seventh straight session of gains, led by IT shares.
11:50 am: The Cabinet Committee on Parliamentary Affairs (CCPA) recommended that the Winter Session of Parliament be held from 15 December to 5 January. The CCPA headed by home minister Rajnath Singh met in Delhi to decide on the dates of the Winter Session.
11:40 am: Siemens September-quarter net profit after tax at Rs 624 crore. Siemens shares slip 0.5 per cent to Rs 1184.
11:36 am: Edelweiss Financial Services raises Rs 1,528 crore via qualified institutional placement (QIP).
11:34 am: Hindustan Unilever (1.07 percent), Asian Paints (0.55 percent), Adani Ports (0.52 percent) and Tata Steel (0.46 percent) are top losers on the Sensex.
10:46 am: The Bata India stock was trading over 2 percent lower at 731.45 on the BSE after brokerage Motilal Oswal downgraded the stock to 'sell'.
10:28 am: Market regulator Sebi has asked Real Tulip India and its directors to refund the money that the company had collected illegally from the public and has also barred them from the markets for at least four years. The Securities and Exchange Board of India (Sebi) noted that Real Tulip had collected over Rs 1 crore through the issuance of non-convertible debentures (NCDs) from over 400 investors in 2011-2012, 2012-2013, the regulator said in an order.

10: 23 am: In a major boost to the asset reconstruction companies (ARCs) the Reserve Bank has relaxed norms capping their shareholdings at 26 per cent in the borrower firm under reconstruction, provided their net-owned funds are maintained at Rs 100 crore. Earlier ARCs could convert a portion of the debt into equity of the borrower company to the extent of 26 per cent of the revamped equity capital.
10:02 am: Top gainers on the BSE are Crompton Greaves (6.89 percent), Shipping Corporation of India (5.69 percent), and Videocon Industries (4.90 percent).
9: 45 am: Mid caps and small caps leading the gains on broader indices.
9:30 am: The rupee is trading at 64.66 versus the dollar in early trade, lower than its previous close of 64.58. Yesterday, the rupee staged a robust rebound and ended at a fresh three-week high of 64.58 a dollar, surging by a whopping 34 paise. So far this year, the rupee has gained 5%.
9: 25 am: BSE consumer durables, oil & gas, auto and capital goods indexes gain 0.4-0.5 percent, PSU and bank indexes edge higher.
9: 20 am: JP Associates, Praj Industries, Suzlon Energy, Reliance Communications and Vijaya Bank are among the top traded shares by volume on the NSE.
Gains in RIL, ITC, Infosys, Bajaj Auto and Tata Motors are lifting the Nifty, which is trading more than 20 points, or 0.22 percent, higher at 10,371 points.
9: 17 am: Asian markets are trading mostly lower except China which is attempting to bounce back after the previous weak session. In Europe, markets closed mixed on Thursday as the euro zone flash composite PMI came in higher than expectations at 57.5 in November while individual corporate news weighed. US Markets were closed on account of Thanksgiving holiday and will have a shortened trading day today.
9: 15 am: The Sensex and Nifty closed higher for the sixth straight day on Thursday. The Sensex closed higher by 26 points, or 0.08%, at 33,588, while the Nifty inched up 6 points, or 0.06%, to close at 10,349. The BSE Midcap and the BSE Smallcap indices settled at their respective new highs. The BSE Smallcap index ended at record high of 17,944 and the BSE Smallcap index ended at 16,836. The FIIs and DIIs were net buyers of the stocks worth Rs 73.22 crore and Rs 222.21 crore, respectively.