In our previous issue, we looked at commodities that gave positive returns in 2013. Now, we bring you the outlook for those that did not perform well.
Guar Gum: Futures trading in guar gum and guar seed resumed in May 2013. It was suspended in March 2012 to control price volatility. Guar gum prices fell 57% to Rs 11,635 per quintal between May 14 and December 31 last year.
"Prospects of higher guar seed availability dampened guar gum prices. The output was estimated at 2.25 million tonnes compared to 1.5 million tonnes in 2012. Demand from Europe and the US was also sluggish," says DK Aggarwal, CMD, SMC Investments and Advisors.
High prices and good monsoon have ensured a rise in acreage this year. Experts say guar seed production is estimated to be 28-30 lakh tonnes in 2013-14. Add to this the carryover stock of six lakh tonnes and we are staring at a situation of excess supply this year as well.
On January 31, guar gum was trading at Rs 13,788 per quintal on the National Commodity and Derivatives Exchange (NCDEX). Aggarwal is bullish for 2014. "At Guar International 2013, an event organised by the NCDEX, participants were bullish on guar's long-term prospects due to fresh demand from China, Argentina and West Asia. Forward contracts hint at price stability in the coming months. Guar gum futures are expected to find support above Rs 12,000. Guar seed futures will possibly remain above 4,000. Guar seed may touch Rs 7,000 while Rs 19,000 is a key resistance for guar gum futures."
Guar Seed:
Guar seed fell 52.65% to Rs 4,356 per quintal between May 14 and December 31 last year. "Guar seed production rose sharply in 2012-13 as farmers planted more due to high returns in the preceding season. However, demand, mainly from oil and gas exploration companies, slowed. This pushed up inventory. Good monsoon has boosted yields in the 2013-14 season also," says Vedika Narvekar, chief manager, agri commodities, Angel Commodities Broking.
Before investing, look at the demand and supply situation. Monsoon is a key determinant of output. One also needs to track the stock levels as the shelf life of guar seed is more than 10 years. India accounts for more than 80% global guar gum exports. High prices trigger a shift to alternatives and impact exports.
57% was the fall in guar gum prices in 2013. The reason was prospects of higher guar seed output
Market experts expect 2.5-2.7 million tonnes production in 2013-14. Exports this year have been higher following demand from international food and oil exploration companies. Around 50% guar gum exports are to the oil sector. The Agricultural and Processed Food Products Export Development Authority says exports during April-October 2013-14 stood at 3.33 lakh tonnes. "In 2014, the export scenario will largely depend upon prices," says Narvekar.
On January 31 this year, guar seed was trading 15% higher than the December 31 level. "Comfortable supply may keep guar prices under check during most of 2014. However, in the second half of year, prices will take cues from sowing progress and the monsoon. NCDEX guar seed futures may trade in the range of Rs 4,000-8,200 per quintal in 2014," says Narvekar.
Chana: Chana alias chickpea fell 25% to Rs 2,938 per quintal in 2013. The price was as high as Rs 5,000 per quintal in July 2012.
Prices fell after traders realised that stocks were comfortable and area under the crop was rising due to high minimum support price or MSP. "India started marketing year 2013-14 with a stock of 2.6 lakh million tonnes. Production was 71.8 lakh million tonnes. Hence, availability at the start of the marketing year (March 2013) was well above 74 lakh million tonnes, as against the annual consumption of 70 lakh million tonnes," says Navneet Damani, associate vice president, commodity research, Motilal Oswal Commodities Broker.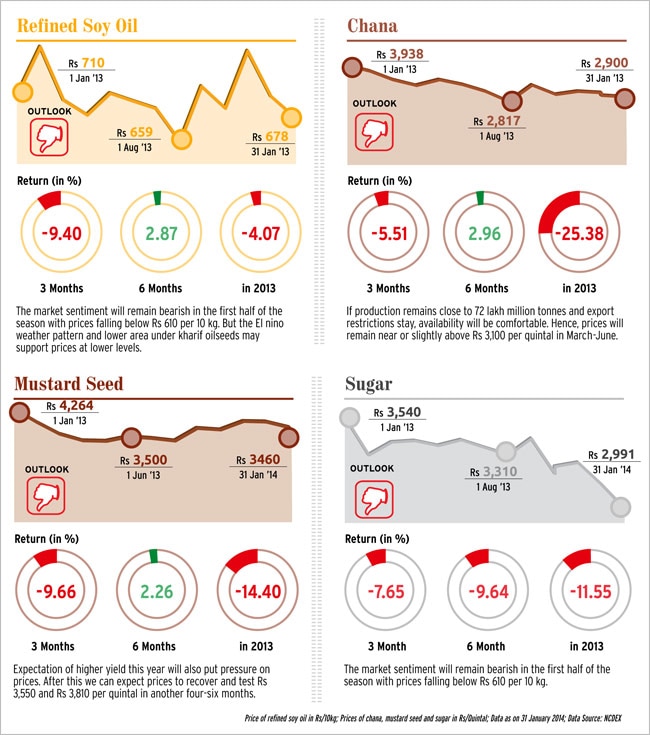 Before investing, look at the government's import/export policies. For instance, export of pulses has been banned since 2006. Given the current abundance, the industry is lobbying for a change. If it happens, prices may rise. Damani says India has the potential to export three-four lakh million tonnes chana in 2014.
The MSP of Rs 3,100 per quintal is quite remunerative. According to the agriculture ministry data, the area under rabi pulses in the current year was 156.17 lakh hectares for the week ended 17 January 2014 compared to 149.29 lakh hectares the same time last year. Chana is the largest crop in this segment.
One must also keep an eye on reports of damage to the standing crop in parts of Madhya Pradesh and Rajasthan in the second half of January due to unseasonal rain. "If production remains close to 72 lakh million tonnes and export restrictions stay, availability will be comfortable. Hence, prices will remain near or slightly above Rs 3,100 per quintal in March-June when government agencies procure the produce from farmers.
Thereafter, they will plunge to Rs 2,700-3,000 per quintal until sowing for the next season resumes in October," says Damani.
Mustard seed: Prices fell 15% in 2013. "The fall started in the beginning of 2013 after China banned Indian mustard meal as some consignments were found to be contaminated," says Rohit Gadia, founder and chief executive officer, CapitalVia Global Research. In addition, the rise in the MSP by Rs 50 per quintal to Rs 3,050 in the middle of 2013 encouraged more farmers to sow the crop. Prices continued to be under pressure due to expectation of higher yield.
On January 31, mustard seed was trading at Rs 3,472 per quintal. "Technically, prices are likely to test the Rs 3,020 per quintal level in the next two-three months. Expectation of higher yield this year will also put pressure on prices. After this we can expect prices to recover and test Rs 3,550 and Rs 3,810 per quintal in another four-six months. Rs 3,810 per quintal is a good resistance level. If prices remain above this, they may test Rs 4,050 per quintal till December 2014," says Gadia.
Production in 2013 was 70 lakh million tonnes as against 68 lakh million tonnes in 2012. Domestic consumption was 69.75 lakh million tonnes as against 69 lakh million tonnes in 2012.
Production is expected to rise 11% to 78 lakh tonnes due to favourable climate, says The Mustard Research and Promotion Consortium. Acreage is expected to be 71 lakh hectares as against 63 lakh hectares last year.
Jeera: India is the world's largest producer, consumer and exporter of jeera. This makes prices vulnerable to changes in local demand and supply. In 2013, for instance, excess supply pulled down prices by 13.5%.
Experts are bearish for 2014 as well. Sudha Acharya, senior research analyst, pulses and spices, Kotak Commodities, says, "The jeera market has been facing a glut for three years. High stocks at the start of 2013 and higher production later in the year resulted in a 12% rise in supply year-on-year. We continue to be bearish on the spice.
Futures prices are expected to test Rs 10,650 per quintal on the lower end." On January 31, jeera was trading at Rs 12,431 per quintal. "In 2014, we expect supply to rise by 17% to 6.7 lakh tonnes and demand by 7%, resulting in high stocks," says Acharya.
Experts say 2013 exports are estimated to touch an all-time high of 1.13 lakh tonnes as compared to 0.77 lakh tonnes in 2012, a rise of 47% year-on-year. The reasons for high exports are fall in prices and low supply from other countries. The 12% rupee fall last year also gave an edge to exporters.
"Low production in Syria and Turkey due to political tensions also increased demand for Indian jeera. We expect 2014-15 exports to fall by 5% year-on-year," says Acharya.
Sugar: Prices fell 11% on the NCDEX in 2013. "The main reason was the demand-supply mismatch. Fundamentals suggest that the bearish trend will continue," says Aurobinda Prasad, chief research analyst, commodities, Karvy Comtrade. On 31 December 2013, sugar was trading at Rs 3,131 per quintal as against Rs 3,540 per quintal at the start of the year. Experts say supply was high in 2012-13 and led to high carryover stocks. That's why prices fell in spite of subdued production in 2013-14.
Global sugar production was 174.85 million tonnes, slightly higher than the previous year's figure. Brazil, the world's largest sugar producer and exporter, managed to increase production by 4.66% to 40.40 million tonnes.
Besides, the industry remained crippled by pricing and other regulations, and expressed its inability to pay cane farmers the price set by the government. In response, the government promised them Rs 7,600 crore interest-free loans to pay farmers and financial help for exporting up to 40 lakh tonnes raw sugar for two years. However, Prasad of Karvy Comtrade says, "We believe that these two steps are not sufficient for the Indian sugar industry."
In 2012-13, imports were 1.8 million tonnes. The US Department of Agriculture (USDA) has predicted a similar figure for 2013-14. According to secondary sources, India will subsidise shipments of raw sugar to ease the domestic financial crisis and help millers clear arrears of about Rs 2,600 crore to farmers. Food Minister KV Thomas has said that the government will give incentives for exporting four million tonnes raw sugar over the next two years. Therefore, according to the USDA estimates, raw sugar exports in 2013-14 may rise 295% to 0.75 million tonnes. Total exports may rise 61% to two million tonnes compared to last year's 1.2 million tonnes due to rise in demand for ethanol globally. The major export destinations may be Asia and the Middle East.
Prasad is bearish for 2014. "Prices may remain low in at least the first half of 2014. Consumption will increase after June, resulting in a fall in stocks, causing prices to gradually rise. Our technical research suggests a fall to Rs 2,500 per quintal." On January 31, sugar was trading at Rs 2,987 per quintal.
Maize: Prices were range-bound in January-April 2013 but fell after a rise in output and weak demand for the Indian produce in export markets. Prices fell 11% to Rs 1,290 per quintal during the year. Globally, too, prices were under pressure.
"In 2014, high production and strengthening dollar will put pressure on prices. But bad weather in some countries may increase demand and support prices in the coming months," says Vibhu Ratandhara, assistant vice president, commodity, Bonanza Portfolio.
According to trade estimates, maize exports for marketing season October-September 2013-14 are expected to be 30% lower than the last year's figure, mainly because of cheaper supplies from Brazil, Argentina and the US.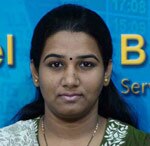 India, Asia's largest exporter, cultivates maize in both summer and winter, but most of the output is in the summer season. According to traders' estimates, India's maize output will be 22.5 million tonnes in 2013-14 compared with 22.23 million tonnes in the previous year.
"Maize prices are likely to remain under pressure till June 2014, mainly because of rise in production, lower exports and sustained local consumption. Maize futures on the NCDEX are expected to fall towards Rs 1,115-1,100 per quintal. However, after June, monsoon and global weather patterns will give direction to prices." On January 31, maize was trading at Rs 1,240 per quintal.
Refined Soy Oil: Refined soy oil prices fell 4% to Rs 687 per 10 kg in 2013. Indranil Mukherjee, senior manager, retail research, Religare Broking, says, "Soy oil markets opened on a firm note in the first quarter of 2013 due to tight supply. However, from June, prices dipped due to 15% increase in acreage."
Experts say India's soy oil production in 2013-14 is likely to be around 17 lakh million tonnes, slightly lower than the last year's figure. However, imports will be higher at 12.3 lakh million tonnes compared to 10.86 lakh million tonnes last year. The domestic consumption is expected to rise by 50,000 tonnes to 30 lakh million tonnes. The current year's carryover stocks will fall to 1.55 lakh million tonnes from 2.26 lakh million tonnes last year. But global soy oil production and consumption will rise proportionately, keeping the carryover stock unchanged.
"The market sentiment will remain bearish in the first half of the season with prices falling below Rs 610 per 10 kg. But the El nino pattern, predicted by weather analysts, and lower area under kharif oilseeds may give support at lower levels. The commodity may end the year around Rs 630 per 10 kg," says Mukherjee.
Gur: Prices fell 3% to Rs 1,050 per 40 kg on account of higher production. CP Krishnan, whole-time director, Geojit Comtrade, says, "Jaggery prices fell due to better production prospects amid higher diversion of cane for manufacturing gur due to delay in cane crushing."
In the season ended September 2013, 50-55 million tonnes cane was crushed by gur units in Uttar Pradesh. The state's total cane output was 140 million tonnes.
Krishnan is bearish for 2014. "India's gur production for 2013-14 is projected to be 7.24 million tonnes compared to 5.8 million tonnes in the previous year. And consumption is estimated to be 6.5 million tonnes. But probable rise in demand due to lower prices may prevent a sharp fall.
Turmeric: Turmeric prices fell 0.28% to Rs 5,663 per quintal in 2013 due to high carry-over stocks and good output. "In 2013, the output was 75 lakh bags while carryover stocks were 45 lakh bags, taking the total supply to 120 lakh bags as against the yearly consumption of 74 lakh bags," says Kunal Shah, head, commodity research, Nirmal Bang Commodities.
India is one of the largest exporters of the spice. According to market experts, in 2013, the country exported 54 lakh bags. This demand is likely to stay firm.
"Turmeric prices are expected to trade higher in 2014 and touch Rs 8,000-8,500 per quintal. The major factor that will support prices is expectation of lower output this year. Crop damage in the key producing regions of Nizamabad due to excess rainfall has already reduced supply by 15-20% this year. Another factor that could affect supply is the quality of the crop from Nizamabad," says Shah.