Did you hold TTK Prestige, Jubilant Foodworks and UTV Software Communications in your stock portfolio since the beginning of the year 2011? If you did hold one of these stocks or a combination of them for six months till June, you would have been one of the happier investors in the current market scenario.
What is so special about these stocks? Well, these are among the favourite stocks of mutual funds and foreign institutional investors which they have been accumulating not only since January, but also over the period starting April 2010. Not just that, TTK Prestige has given a return of 80% since January, while Jubilant Foodworks returned 48% and UTV Software Communications 47%.
MUST READ:8 deadly sins of investing

The major gains came at a time when the stock indices were moving within a narrow range for some months and have, in fact, declined since January. On the first trading session of the year, the BSE Sensex closed at 20,560 on January 3 while on July 11 the index was at 18,721. For investors watching the indices to get a sense of what would come next, it is a difficult period to take a call on the market.
But as the above examples of the three stocks show, it is clearly a stock-picker's market.
If you are smart in your stock selection and are willing to be a long-term player, you can still make a neat killing even though a clear direction may not be emerging from the broader stock indices.
Since success in the present range-bound market would depend on holding the right stock in your portfolio, what better to look at than what investment experts, handling crores of investors' funds, are doing with the money they manage.
MUST READ:Best mid-cap stocks you must invest in

With their individual acumen and the extensive research back-up from their institutions, equity investment activities of mutual funds and foreign institutional investors (FIIs), might give a broad indication of the stocks that are likely to emerge as the future money-spinners.
We are lending you a helping hand in digging out their favourites. After an extensive research exercise on this we bring to you some institutional picks that you can look at for the long run.
MUTUAL FUND PICKS
Our research reveals that there are 13 stocks in which mutual fund houses have been raising their stake in successive months from January 2011 to May 2011.

These include Ambuja Cements, Arvind Limited, Kajaria Ceramics, NRB Bearings, Grindwell Norton, JK Cement, KS Oils, Easun Reyrolle, TTK Prestige, Apollo Hospitals Enterprise, Zodiac Clothing Company, Autoline Industries and Monsanto India. In fact, these stocks have been in their portfolio even prior to this period.
Quite clearly, the fund managers have done their homework well as shown by the average returns of these 13 stocks. On an average, these stocks outpaced the key benchmark indices and gave an average return of around 29% in the past one year ending on June 2011.


If we take a more immediate period of March to May 2011, the mutual fund industry as a whole has taken a positive view on another 31 stocks, taking the number to 44 companies in which they have been gradually raising their stake.

Some others that are emerging as their recent favourites are Karur Vysya Bank, Adani Enterprises, Godrej Industries, Everonn Education and Titagarh Wagons.
Among the 44 stocks, TTK Prestige, Arvind Limited and Vivimed Labs remained the biggest gainers during June 2010-June 2011. TTK Prestige surged 230.52% to Rs 2,938 followed by Arvind Limited (120.96% to 78) and Vivimed Labs (60.45% to Rs 276.30).
FII FAVOURITES
FIIs have a longer list of favourites. During the financial year starting April 2010, there are around 107 stocks in the BSE 500 index in which foreign institutions raised their stakes during the period. The BSE 500 index accounts for around 94% of the total market capitalisation of the exchange.
FIIs have mostly raised their stakes in stocks from a range of sectors construction, consumer durables, engineering, fast moving consumer goods (FMCG), IT, pharmaceutical, metals and media industry.
From the BSE 500 index, Jain Irrigation, United Spirits, Rei Agro, Shriram Transport Finance, Opto Circuits (India), Housing Development & Infrastructure (HDIL), United Phosphorus, Dewan Housing Finance, Zee Entertain-ment and Escorts are among the top picks of FIIs in the last four quarters ended March 2011. Figures for FII holdings are available on a quarterly basis and the last update available at the time of writing was till March 2011.
In Jain Irrigation Systems, United Spirits and Rei Agro, FIIs raised their stakes from 51.74%, 47.28% and 24.36% in June 2010 to 55.64%, 50.34% and 41.66%, respectively, till March 2011.
On the price front, during June 2010-June 11, Jubilant Foodworks remained the major gainer as it surged around 212% to Rs 949.30 followed by UTV Software Communications (102.60% to Rs 826.60), Pfizer (30% to Rs 1,487.10) and Marico (21% to Rs 155.75).
In fact, it appears that though FIIs have been on a selective buying spree, on an aggregate basis they have been holding a bleak view of the Indian market as shown by the net fund flows. Thus, in comparision to the enthusiasm on the India story shown during the first half of 2010, the FII mood has been quite subdued during 2011. In the first six months of the calendar year 2011, the net FII investment stood at Rs 2,670 crore, a sharp drop compared to a net investment of Rs 31,077 crore during the corresponding period in 2010.
Amar Ambani, head of research ' India Private Clients, IIFL says that there are several factors influencing FII sentiment. "FIIs are unsure about emerging markets. Commodity inflation has affected emerging markets more than other markets. Countries like India also face political issues which have slowed down policy action. Interest rates have been tightening and gross domestic product (GDP) growth might be closer to 7.5% than 8.5% for the year 2011-12. ROE (Return on equity) of India has deteriorated due to intensified competition, falling productivity gains, large balance sheets due to overseas acquisitions and rising cost of equity. Relative valuations are expensive too," Ambani says.
Sunder Subramaniam, senior manager institutional sales, Sharekhan feels that FIIs are playing out a waiting game. "FIIs are waiting for right opportunity to pick large-cap stocks at cheaper valuations," he says.

CONSUMER DURABLES
India is the world's fifth largest and one of the fastest growing consumer markets, with the third largest middle class population.


Over time and with growing purchasing power, the Indian consumer is moving from food to non-food, non-discretionary to discretionary items of consumption.


With rising income level, it is expected that the consumption of value-added products in the consumer durables segment will continue to be on the upswing.

Consumption is expected to grow in double digits over the next decade. Over the last couple of years, with rise in agricultural income and inflows from rural employment generating programmes like the National Rural Employment Guarantee Act (NREGA), rural and semi-urban India is flush with liquidity.


In the current financial year, with expectation of good monsoon, continuation of NREGA and various other subsidies/crop price support schemes, prosperity in the Indian hinterland is expected to further increase propelling demand for consumer durables.


In any case, compared to other developing countries in South East Asia, per capita penetration of consumer durables in India is significantly lower. This clearly indicates the existence of significant scope for growth of consumer durable sector over the next few years.

Sudip Bandyopadhyay, MD & CEO, Destimoney Securities

POWER
The BSE power index has underperformed the Sensex by 23.2% (12 month trailing basis) resulting in valuations of large cap power utilities, NTPC and Tata Power, falling to 1.8 times and 1.7 times price-to-book value (P/BV), respectively, against the historic average of 2.5 times for NTPC and over 2.5 times for Tata Power.

The sector underperformed on account of rising losses of state electricity boards (SEB) of Rs 78,000 crore in 2011-12, declining gas output from Reliance (stalling capacity addition in gas-based power segment), muted coal production growth (in relation to demand) of Coal India and rising cost of imported coal which limits incremental return on equity (ROE) for power players.

Apart from this the near-term headwind for the sector is increasing interest rates, since, majority of new projects are funded through 70% debt and 30% equity.


We expect demand for power to grow at 1.1 times of GDP growth implying 8-9% growth (assuming India's GDP will grow at 7-8% till 2016-17). However, in the next 2 years capacity addition of private players would be higher than PSUs.

Pankaj Pandey, Head of Research, ICICI Direct

INFORMATION TECH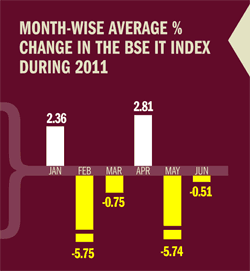 We have a positive medium-term view on the domestic IT sector.


This is because of structural positives like the global delivery model i.e. ability of Indian companies to provide services from various delivery centres located across the world and value provisioning i.e. their ability to provide better value for money because of their domain expertise.

However, in the immediate term, the sector may witness headwinds on the demand side, if the economic situation in major user economies worsens.


The economic data from Europe and US is not encouraging and if it worsens significantly, the demand may be impacted. Moreover, the salary costs are rising at a slightly faster pace as compared to earlier years.




The protectionist measures taken by several developed economies may have marginal impact, if any, on Indian IT companies.

However, if there is a scenario of low-growth (and not a steep fall or recession) in the developed economies, Indian IT companies will be positively impacted in terms of more outsourcing and off-shoring.

In the near term, we expect large-caps and select mid-caps to outperform the industry growth rates because of the concerns mentioned above.

Dipen Shah, Senior Vice President (Private Client Group Research), Kotak Securities

DEFENSIVE MODE
Our analysis shows that during the first five months of the calendar year till May 2011, defensive stocks have emerged as the favourites of mutual fund houses, indicating that they, too, are playing safe.
Out of the 13 favourite stocks of fund houses since January mentioned earlier, 10 can be categorised as defensives. These includes Apollo Hospitals, Grindwell Norton, JK Cement, Zodiac Clothing Company, Monsanto India, Kajaria Ceramics, TTK Prestige, Ambuja Cements, Easun Reyrolle, NRB Bearings.
Defensive stocks have a beta of less than 1. Beta measures the sensitivity of a stock's return compared to the market return. A beta of 1 indicates that the share's price will move in sync with the market. A beta of less than 1 show that the security will be less volatile than the market and a beta of greater than 1 indicates exactly the opposite. For instance, if a stocks beta is 1.5, it is considered to be 50% more volatile than the market.
If we take the 44 stocks in which fund houses raised their stakes during March-May 2011, 27 can be categorised as defensives. In the shorter term (January-June 2011), these 44 stocks gave an average negative return of 12.89%. On the other hand, the Nifty index retreated 8.28% in the last six months. However, over a longer period of one year (June 2010-June 2011), these 44 stocks outpaced the key benchmark index as they gave an average return of 6.73% in the last 1 year. The Nifty gained 6.30% during June 2010-11.
SECTOR CHOICE
If we move away from MFs and FIIs activity and shift our gaze the enitre investor community, the investment pattern shows that during January-June 2011, the fastmoving consumer goods (FMCG) and consumer durables sectors remained hot investment destinations. The BSE FMCG and Consumer Durables indices outpaced all other sectoral indices and surged around 10% and 3.08% to 4,045 and 6,653, respectively, during January-June 2011. However, the Sensex declined around 8.34%, or 1,715 points to 18,845 during the same period.
All other major sectors declined during the period. The BSE Realty index declined 29.63% to 2,019 followed by Metal (16.13% to 15,061), Power (13% to 2612.01), IT (10.51% to 6,100), Auto (13.89% to 8,798), Oil & Gas (13.12% to 9,208), TECk (8.77% to 3,694), PSU (10.23% to 8,542), Capital Goods (10.18% to 13,905), Healthcare (5.40% to 6,397) and Bankex (4.70% to 12,821).
"FMCG has been seeing interest because of the overall rise in consumer demand on the back of rising income levels both in urban as well as semi-urban/rural areas," says, Dipen Shah, senior vice president (private client group research), Kotak Securities.
"The pharmaceutical sector is seen as a defensive sector and attracts attention in times of market volatility. The capital goods sector has seen some buying interest after Larsen & Toubro gave a strong guidance and as companies started witnessing some order flows. Consumer durables sector has reported very strong growth in 2011-12 and have been seeing accumulation at all levels," Shah added.
About the realty sector which is one of the beaten down sectors, Varun Goel, head-equity PMS, Karvy Private Wealth says, "The debt levels on the balance sheets of realty sector continue to be high and banks have shied away from providing project finance. Hence, real estate companies have been forced to borrow outside of the banking system at exhorbitant rates. This is putting further pressure on their margins. We remain cautious on the short to medium term prospects of the real estate space."
Swati Kulkarni, executive vice president and fund manager, UTI Mutual Fund says that certain sectors have started looking attractive. "Valuations have started to look attractive for select financial companies, auto, information technology (IT), cement and oil and gas sectors. However, given the high interest rate regime that is likely to be around for the next 6 to 8 months, sectors that are capital intensive such as real estate, capital goods may underperform for some time," she says.
She, however, advises investors to be selective in stock picking. "If you want to invest directly in stocks, then choose quality companies with strong management and competitive industry positioning. You should have at 2-3 years investment horizon," Kulkarni added.

AUTO
Rising interest rates, non-availability of finance and higher fuel prices have altered consumer sentiments, resulting in lower sales for passenger cars, of late.


For commercial vehicles also the tightening liquidity has been a key negative in 2011-12 since demand for trucks and liquidity in the banking system go hand in hand as 98% of commercial vehicles are financed.

While 2011-12 is likely to be a slow year for car and commercial vehicle demand, tractor and two wheeler demand should report robust growth on the back of strong rural income and government thrust on rural development in 2011-12.


Now, even if the overall economy slows down, rural income is expected to remain buoyant on steady farm income and the government thrust on rural development.


In fact, volume growth estimates for cars and trucks is about 10% and 8%, while for two wheelers and tractors it is at 15%, respectively, for 2011-12.

Although stocks are trading at reasonable valuations of 7-15 times 2011-12 EPS, the auto sector is likely to underperform the Sensex for the next 2 quarters.

Avinash Gorakshakar, Research Head, Edelweiss Financial

FMCG
More than 600 million rural population became 'relevant consumers' with Rs 1 lakh crore of fund distributed through the National Rural Employment Guarantee Act (NREGA) over the past four years, higher realisations on agriculture produce and rural infrastructure development.


Also, the aspirational and savvy urban India moved up the value chain.

The Indian FMCG sector has demonstrated exemplary adaptability to the changing scenario by deepening its distribution width and customising portfolios.


The government further incentivised organised players through a favourable taxation policy and Indian FMCG companies made the best of the opportunity with over Rs 8,000 crore of investments in tax-holiday states over the last decade.


Though stagnant NREGA allocation, food inflation and shrinking margins due to intense competition remain some of the concerns at present for the sector, the future looks bright with continued thrust on rural infrastructure and penetration-led growth.

Themes like indulgence (branded beauty care, liquor and cigarettes), convenience (ready-to-eat food, etc), and health and hygiene (home care, feminine hygiene, juices, health drink and health food, low calorie, etc) are likely to drive growth in the sector.

Nikhil Vora, Co-Head Research, IDFC Securities

CAPITAL GOODS
Due to the financial crisis in 2008-2009, the order book of most companies in the capital goods sector started falling, which was considered to be a major criterion for valuation of a stock from the price-to-book value (P/BV) perspective.

This led to a degrading of stocks. At the same time customers started delaying projects since there was no money was available in 2008-2009.


Having said that, companies in the capital goods space have come a long way and are doing much better since then in terms of growth. Investors have become more prudent and are now looking at internal rate of returns (IRR) and margins.




For instance, a 100 basis points (bps) increase in interest rate could have a 10% negative impact on 2011-12 earnings of engineering and capital goods companies.

This, coupled with a moderation in demand (due to slowdown in GDP), could impact 2011-12 earnings in the range of -3% to -27 %, taking the overall impact to about -30%.


One needs to invest in companies which have attractive valuations and visible order books.

Ajay Parmar, Head Institutional Research, Emkay Global

VALUATION PULL
A fall of 2,158 points from its November 5, 2010 high of 21,004 to 18,846 levels in the BSE Sensex till June 30, 2011, has certainly made the domestic stock markets attractive than they were just a few months ago.
Even as domestic equity markets continue to be under pressure from larger economic issues such as high inflation, rising cost of funds and high fiscal and current account deficit, the fundamental picture is not looking that bleak. The Sensex price-earnings multiple, which was 24.15 times in November 2010, had tumbled to about 19.94 times on June 30, 2011. In fact, it is pretty close to the average 5-year valuation of 20.18 times (the high was 28.57 times on January 9, 2008 and low at 10.36 times on October 27, 2008).
Sankaran Naren, chief investment officer equity, ICICI Prudential Asset Management says, "Indian markets continue to remain attractive for investments over the long-term. Retail investors in India are clearly under-invested in equity and should therefore capitalise on volatility and invest on correction."
Anil Chopra, chief executive officer, Bajaj Capital believes that the markets are attractively valued at present. "The secondary market is in the fair value plus zone. The BSE Sensex is trading at a trailing EPS (earning per share) of approximately Rs 950. Assuming a 15% earnings growth over the next one year, the 1 year forward expected Sensex EPS comes to between Rs 1,080-Rs 1,100. At the 18,000 levels, the Sensex thus trades at a 1 year forward PE of 16.3-16.5 times."
Chopra's assumption of 15% is based on the fact that high inflation, rising interest rates and slowing industrial as well as services growth are likely to put pressure on earnings of corporates, thereby shrinking margins further from the present levels.
TIME TO BUILD PORTFOLIO
Is this a time to rejig or build a new portfolio? Market experts believe it is the right time to accumulate quality stocks. "This is the appropriate time to build a portfolio," says G Chokkalingam, executive director and chief investment officer, Centrum Wealth Management.
He points out that in October 2007, the Sensex was around 18,600 levels. Since October 2007, the trailing earnings of Sensex have gone up by about 32%. The index is at same level which existed in October 2007. "The interest rate cycle is either at its peak or close to its peak. We also get comfort from fast growth of exports, steep increase in FDI in April 2011, continued robust growth in banking credit, the satisfactory progress of the monsoon and over 20% correction in global crude prices," says Chokkalingam.
N Sethuram Iyer, chief investment officer, Daiwa Asset Management is also positive for the coming quarters. "India's growth differential versus the developed world will continue to attract investors. Besides, the Indian capital market generally has a good second half historically. Investor sentiment could be boosted by a few decisive steps in terms of reforms by the Government," he says.
Tarun Sisodia, director and head of research at Anand Rathi Financial Services is also bullish about the future. "At present, the domestic stock market is fairly valued because the market is trading at its average P/E of the last five years and it is nowhere near the expensive or bubble zone. This is likely to limit the downside. We are bullish on the market and we can see the S&P CNX Nifty index in between 6,200-6,500 levels by the end of the financial year," he says.

PHARMACEUTICALS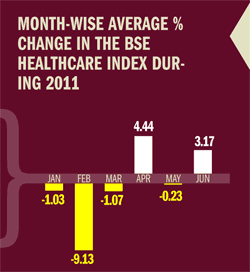 With earnings expected to grow at 21% for the next two financial years for our universe of stocks which is higher than the earnings growth of 17-18% for the Sensex, we remain overweight on the sector and maintain our positive outlook.

Although the pharmaceutical sector tends to trade at a higher multiple than most stocks i.e. at 20 times P/E across cycles compared to most large caps trading at 17-18 times one year forward multiple, valuations of these stocks are justified given the fact that they are known to be defensive unlike other sectors which are volatile in the current market.


Further, these stocks are high-growth companies with a high ROE.




The domestic market, for instance, is a 15-16% growth story while exports are expected to grow in the region of 20-25% owing to the opportunities available in the US and European market where India's share continues to be low.

For companies within the Contract Research and Manufacturing Services (CRAMS) space that offers life science research solutions, the last 2 years were bad.


However, there have been indications of gradual recovery as seen in the order book position building up and in terms of valuation. No major downside risk to these stocks is expected.

Sarabjit Kour Nangra, VP Research, Angel Broking

BANKING
The banking sector has been impacted due to the consecutive increase in interest rates by the Reserve Bank of India (RBI) since March 2010.


With the rising interest rates and a slowdown in economic activity, credit growth has come down from 21-22% in March 2011 to 17-18% at present and is expected to remain muted.

So far banks have been passing on the rate hikes to customers, both on the lending and deposit side. Going forward, deposit rate hikes are not likely to be fully passed on since the credit demand is already weak.




The net interest margins (NIM)-the difference between return from money lent and interest expense-are likely to come off by 30-35 bps in the first half.

We have already seen a fall in stock prices of most banks by about 20%, which could mean that they have already priced in most of the negatives.


Over the next 2-6 months, interest rates are likely to peak out. We could see the Bankex outperform the broader market over the next 12 months.

Rajiv Mehta, AVP Research, IIFL India Private Clients

METALS
There has been a huge increase in financial investments into the commodity space. Calendar year 2010 had over Rs 15.99 lakh crore ($360 billion) investment as against less than Rs 22,000 crore ($5 billion) in 2003. This has artificially inflated the price of many metals without any fundamental base.

This has created a perennial fear of extreme downside risks (2008 commodity price crash show ample proof of artificially inflated prices) should there be any liquidity crunch in the globe, the probability of which is fairly high.

In terms of the demand-supply mismatch, at present, most metals are in surplus situation primarily due to the global slowdown and a moderating Chinese economy, which has affected the consumption pattern.




With more downside risk, lead would remain at current levels with upside risks based on the extent of the Chinese supply disruptions, but limited downside risk for the metal.

Copper is the most fundamentally strong metal. That said, the price levels are very high and therefore we don't see any further upside for the metals.


However, one could see intermittent spikes and falls based on small global cues. Ideally, one should look at fundamentally strong metals and ores.

Dicksey Mathew, Analyst, HDFC Securities

OIL & GAS
One of the key issues currently affecting the Indian oil sector is increasing under-recoveries on the subsidised products. Under-recoveries in financial year 2011-12 are likely to be in excess of Rs 1,20,000 crores against Rs 78,000 crores during the previous year.

The recent reduction in the excise duty on petrol and custom duty on petroleum products will impact government revenues, which, in turn, reduces its subsidy-sharing capacity.


However, government's intent to have a subsidy-sharing formula before the proposed ONGC follow-on public offer (FPO) is likely to be positive for the upstream oil companies.




We believe upstream oil companies are better placed compared to oil marketing companies.

In the gas space, the key factor affecting the growth of the gas transmission companies is stagnant gas production from Reliance's KG-D6 field and expectation of its remaining subdued over the next year or so.


Lower domestic gas availability has also led to improved utilisation of liquefied natural gas (LNG) in the country, thereby positively affecting Petronet LNG.

Deepak Pareek, Research Analyst, Prabhudas Lilladher

TELECOM
Being the most affected sector from the slowdown and recently revealed scams, the telecom sector is still waiting for the good times to return.


Once it was a booming industry with very few players to offer the service. Seeing the potential, many entered the sector. Telecom companies are now competing with each other and selling their products and services at much cheaper prices.

To become leaders, the companies needed to add as many subscribers and for that they had to give attractive offers including low tariffs.





The communication culture of an average Indian is changing, especially among youth who accounts for 65% of the population.

Apart from this, the working population of India is expected to grow more than 48 million by around 2020, and the average households income has increased by around 15% over the last few quarters.


This gives a great opportunity for the companies which are implementing new technologies and applications including mobile number portability. The ongoing mergers and acquisitions and debt restructuring plans will make the telecommunication stocks more attractive.

Alex Mathews, Research head, Geojit BNP Paribas

REAL ESTATE
As a brokerage house we are neutral on the real estate sector, with a positive bias towards developers with robust balance sheets and product offerings.


While there is imminent need of growth in housing stock in India over the medium and long term, the excesses of the last bull cycle are yet to be purged.


We are still seeing the remnants of the excesses in terms of stretched balanced sheet, faulty project execution and land acquisition strategies.




This is evident when you look at Mumbai realty ' with fresh sale volumes down 40%-50% YoY. We do not anticipate any drastic improvement in this scenario in the current fiscal, but yes, we do see some greenshoots emerging.

Despite the bleak short and mid-term outlook, we see some value in stocks such as Oberoi Realty (a zero-debt company), Godrej Properties (a large land bank in Ahmedabad) and Prestige Estates (healthy project portfolio).

Harendra Kumar, Managing Director, Elara Capital

FOLLOW THE LEADER?
This brings us to the key question that given what expert says is a bullish outlook whether you should blindly follow investment patterns of mutual funds and foreign institutional investors.
Experts believe that right stock picking would be the key and looking at favourites of institutional players may be beneficial. But with the caveat that one should not follow them blindly. One should do one's own background check of the stocks. "If several large and reputed funds are buying a stock, it reflects their confidence in that stock. They would have studied the fundamentals of the stock before buying. However, one should also have a good idea about the stock one intends to buy before committing funds to the stock. This should be done so that one gets a fair idea of while buying the stock," says, Dipen Shah of Kotak Securities.
Shah is right in advising caution. As our data shows, many institutional favourites have given negative returns. GTL Limited, Moser Baer, Nava Bharat Ventures and Jubilant Life Sciences dropped 78% to Rs 91, 37% to Rs 39, 36% to Rs 210 and 32% to Rs 193, respectively, during June 2010-11.
However, from another angle the institutions appear to be doing their homework well. As you would also see, top institutional favourites do not include many of the stocks in Sensex and Nifty-50 which should have been normal picks. This might be consious choice because forty out of the 50 stocks in the S&P CNX Nifty index gave negative returns in the first 6 month of 2011. During January-June 2011, index heavyweights such as Reliance Industries, Infosys, ICICI Bank and Larsen and Toubro retreated around 15% to Rs 897, 16% to Rs 2,907, 4.41% to Rs 1,093 and 8% to Rs 1,822, respectively.
That justifies our earlier contention that one needs to pick stocks carefully and, that too, for the long run. And, if you are still uncertain about the market., you can keep some of your holdings in cash till a clearer picture emerges. "Investors can sit in cash to around 5%, conservative investors can hold 20% to 25% cash till we get complete comfort on monsoon progress. We believe that any major failure of monsoon can trigger further spike in prices of primary articles, which can lead to double-digit headline inflation, which could be detrimental to the stock market," Chokkalingam says.
There are visible pressure points and only an astute investor can make money in the current market.
Buyer beware!
(Sectoral inputs from brokerage houses were sourced by Tanvi Varma in Mumbai and Rahul Oberoi in New Delhi)