If you were invested in the right stocks when the National Democratic Alliance (NDA) won the 2014 general elections, you would have made big gains. For instance, since the election results were announced on May 16, the IFB Industries stock has made investors richer by roughly four times by rising 381%. It is followed by Indo Count Industries (up 340%), Kirloskar Brothers Investment (330%), TVS Srichakra (307%) and Syncom Formulations (288%).
The BSE Sensex, the BSE Midcap index and the BSE Smallcap index rose 16%, 30% and 42%, respectively, after the results till November 11. There are 770 stocks in these indices. Out of these, 645 have risen after the results, of which 42% have returned over 50% during the period.
"Whenever a large number of stocks move sharply, it is generally due to change in sentiment and momentum. Such movement may not be justified by fundamentals."
KUNJ BANSAL
Executive Director and Chief Investment officer, Centrum Wealth Management
Vaibhav Agrawal, vice president, research, Angel Broking, says, "Many stocks rose mainly due to low valuations. There was also the sentiment built by the coming to power of a BJP-led government." Kunj Bansal, executive director and chief investment officer, Centrum Wealth Management, says, "Whenever a large number of stocks move sharply in a short period, it is generally due to change in sentiment and momentum. Such movements may not be justified by immediate improvement in fundamentals. The initial part of the current bull run was one such occasion."
Many market experts are predicting a multi-year bull run. Alex Mathews, research head, Geojit BNP Paribas Financial Services, says, "Valuations in India are higher than that of the MSCI emerging market index. But investors are still preferring Indian stocks as the rally can go on for many years."
BUY OR SELL?
If you plan to sell a stock because it has risen sharply in the last few months, wait. The decision to sell/hold should be based on whether the company has a good business model and not the rise in price.
"Investors must buy stocks of companies with strong governance norms. It is not advisable to book profit in a stock just because it has risen 50% as it may still be reasonably valued," says Mathews.
Sampath Reddy, chief investment officer, Bajaj Allianz Life Insurance, says, "Each stock has to be viewed on its own merit. While some may rise further, some may have run ahead of fundamentals. Overall, we are positive about India's economic growth, which should lead to a rise in corporate earnings."
We speak to experts to find out 10 stocks out of those that have risen over 50% since May 16 that are still worth holding.
"Many stocks rose so much mainly due to low valuations. There was also the sentiment built by the coming to power of a Bharatiya Janata Party-led government at the Centre."
VAIBHAV AGRAWAL
Vice President, Research, Angel Broking
INSECTICIDES (INDIA)
The company is in the business of formulation and manufacture of pesticides. Its stock rose 200% to Rs 824 between May 16 and November 11. In 2013-14, net profit was Rs 39.94 crore, up 13.09% from Rs 35.32 crore in 2012-13. It was Rs 8.5 crore in 2006-07.
"We believe the stock can touch Rs 1,006 in the next few quarters. The reasons are the company's flexible business model, good earnings growth, rising sales in the high-margin molecules segment and increase in free cash flow. We foresee 33% a year earnings per share growth between 2013-14 and 2016-17," says Vivek Kumar, research analyst (pharma & agro chemicals), institutional equity, SBICAP Securities.
KITEX GARMENTS
The company makes garments for exports. The stock rose 62.6% to Rs 135.17 from the start of the year till May 15. After the May 16 election results, it rose another 173% till November 11. Kitex reported a net profit of Rs 5,737 crore in 2013-14, 95.29% more than Rs 29.37 crore in 2012-13. "Green shoots are visible in textiles & apparel businesses due to faster growth in the US and the euro zone. Kitex, a big player in the infant segment, may gain from these factors as many frontline stores are keen to stock up its products," says Mathews of Geojit BNP Paribas.
RAMCO SYSTEMS
Ramco, which delivers enterprise software and services, has a history of disappointing shareholders. In the last six financial years, it has made profit in just one (2010-11). In 2013-14, its net loss was Rs 19.28 crore as against Rs 18.81 crore in 2012-13. The stock fell from Rs 390.30 on 3 January 2005 to Rs 160.10 on 15 May 2014. From there, it rose 177% to Rs 437 till November 11.
"We are positive on Ramco as it offers next generation solutions across cloud, mobile and tablet segments," says Mathews. Gokul Raj P, executive director and head of Equityinvestments, HBJ Capital Services, says, "The new management has started a transformation process that is showing good results. The company is chasing a big market and so any traction will give good returns. Ramco has good products and a right go-to-market strategy."
SIYARAM SILK MILLS
The stock of this producer of blended fabrics has risen 114% after the election results. It was at Rs 808 on November 11. For 2013-14, Siyaram posted a net profit of Rs 63.57 crore, up 15.5% from Rs 55.01 crore last year.
"Siyaram is a market leader in blended fabrics. Its efforts at brand building and improving the product mix, wide distribution channel, presence in Tier-II and Tier-III cities, stress on latest designs and affordable pricing will help it post good growth," says Agarwal of Angel Broking. "We reiterate our 'buy' rating with a target of Rs 965, which values the stock at a price to earnings, or PE, ratio of eight times 2015-16 earnings," he says.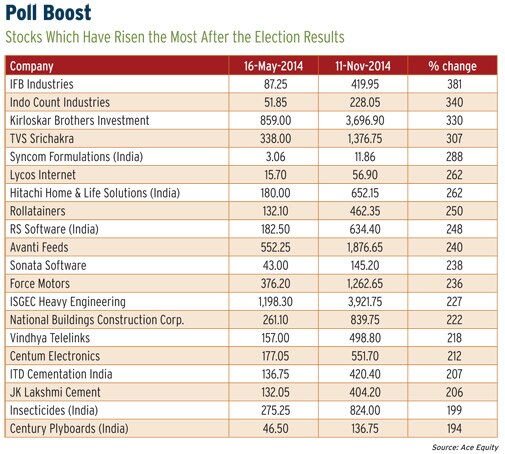 JK LAKSHMI CEMENT
According to a Karvy Stock Broking report issued on November 3, the company's unit in Chhattisgarh is expected to be commissioned in the third quarter of 2014-15 and add to volumes in the last quarter of the financial year.
"JK Lakshmi is expected to expand sales by 13% a year between 2013-14 and 2016-17. This should lead to 42% growth in EBITDA and 55% in net profit a year during this period. The stock can touch Rs 435 in the next few quarters," says Karvy. It rose 206% to Rs 404 between May 16 and November 11.
Bansal of Centrum says, "Being one of the most cost efficient producers, the company is well-placed to benefit from the government's thrust on infrastructure development." ICICI Securities believes the stock can touch Rs 423 in the next 12-15 months. Mangalam Cement: The company's shares rose 110% between May 16 and November 11. Net profit grew from Rs 38.24 crore in 2010-11 to Rs 77.37 in 2012-13. However, it fell to Rs 29.61 in 2013-14.
Agrawal of Angel Broking says, "We expect Mangalam to report 21.8% average growth in volume every year between 2013-14 and 2015-16. We believe the stock can touch Rs 337 in the next few quarters."
RATNAMANI METAL AND TUBES
The company, a leader in industrial steel pipes, expects 15-20% revenue growth a year on the back of revival in industrial capital expenditure. The stock rose 123% between May 16 and November 11 to Rs 595; this means it is trading at a trailing 12 months PE ratio of 15.94.
Bansal of Centrum says, "The company is expecting a lot of orders, particularly in carbon steel products."
GABRIEL INDIA
Gabriel is a producer of high-quality ride control products for the Indian automotive industry. Its supplies to markets across the globe. The stock rose 184% after the election results. The rally was led by strong financial performance due to growth in the two-wheeler segment.
It reported a 20.85% rise in gross sales (to Rs 380.29 crore) and a 51.40% in net profit (to Rs 17.43 crore), respectively, in the second quarter of 2013-14.
According to a report by Sharekhan, the company will continue to grow fast in the coming years given the planned expansion by clients Honda Motorcycle and Scooter India and TVS Motor Company. Recovery in passenger vehicle and commercial vehicle segments will also aid performance.
Vivek Gupta, CMT-director research, CapitalVia Global Research, says, "Gabriel India is looking good from the investment point of view."
ANDREW YULE & COMPANY
It is present in tea, electrical, lubricant, printing and digital communication segments. The stock rose 115% to Rs 27.85 between May 16 and November 11. S Ranganathan, head of research, LKP Securities, expects more upside. "The company has wiped out its accumulated losses and is a good turnaround story. It now has zero net debt. The tea business is also poised to do well. Its 26% stake in Tide Water Oil is now worth Rs 350 crore and so it is a good proxy play for growth in Tide Water Oil. We recommend the stock with a target price of Rs 40."
MT EDUCARE
The provider of education services is well-positioned to gain from opportunities in the Indian coaching space, say experts.
The stock rose 51% to Rs 136 between May 16 and November 11. That day, it was trading at a P/E ratio of 20.86 as against the industry average of 51.91. Operating profit margins grew from 15.40% at the end of March 2009 to 24.71 in March 2014. Gokul Raj P of HBJ Capital says, "MT Educare continues to be one of the few quality small-caps available at reasonable valuations. We believe the company's net profit growth can continue to be better than its revenue growth."
"In today's hyped market, there are few companies that can generate consistently high return on equity of around 20% and still get quoted at the 2014-15 P/E ratio of 16 times. We believe the stock will get re-rated as the business performance comes through over the next few quarters," he says.