The S&P BSE Realty index rose 16% this year till December 10. Much of it was due to rise in stock markets as a whole as there was no improvement in fundamentals of real estate companies in this period.
The debt of the 29 listed real estate companies whose results were available till March 31 was Rs 35,979 crore in March-end compared to Rs 34,906 crore in March 2013. Their operating profit in the first half of the current financial year rose slightly to Rs 3,655 crore from Rs 3,402 crore in the same period last year.
Real estate investments also gave poor returns as prices remain subdued in most markets, especially in the residential space. The table, Counting Gains, shows 0-6% rise in prices in 10 markets (Ahmedabad, Bengaluru, Chennai, Hyderabad, Kolkata, Pune, Noida, Gurgaon, Bhiwadi and Mumbai) in the one year to September-end. The real returns were negative considering 6-9% consumer price inflation. For those who took loans, which cost 10-10.5% a year, to buy a house, the returns were worse.
However, there are some positive signals as well. Inflation has been falling for the past one-two months and the Reserve Bank of India has hinted at cutting interest rates if the trend continues. The economy is showing signs of recovery. The government, too, has taken steps to support the real estate industry.
SITUATION GRIM
As far as returns are concerned, 2014 was not the best of years. Sales were poor and dragged down prices. "The key issue is low demand. Even though the sentiment is up, enquiries are not converting into sales. Builders are holding on from launching new projects," says Prashan Agarwal, co-founder, proptiger.com.
High inventories and low absorption rate (it tells how many months it will take for the inventory to be cleared given current monthly sales) indicate it will take time for things to pick up. As per data by Liases Foras, a Mumbai-based research firm, as on September, the number of months needed to clear the inventory in six major markets is 50. These markets are Bengaluru, Chennai, Hyderabad, Mumbai Metropolitan Region or MMR and Delhi-National Capital Region or Delhi-NCR. The situation is worst in Delhi-NCR, where the period is 83 months or seven years. The figure is 50 for MMR and Chennai. For Pune, it is 23.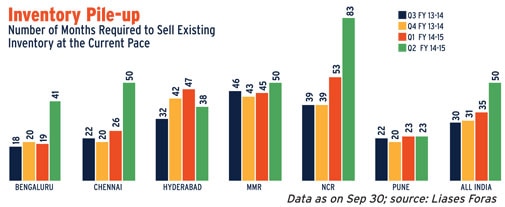 Even the festive season failed to push sales. Developers' schemes also do not seem to be working. These include those where buyers do not have to pay pre-EMI and construction-linked plans. For instance, Lodha Meridian in Hyderabad offered buyers gold vouchers up to Rs 4.5 lakh. Orris offered a Rs 500 per sq foot discount in its projects in New Gurgaon while Bestech offered a Rs 400 per sq foot discount in its Spa Next project on Golf Course Extension Road in Gurgaon. Four out of the six cities mentioned above saw sales fall year-on-year (y-o-y) in the July-September quarter, as per Liases Foras. Chennai saw the highest drop of 50%. The next was NCR, where sales fell 45%. The exception was MMR, where sales rose 30%, and Pune (65% rise). This is reflected in new launches, which fell 61% during the quarter. Another issue that has dampened buyer sentiment is project delays. As per Liases Foras, 60% projects that are marketable in Delhi-NCR have been delayed by at least one year.

POSITIVE DEVELOPMENTS
Owners of commercial properties were slightly better off in 2014 as fall in capital values increased rental yields. Experts say commercial properties are an attractive investment at this moment. Read Business Sense to know what is in store for the commercial sector in 2015.

POSITIVE DEVELOPMENTS
There were some positive developments in 2014 that would most likely bode well for the sector in the coming year. One, the election of a stable government boosted investor sentiment. Also, the government announced steps to bring relief to the sector. Here is what the sector can look forward to in 2015.
REITs become real: The government has notified the regulations for real estate investments trusts or REITs. These trusts will not only provide liquidity to developers but also enable easier exits. REITs work like mutual funds and invest in property. The income earned from these investments is distributed among unit holders.
The minimum investment for buying a unit of REIT will be Rs 2 lakh. They will not only ensure regular income to unit holders but also protect their rights with stringent regulations.
"REITs can make funding of real estate projects transparent. Some of the stringent measures proposed in the earlier version of REIT guidelines have been relaxed to make these instruments competitive globally," says Anuj Puri, chairman & country head, JLL India.
FDI rule relaxation: The government has reduced the minimum floor area required for foreign direct investment (FDI) in projects from 50,000 square metres (sq m) to 20,000 sq m. It has also reduced the minimum capital required from $10 million to $5 million, making more projects eligible for FDI. It has also done away with the three-year lock-in period for FDI.
"The elimination of the lock-in is the most notable modification. Annual private equity inflows, $1-1.5 billion per annum over the last few years, could double in the next two years due to this," says Ramesh Nair, COO, Business & International Director, JLL India.
Boost to affordable housing: High prices have made it difficult for most people to buy a house. To tackle this, the finance minister announced a "housing for all by 2022" plan in the 2014 Budget. To achieve this, he allocated Rs 4,000 crore to the National Housing Bank for increasing the flow of credit for affordable housing.
The government has also notified some changes in rules for affordable housing. Now, a project with 40% floor area ratio or floor space index for dwelling units with floor area of not more than 140 sq m will be considered an affordable housing project as against the earlier norm of 60% floor area ratio for dwelling units with floor area of not more than 60 sq m.
WHAT THE INDUSTRY DEMANDS
Although the government has shown an inclination to support the sector, a lot has to be done to bring growth back, say experts. "Two things must happen-new fuel must be injected by way of incentives and stimulus packages and hurdles to speed removed. While the new government has already shown willingness to support growth, the environment in which the sector continues to operate is still far from ideal," says Puri of JLL India.
"The sector needs big decisions related to interest rates, transparent approvals and a regulatory body to safeguard the interests of customers," says Ajay Aggarwal, managing director, Microtek Infrastructures.
Real Estate Regulation Bill: A house is usually a person's biggest investment. But buying it can be a nightmare as absence of regulations means the buyer is at the mercy of the developer. In case the developer does anything wrong, it is next to impossible for the buyer to seek redress. This has become worse as absence of a regulator and low entry barriers have led to a sharp increase in the number of developers.
"The sector continues its metamorphosis from unorganised to organised like its peers in developed economies," says RK Arora, chairman, Supertech Ltd.
The real estate regulation Bill seeks to change this by having provisions for strict punishments and penalties, which can go up to 5% cost of the project. It also has a provision for putting wrongdoers behind bars if they fail to abide by certain laws. The Bill also addresses issues such disclosure of the flat's exact area rather than the super area (built-up area plus common areas such as lobby, lifts shaft, stairs, etc). It also has provisions to ensure that the money raised for a project is not used for any other project. Also, the developer will be able to launch a project only after taking all clearances.
"Once appointed, the regulator will help the industry in two ways - it will instil confidence in buyers worried about malpractices as well as remove complexity in the approval process," says Agarwal of proptiger.com.
Single window clearances: The list of clearances required varies from state to state but the average number is 40. These delays cost developers as they pay 20-30%
interest on loans
taken to buy land. Even if a developer buys land from his own money, he can't start the project or market it properly without clearances. These delays add to the project cost. This is ultimately passed on to buyers. "Faster approvals will beef up supply, bring down prices," says Puri of JLL India.

SHOULD ONE BUY OR WAIT?
The improving economic conditions and measures introduced by the government give hope of recovery, say experts. But price cuts will be difficult as margins are already low, says Aggarwal of Microtek Infrastructures.
"The increase in input costs such as land, labour, cement, etc, means prices will definitely rise in the coming years and there is no possibility of a price correction in the years to come," says Arora of Supertech Ltd.
However, others believe that the price trend will depend upon the dynamics of individual cities. "Each city has own market drivers and not all locations perform uniformly. Basically, if a given city is seeing a lot of employment generation and, hence, demand for homes or offices, prices will rise. Some of the cities where this is being witnessed are Bengaluru, Pune, Hyderabad and Chennai," says Puri of JLL India.
Prices will also depend on inventory levels and sales.