WEhyThe reforms euphoria and the joy of seeing sudden resuscitation of a government that had gone into an extended policy coma gave a 10% boost to the BSE Sensex in a month. The index closed at 19,005 on 4 October 2012, its highest level in 14 months.

Another similar jump would have taken the index to sniffing distance of its all-time high of 21,206 touched on 10 January 2008. Equity markets are never a one-way ride. The Sensex has slipped a bit since October 4. It closed at 18,682 on October 19.


However, optimism remains, and not without reason. The government, despite threats from allies seeking reversal of measures such as
foreign direct investment, or FDI, in retail
and increase in diesel prices, has stood
firm on pushing through reforms
that all sections of business and markets have been clamouring for.
Liberalisation of FDI norms for retail and aviation was swiftly followed up by other politically contentious announcements on raising the FDI limit in insurance and pension sectors and loan recast for debt-ridden State Electricity Boards or SEBs. There is promise of more to come.
Equity market sentiments again look bullish, as several credible voices point out. Are we heading for new highs? It is anybody's guess. Is it
time to tweak your investment strategy
? Yes, say experts.
Defensives, that is, stocks that are stable in difficult conditions, were in vogue in last few quarters. Now, say experts, is just the right time to add a few aggressive or high-beta stocks-which rise and fall more than the broader market-to the portfolio.
WARDING OFF CRISIS
"The reforms process has given relief to the markets. It has improved sentiment and likely averted the possibility of rating downgrade, at least in the foreseeable future," says Dipen Shah, head of Private Client Group Research, Kotak Securities.
The market cheered the decisions. After languishing since January, the Nifty has risen almost 10% in September.
Dhananjay Sinha, co-head, Institutional Research, Emkay Global Financial Services, says the reforms have primarily addressed two issues-the risk of downgrade by rating agencies and the huge current account deficit.
They have put focus on attracting capital from abroad to bridge the current account deficit. Also, the government has tried to lower its subsidy burden, so that improved national finances encourages the Reserve Bank of India (RBI) to cut rates.
THINK LONG
The country's long-term prospects look bright, say experts. What about the short term? They are hopeful but say these measures are unlikely to impact earnings growth for the next few quarters.
Nick Paulson-Ellis, country head, Espirito Santo Securities, says, "Suddenly, everything has gone from being dreadful to being wonderful. We are perhaps somewhere in the middle."
Take FDI in retail. It will bring in capital and technology, boost infrastructure and unleash efficiency gains in the country's supply chain.
"Although it's a great announcement, there will no economic impact for at least the next 5-10 years," says Nick Paulson-Ellis. Also, the recast of SEB loans was long-awaited, but it is to be seen how many states implement the plan.
As Amar Ambani, head of research at IIFL, says, "The measures have been a big sentiment booster. If the pace is maintained, a 250-400 point Nifty rally is possible. However, for a sustained rise, structural imbalances such as ballooning fiscal and current account deficits, along with sluggish deposit growth and capital expenditure cycle, need to fall in line."
FACTORS AT PLAY

Return of FIIs:
India's stock markets depend to a large extent on FIIs, who, pleased by the reforms, invested a net Rs 20,000 crore in Indian stocks in September, compared to Rs 9,000 crore in August. Sinha says a large part, that is, 60-70%, was on account of the third round of quantitative easing (QE3) by the US Fed and promises of liquidity injection by the European Central Bank.
Quantitative easing:
Central banks use QE to stimulate their economies. The idea is to pump money into the economy by buying bonds, treasury bills, etc, and encourage people to invest.
During every QE, the flush of liquidity pushes up markets. During the last two rounds of QE by the US Fed, India had received a lot of FII money. Will QE3, too, push up India's stock markets? "This round is not likely to create as much impact as the earlier ones," says Paulson-Ellis of Espirito Santo.
Between November 2008 and March 2010, when the Fed undertook bond-buying worth $500 billion that it later increased to $1.25 trillion, the Indian markets received net FII inflows of Rs 1 lakh crore. Main stock indices rose 90% during the period.
During QE2, the stock market was steady in spite of net FII inflows of Rs 20,000 crore. Although it's early to know the impact of QE3, there is a chance that it may lead to an increase in commodity prices, especially of oil. In fact, the big difference between QE1 and now is the price of crude oil, which has risen from $40 a barrel to more than $110 a barrel.
"So, while emerging markets will get more inflows, it is hard to see India receiving a disproportionate allocation given the high oil prices," says Paulson-Ellis.
India imports 80% crude oil requirement and high prices will bloat its import bill and fiscal deficit.
FINDING VALUE
India's stock markets, like that of many emerging economies, are trading at a discount to their five-year average price-to-earnings, or PE, ratio, which shows how much investors are willing to pay for owning a company's stock compared to its earnings.
India's stock markets have been moving in a narrow range for a couple of years (Sensex at 17,000 to 19,000), trading at the top of the range when reform expectations build up and at the bottom when they are belied and the situation in the western world worsens.
Sinha says sustainability of rallies such as the recent one depends on economic growth. In spite of measures such as the QEs, economic growth has not looked up and earnings have contracted in the last three quarters. "The investment slowdown has been prolonged," he says. Corporate margins, too, have shrunk due to rising interest rates and raw material costs.
However, investors are hoping that a rise in the value of the rupee will reduce import costs for companies. The next catalyst for the market could be a cut in lending rates by the RBI, they say.
"Interest rate cuts are likely to play a role in reviving the capital expenditure cycle and corporate earnings," says Ambani of IIFL.
MARKET VALUATION
At 19,000 levels, the Sensex is trading at a long-term P/E of 15 (EPS assumed to be Rs 1,250).
"In the current context of lower growth, a multiple of 15 times seems high," says Sinha. "The high multiple can largely be attributed to global liquidity," he says. The IMF recently cut India's growth forecast from 6.2% to 4.9%, saying the country's current status was "unusually uncertain".
It mentioned waning business confidence, slow approval to projects, sluggish structural reforms, interest rate increases and flagging external demand. This may change considering that corporate sentiment has revived to a large extent due to the recent policy measures.
Hence, investors should brace for the coming quarterly results, which are likely to show that earnings are still weak. Sensex companies are expected to post 4% earnings growth year-on-year, or YoY, and 12.7% topline growth compared to 17.4% in the first quarter of 2012-13. However, the pace of earning downgrades has slowed over the last few months, which is a big plus.
For markets to extend their gains, the reforms must be executed fast. "Further, reform of land acquisition, mining, power and taxation laws will be necessary for investments to grow and the India story becoming more attractive for FDI," says Shah of Kotak.
SHUN DEFENSIVES
If we look at market data for the last one month, the rally has been led by high-beta or aggressive stocks, which are from sectors such as fast moving consumer goods and pharmaceutical where profits are not particularly sensitive to economic conditions.
Due to bleak global and local sentiment for years after the 2008 financial crisis, investors flocked to defensive stocks since these did not reflect the dampened market sentiment. The result is that most such stocks are commanding a high valuation compared to the broader market. The difference is larger if comparison is done with the high-beta stocks.
Take FMCG stocks. "These stocks are trading at an average P/E of 30 times 2012-13 earnings," says Paulson-Ellis of Espirito Santo compared to the Sensex valuation of 14-15 times 2012-13 earnings.
Now, compare this to high-beta stocks from the financial sector. ICICI Bank, for instance, is trading at a P/E of 14 times 2012-13 earnings, while ING Vysya is at 10 times 2012-13 earnings.
In metals, Hindalco is trading at seven times 2012-12 earnings. Similarly, engineering equipment major BHEL is trading at a P/E of 10 times 2012-13 earnings. JSPL, another stock in the power sector, is at 8.1 times 2012-13 earnings.
Though consumer stocks command a premium, "they are priced to perfection now," says Paulson-Ellis. Slow growth, high inflation and fewer employment opportunities are structural risks to consumption. Further, the period between 2008 and 2012 saw consumption remain stable, even though investment growth fell sharply.
"We believe this recent divergence in growth rates should correct soon, requiring either a sharp pick-up in investment or a sharp fall in the rate of growth of consumption," says Paulson-Ellis.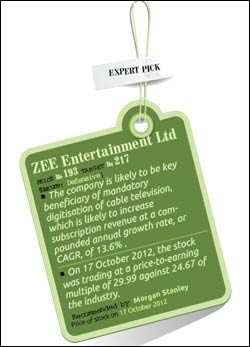 However, experts are more neutral on pharmaceutical companies in view of strong earnings growth and the fact that they are not affected by domestic issues. "Having said that, these sectors may underperform the high-beta sectors if further reforms are announced," says Shah of Kotak Securities.
In fact, since the announcement of QE3, defensive stocks have underperformed the high-beta ones.
A recent report by Bank of America Merrill Lynch said a number of US clients favoured ratesensitive and high-beta stocks. It also says that the valuation premium of defensives vis-a-vis the rate sensitives is the highest in the last 10 years.
SHIFT IN STRATEGY


Ambani of IIFL says the change in sentiment warrants a tactical shift to high-beta stocks; one reason for this, he says, is that the valuations of defensive stocks have run up quite a bit.
He recommends banking, infrastructure and capital goods sectors due to the reforms, falling interest rates and improved sentiment.
Asset-quality stress is also expected to start moderating after a couple of quarters. Further, the recentlyannounced debt restructuring of power utilities and tariff increases should strengthen SEBs.
This, says Ambani, will increase order inflows for companies in the transmission and distribution equipment space. Further, resolution of procedural issues and creation of long-term financing mechanisms for infrastructure projects should help construction companies.
Investors need to be wary of stocks that have moved up fast without any improvement in the companies' earnings potential.