Experts tell Money Today about their expectations from the various sectors.


INFORMATION TECHNOLOGY
"We are seeing clients enter IT budgeting sessions on a positive note"
Dilip Bhat, Joint MD, Prabhudas Lilladher
The performance of IT services companies is
likely to improve in 2014-15
, with nearly all Tier-1 players delivering around 15% growth. We expect growth to be broad-based, with contribution from all geographies, verticals and service lines. The quarter went by saw a rise in sales, aided by a weak rupee. After nearly two years, we are seeing clients enter IT budgeting sessions on a positive note.
Infosys
Target price: Rs 3,900
Infosys had its best quarter since October-December 2011, aided by project ramp-ups and more deal closures. The management is noncommittal on margin expansion. However, we believe that the margins have bottomed out and will rise in the October-March period. We expect the company to return to mid-teen revenue growth in FY15.
Wipro
Target price: Rs 600
The company has bagged many multi-million dollar deals over the last two-three quarters. We expect growth to pick up over the next two-four quarters. We see Wipro winning more deals while improving its margins. The stock is at an early stage of a re-rating cycle.
NIIT Technologies
Target price: Rs 380
NIIT's deal pipeline is improving. The order intake, too, is likely to pick up, after an aberration last quarter. Margins are expected to stabilise. The company is trading at 6.6 times 2013-14 earnings. We expect 16% annual earnings per share growth between 2012-13 and 2014-15.
---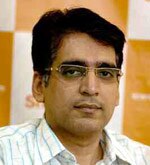 AUTOMOBILE
"A fall in interest rates is expected to create a conducive environment"
Gaurav Dua, Headof Research, ShareKhan
After the slowdown of the last two years, the automobile sector is poised for a comeback. Faster economic growth is likely to drive volumes. A fall in interest rates and stable fuel prices are expected to create an environment conducive for growth.
Many foreign companies have been increasing their presence in India. Competition has increased across the spectrum. To counter this, the companies are focusing on exports, which augurs well for their profitability.
Bajaj Auto
Target price: Rs 2,342
Bajaj is working on six new launches to boost market share in the executive motorcycle segment. A recovery in the premium motorcycle market, where Bajaj is the leader, will boost volumes. The company also plans to tap new markets for exports.
Mahindra & Mahindra
Target price: Rs 1,122
We expect a rise in tractor sales due to higher crop output and an increase in minimum support prices. Volumes will recover in 2014-15 due to revival in demand and launch of new products. The prospects of M&M's subsidiaries (Ssangyong, Tech Mahindra and M&M Financial Services) have also improved over the last few months.
Maruti Suzuki
Maruti plans to launch a number of utility and multi-passenger vehicles. Also, the parent, Japan's Suzuki, has big plans to use the company's facilities to cater to the markets of Africa, Latin America and South East Asia.
---
BANKING
"We see long-term value in private sector banks and niche NBFCs"
Rajiv Mehta, AVP, India Infoline
While business sentiment and policy reforms should pick up after the general elections in 2014, the investment cycle may take time for any significant revival. That is why the demand for
corporate credit may remain subdued in 2014
. However, growth in credit to retail segment and small and medium enterprises is anticipated to rise.
Macroeconomic stress is likely to keep asset quality of both public and private sector banks under pressure. Net interest margins have improved with rates at the shorter end coming off on the back of improving liquidity. With interest rates on three-five year term deposits likely to remain firm due to high inflation, banks with lower wholesale funding may find it difficult to maintain margins unless they increase lending rates.
Private sector banks are better placed than public sector banks to absorb the rising credit costs due to their high margins and low costs. Though our sector view is cautious, we see long-term value in private sector banks and niche non-banking finance companies if they correct significantly from current levels.
ING Vysya Bank
Target price: Rs 712
The bank delivered 36% a year earnings growth between 2009-10 and 2012-13 and expanded return on assets by 50 basis points. It is expected to keep doing well, aided by robust loan book, rising margins and efficiency gains. Gross non-performing assets have fallen over the past two years, provision coverage is 90% and loan restructurings have been negligible so far. Earnings are expected to grow 22% a year between 2012-13 and 2014-15. The current valuation does not fully capture the bank's resilient profitability and capital base.
HDFC Bank
Target price: Rs 777
HDFC Bank is the best in the industry with a substantial retail lending and deposit franchise and enviable profitability. The pace of market share gain will accelerate as it grows much faster than the system. The medium-term margin outlook is encouraging. Sustained efficiency gains and continuance of benign credit costs will enable the bank to maintain high return on assets. If macroeconomic conditions deteriorate, the bank's valuation premium will expand further.
---
FMCG & CONSUMER DISCRETIONARY
"We retain our 'sell' stance on most fast moving consumer goods firms"
Rakshit Ranjan, Senior Analyst, Inst Equities, Ambit Capital

Stocks of most consumer staples companies have fallen 10-15% over the past three months. We expect the trend to continue as earnings growth slows due to (a) rise in competition and weak economic environment; (b) unlikely margin expansion from the current high base and; (c) high advertising and promotion spends to fight competition amid limited scope for increasing prices. Given the expensive valuations (average 29.7 times 2014-15 earnings), we retain our 'sell' stance on most fast moving consumer goods firms, with Hindustan Unilever being our top 'sell'.
However, we prefer companies in entry-level discretionary consumer segments such as footwear, kitchenware and paints that have sustainable competitive advantages. This is due to the following characteristics of these segments:
a) low penetration levels;
b) consistency of demand; and
c) relatively less intense competition with three-four large players controlling 70-80% market in their respective segments.
Bata
Target price: Rs 1,083
Bata's biggest strength is its employee incentive structure that creates an entrepreneurial culture. It has widened its product base and is now focussing on improving brand communication and inventory management, besides introducing new retail formats, in 2014 and 2015. We expect 17% and 20% a year growth in revenue and earnings per share, respectively, between 2012 and 2015.
TTK Prestige
Target price: Rs 3,799
Near-term headwinds specific to Tamil Nadu and Andhra Pradesh and a high base effect due to stellar sales of induction cook tops in the third quarter of 2012-13 are likely to ensure slower growth during the third quarter of 2013-14. However, the consequent fall in the stock price will offer investors an attractive entry point. The company is on a high growth trajectory with sustainable advantages over competition in innovation, distribution and brand recall. We expect earnings growth momentum to revive from January-June 2014 onwards.
---
OIL & GAS

"Crude oil prices are expected to hover between $95 and $112 in 2014"
Sudip Bandyopadhyay, President, Destimoney Securities

The year 2014 is expected to be a landmark for the global oil and gas industry. The gradual easing of tensions between US and Iran may lead to normalisation of flow of crude oil from the west Asian country. Improvement in supplies from Lybia and Iraq may also ease pressure on global oil prices.
However, pick-up in growth in US, Europe and China may lead to increase in demand. Thus, crude oil prices are expected to hover between $95 and $112 in 2014.
There has been a sea change in the global natural gas business over the last couple of years. This trend is expected to continue in 2014.
With discovery of new shale gas reserves and stabilisation of shale gas production in the older blocks, the US is now meeting a large part of its energy requirement through local production. This has depressed natural gas prices.
However, since logistics of natural gas transportation across continents continues to remain a challenge, prices differ significantly in various parts of the globe.
In the long run, it is expected that fresh discoveries across the world will bring down prices. However, globally, we expect prices to remain firm during the first four months of 2014 due to high demand during the winter season.
From the Indian capital market perspective, we like Cairn India, BPCL and HPCL. We believe that these companies are very strong and have the potential to provide handsome returns to investors over the next couple of years.
In case of BPCL and HPCL, the structural problem created due to the subsidy burden is expected to ease over the next 6-12 months.
---
CONSUMER DURABLES

"Fridge, washing machine, microwave oven firms offer investment opportunities"
VK Vijayakumar, Investment Strategist, Geojit BNP Paribas Financial

The consumer durables industry does well when the economy grows. This is more so in an emerging country such as India where access to consumer durables is still very limited. During the boom years from 2004 to 2011, fast economic growth, which led to a spike in discretionary income, ensured that the industry did spectacularly well. But since 2011, with growth slowing and high inflation eating into household savings, the industry has been facing rough weather. Rising interest rates and import costs due to rupee depreciation have added to the industry's woes.
Segments like smart phones and tablets are growing at a fast pace, but do not offer any investment opportunity, as these are dominated by unlisted MNCs. In the LED TV segment, cheap imports are posing a problem. However, refrigerator, washing machine and microwave oven companies offer good investment opportunities.
Though the industry continues to suffer from deficient demand and declining margins, investors can buy good stocks for the medium to long term, particularly in the context of the bullish trend in the market driven by expectations on the political front.
Whirlpool India
Target price: Rs 250
The stock is trading at a price-to-earnings ratio of 25. Considering the vast potential of this industry in a market like India and the company's leadership position, the stock has the potential to rise to 250 in one year. At present, it is trading around Rs 200.
TTK Prestige
The stock, which has returned 1,600% in the last six years, still offers value to long-term investors. The company's top line is growing above 25% even in the current slowdown. Sale of pressure cookers has crossed the five-million mark while exports have crossed one million. Its induction cook-tops are recording decent sales. TTK Prestige, with a phenomenal 58.4% return on capital, can rise by 25% within a year.
---
METALS

"Stability in steel prices globally is a big positive for the sector"
Lalit Thakkar, MD, Institution, Angel Broking

Stocks of metals & mining companies fell sharply between January and July this year as prices and demand fell and growth in capital expenditure slowed. However, since August, they have risen sharply, led by improvement in sentiment in developed countries, rupee fall and low valuations. In July-September 2013, most metal companies reported better-than-expected revenues. We were especially surprised by sales reported by steel makers.
Recently, companies have shrunk their expansion plans. Nevertheless, the global economic sentiment has improved, as manufacturing picks up. Stability in steel prices globally is a big positive for the sector. Although domestic demand is weak, some companies, for instance JSW Steel and Essar Steel, are increasing exports to gain from the weak rupee.
However, after the recent rise in stock prices of metal companies, we recommend investors to buy selectively.
NMDC
The company recently increased iron ore prices after a series of cuts between October 2012 and July 2013. Strong balance sheet, decent sales growth, low capital expenditure and decent dividend yield make us bullish on the stock.
Hindustan Zinc
A cash-rich balance sheet and expected sharp growth in production of zinc, lead and silver make us positive on the stock. A stake sale by the government will be good for minority shareholders. Low valuations are likely to limit the downside.
Tata Steel
Over the past three quarters, Tata Steel has reported a better-thanexpected operational performance, especially from its European operations. We maintain our positive stance on Tata Steel as its earnings growth is likely to be driven by higher sales volume on the back of 2.9 million tonnes expansion in Jamshedpur and improvement in profitability of European operations.
---
CAPITAL GOODS

"We see big changes in the capital expenditure cycle in the next 12-18 months"
Deepak Ladha, Executive Director, Ladderup Corporate Advisory

It has been estimated that India's capital goods market can grow from $71.7 billion in 2011-12 to $153.3 billion by 2016-17, a compounded annual growth rate of 16%. Also, capital goods, infrastructure and power companies are likely to benefit from policies that the new government (after the 2014 general elections) pursues to increase economic growth. Also, the sector will gain from the special economic zones the government has sanctioned for the industry.
India's share of global capital goods exports is low (0.1-0.6%). There is a huge potential for growth here. Infrastructure and capital goods indices as well as select stocks have rallied sharply of late, partly on expectations that the NDA will be able to form a government at the Centre next year. On this basis, we see big reforms and changes in the capital expenditure cycle over the next 12-18 months.
Kirloskar Oil & Engines
Target price: Rs 225

The stock may get a boost from expected economic revival, higher government spending, strong balance sheet, good cash flow and high return on equity. Also, the new pollution control norms, to be implemented soon, will lead to a 10-15% increase in prices of engines and 5-7% in prices of gensets.
Praj Industries
Target price: Rs 60

Praj accounts for 10% of the world's ethanol production. The cashrich company will benefit from the mandatory ethanol blending in petrol likely to be implemented soon. For this, it is planning to set up India's first plant to make new generation ethanol directly from agro-waste, a shift from the traditional molasses-based extraction. Exports, too, are expected to rise as more and more countries opt for fuel blending.
Larsen & Toubro
Target price: Rs 1,400

While high interest rates and weak economy are likely to have an impact, L&T continues to meet order inflow targets. It is expecting to raise Rs 4,200 crore from stake sale in L&T IDPL, a subsidiary. This will provide L&T the much-needed cash flow given that it has equity commitments of Rs 8,100 crore over the next five years. Revenue growth is expected to be led by growth in infrastructure & heavy engineering segments.
---
HEALTH CARE

"Revenues are expected to grow at 10% a year till 2014-15"
Rakesh Goyal, Senior Vice President, Bonanza Portfolio

The sector has shown consistent double-digit growth in the recent past. However, the US Food and Drug Administration's demanding guidelines have hit overseas sales. Also, the government's new pricing policy has impacted margins.
The
domestic pharma market
grew about 12% in 2012. Revenues are expected to continue growing at 10% a year between 2013-14 and 2014-15.
Generics is emerging as one of the leading segments that will gain as a number of drugs go off-patent in the next few years.
Government initiatives such as allowing 100% foreign direct investment in health and medical services will also benefit the sector. The government also plans to increase health expenditure to 2.5% of gross domestic product by the end of the 12th Five-Year Plan (2012-17), which will give the sector another big boost.
Lupin
Target price: Rs 950-970

The company's focus on strengthening business in the US and operational efficiencies has led to a sustainable rise in profits. The company reported 40% growth in net profit for the quarter ended September 30. Technically, the stock is in a long-term uptrend, and is likely to hit Rs 950-970 in the medium term.
Biocon
Target price: Rs 450

The company has improved its performance over the last two quarters. It is expanding presence in emerging markets. On the charts also, the stock is showing strength in the near to medium term. We expect it to hit Rs 450 in the next six to 10 months.
Sun Pharma
Target price: Rs 650

The stock has performed consistently even in adverse market conditions. At present, it is in a consolidation phase. It may be bought at current levels with a target of Rs 650 and above in the medium term.
---
POWER

"Gains from falling prices of imported coal are not sustainable"
Daljeet S Kohli, Head of Research,IndiaNivesh Securities
The sector has done very poorly over the last few years as profits slumped due to high fuel prices. But things are changing. The government is trying to sort out issues related to fuel supply and losses of state electricity boards. Further, India's per capita consumption of 704 units a year is minuscule compared to developed countries, which indicates the sector's potential.
We believe that earnings will continue to remain volatile due to fuel-supply risks, debt-heavy balance sheets and movement of the rupee. While there may be some near-terms gains due to rupee stability and falling prices of imported coal, we believe these are not sustainable. So, we prefer utilities that have: a) assured and regulated business model and not one based on competition; b) fuel linkages and low dependence on imported coal; c) strong balance sheets and; d) low-risk business model.
Tata Power
Target price: Rs 106

Tata Power recently commissioned the full capacity of Maithon Power, which will add significantly to revenue and profitability. In our view, valuations are factoring in all the negatives. At Rs 92, the stock is trading at 1.63 times 2014-15 book value. We have a 'buy' rating on it with a target of Rs 106.
Reliance Power
Target price: Rs 90

A positive decision by the regulator on tariff revision for Sasan and Tilaiya projects will boost profitability. Rapid capacity addition in the last couple of quarters, easy availability of fuel and attractive valuations provide us comfort that the stock is poised for a re-rating.
NTPC
Target price: Rs 194

NTPC's growth is expected to be driven by huge capacity addition. We expect 12-15% a year growth in top line due to significant capacity addition in the last few quarters. At Rs 154, the stock is trading at 1.35 times 2014-15 book value, lower than the historical average of two times.
---
REAL ESTATE

"The belief of Indians that real estate is the best investment remains intact"
Vikram Dhawan, Director, Equentis Capital

Real estate companies are facing the brunt of high interest rates, tight liquidity, large debts and lending curbs. A slowdown in demand means there has been a sharp spike in inventory of late. The global recession and impending tapering of the easy money policy by the US central bank do not augur well for fund flows to the sector.
For investors, however, it is not all doom and gloom, as most real estate stocks are available for as low as a fraction of their book values, making them attractive from a long-term perspective. Moreover, the belief of Indians that real estate is the best investment remains intact. That makes us bullish on the sector for the long term subject to pick-up in economic growth and revival of the investment cycle.
Barring a speculative rally based upon anticipation of favourable election results in May 2014, we do not expect the fundamentals of the sector to change any time before the middle of 2014. We are probably a few quarters away from when the sector should bottom out.
DLF

The company has been trying to reduce debt for the last few quarters. It is also attempting to reduce the interest burden by entering into big-ticket commercial mortgage-backed securities deals. Also, new projects launched by the company have received a better-thanexpected response. The existing project pipeline and improvement in execution will ensure that the company is well-placed when the sector rebounds.
Indiabulls Real Estate

Debt levels appear to have peaked as expected cash flow helps the company pare debt. Improving earnings and cash flow earnings are positive for the stock.
The company's pipeline of ultra-luxury projects not only makes it relatively immune from economic sluggishness but also increases the chances of significantly higher cash flows in the next few quarters.
---
TELECOM

"Margins will inch up as contribution of data to the overall revenue rises"
Deven Choksey, Managing Director, KR Choksey Securities

The year 2013 has been a game changer for the telecom industry. The government not only tried to reduce regulatory hurdles by ensuring clarity on issues such as mergers and acquisitions but also increased the foreign direct investment limit in the sector from 76% to 100%. Also, the approval by the empowered group of ministers to a proposal for reducing spectrum prices by 25-50% will lower costs.
The industry went through one of its worst periods in recent times as cut-throat competition and regulatory mess brought down operating margins from 40% to 25%. First, discounts by new entrants forced the established companies to reduce tariffs. Then came the court trial in the spectrum allocation scam, which brought all policy-making under a cloud, forcing the Supreme Court in 2012 to cancel a total of 122 telecom licences.
Fortunately, the industry is coming out of the woods. Companies have discontinued the services of inactive and low-value subscribers and shifted focus to active and revenue-generating subscribers. Competition has eased, leading to increase in tariffs. The number of data services subscribers, who generate decent revenues, has been growing 30% on a quarter-on-quarter basis.
Reforms, especially the clarity on M&As rules, will lead to consolidation and, thus, an increase in revenue for the bigger companies. Margins will inch up as contribution of data to the overall revenue increases.
Bharti Airtel
Target price: Rs 390

The market leader accounts for 28% subscribers and 30% revenue. Its voice segment is showing healthy revenue growth, led by an increase in subscribers and revenue per user. Blended operating margin is also rising, led by cost rationalisation of India operations and higher Africa margins. Improvement in key performance indicators will support revenue growth. Data services continue to show grow on both subscriber and revenue per user fronts. We recommend a 'buy' on the stock with a price target of Rs 390, an upside of 16% from the current levels.