Market experts, while discussing investment options, frequently talk about stocks as being 'cheap' or 'expensive'. They are referring to the stock being priced too high or low in light of the company's total earnings it has a claim on. The figure, called the price-to-earnings, or PE, ratio is calculated by dividing the share price by earnings per share.
This is how it works. If earnings remain the same or rise at a slower pace than the stock price, the PE ratio will rise. At some point, the price of the stock will be deemed too high vis-a-vis the earnings per share. So, it will be declared a sell candidate. Conversely, if the PE ratio falls, either because of rise in earnings or fall in the share price, the stock becomes cheap and, thus, attractive. This is because in such a case each share will have a claim on more earnings.
"In theory, the higher the PE ratio, the more expensive the stock. However, there are other parameters also to find out if the stock is expensive or cheap," says Devang Mehta, senior vice president & head, Equity Advisory, Anand Rathi Investment Services.
Though there are many other metrics to value stocks, some more suited to one industry than the other, the PE ratio remains the most popular. This is because it is the only parameter that goes to the heart of what businesses are all about-owner or shareholder earnings.
We discuss sectors and stocks that are expensive but still offer good money-making opportunities.
PRICEY INDICES
The Indian stock market is trading at a PE of 20.78 times 12 months trailing earnings (as on July 31). This makes it among the most expensive. The PE of an index is calculated by dividing the index level by total earnings per share.
The reason for such a high PE is the rally in stocks due to hope that India's economy will again start growing at a fast pace. In fact, some sector indices such as Realty are trading up to 60 times 12 months trailing earnings, much higher than their long-term averages. The National Stock Exchange (NSE) Pharmaceutical index, for instance, is trading at a PE of 45 times. It is followed by the NSE FMCG index, which is trading at 35 times earnings.
Dipen Shah, head, Private Client Group Research, Kotak Securities, says companies in defensive sectors such as pharmaceutical and FMCG are highly valued due to predictability of growth and large amounts of cash on balance sheets. In fact, several multinationals, or MNCs, in the defensive pack deserve a higher valuation, he says.
Take the case of pharmaceutical companies. "India is an attractive market for pharmaceutical MNCs because of billion-plus population, rising incomes and incidence of lifestyle diseases and spread of medical insurance. That is why they are willing to pay a high premium for good companies in the space," says Mehta of Anand Rathi. Also, these MNCs are finding it tough to grow in their home markets, making India all the more attractive for them. That is why despite the high valuation, Mehta is upbeat on the sector.
Among the big players, Sun Pharmaceutical and Glaxosmithkline are trading at PEs of 51 and 44.5, respectively. Vinay Khattar, associate director & head of research, Edelweiss, says Sun's valuation is justified due to its high margins and return ratios.
"Glaxosmithkline commands a high valuation as it has a strong parent, which gives it access to a long product pipeline, and good brand-building ability," says Mehta of Anand Rathi. "It is one of the few companies with an ability to grow at a reasonable rate without requiring a lot of capital," he says.
FAVOURITE FMCG
"FMCG companies have always been valued highly as they are not much affected by changes in government policies and the macroeconomic environment," says Mehta. Moreover, some of the biggest companies in the space such as HUL, P&G and Colgate are owned by big foreign parents. Their financials, too, are strong.
Warren Buffett recommends companies that offer unique products/services. The biggest advantage of such companies, he says, is that they are likely to have a lot of cash. FMCG companies fall in this category.
Take Asian Paints, which is among the most expensive stocks (trades at 47 times earnings). Still, many analysts like India's largest paint company due to its large supply network, strong brand and good portfolio mix. Coming close on its heels is Berger Paints with a PE of 42 times earnings. It is the second-largest company in India's decorative paints industry with a market share of 17-18%. Similarly, Pidilite is a great franchise with leadership in the adhesive segment and huge pricing power. It has all the plus points of an FMCG company-high sales growth, operating margin growth and return on equity. But Kotak's Shah is not comfortable with valuations in the FMCG sector and advises investors to choose stocks carefully.
REALTY TALES
The BSE Realty index was trading at 60 times trailing 12 months earnings in May. It has been rising due to optimism about revival of demand for real estate. Still, is the high PE ratio justified, considering that the economy and, therefore, demand for real estate may take many quarters to revive? While the signals are mixed, most experts suggest investors to be cautions while investing in real estate stocks. The PE ratios they say, may not be justified by the expected growth in the near future. But Mehta says investors should not judge real estate companies by only their PE ratios. They should look at project execution record and margins as well. They must also see the working capital to sales ratio due to the long gestation period of projects, debt, margins and return on capital.
RIDING THE WAVE
The auto index, too, has been scaling new highs since the start of the year.
Eicher Motors is one of the most expensive auto stock (trading at 53 times 12 months trailing earnings).
"High growth in Royal Enfield sales, expected recovery in the commercial vehicle segment and pricing power have helped the Eicher stock notch up spectacular gains," says Mehta of Anand Rathi. The stock has given a return of 58% a year since March 2011; it was trading at Rs 8,500 on July 31.
The Motherson Sumi stock has also risen sharply of late. It is trading at 42 times earnings. Mehta rates the stock as a buy and expects the good performance to continue.
HEAVY METAL
Many metal stocks have also risen sharply of late, mainly due to higher demand from China, and revival of India's economy. The JSW Steel stock, for instance, rose from Rs 1,035 on March 31 to Rs 1,180 on July 31. It is trading at 63 times 12 months trailing earnings.
Metal companies are valued on the basis of EBITDA, which in case of JSW Steel is expected to grow 43% a year between 2013-14 and 2015-16, according to a report by Edelweiss. EBITDA, or operating profit, stands for earnings before interest, tax, depreciation and amortisation.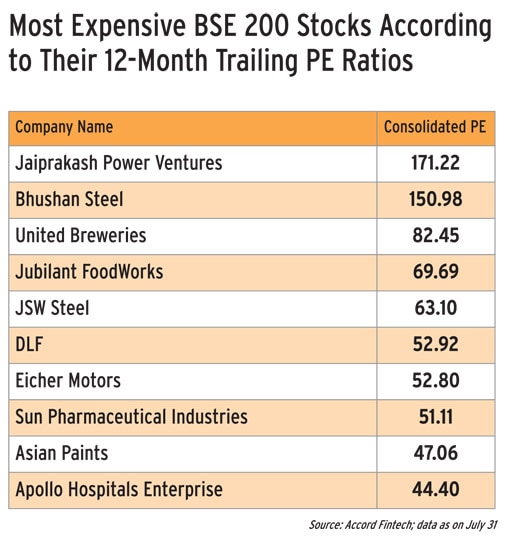 Similarly, power stocks have risen up to 35% in the last six months due to optimism about growth, increase in fuel availability and higher utilisation rates. Although the earnings of these companies are not very high, they are valued on the basis of assets. JP Power Ventures, for instance, was the most expensive stock based on trailing 12 months earnings in the BSE 200 index on July 31. According to a report by Emkay Global Financial Services, the stock can be bought on dips as the company's enterprise value is close to Rs 12,000 crore for its three hydro power plants, implying a price to book of 2.2 times, which is reasonable given that these plants' return on equity is 25%. Judicious analysis
Shah of Kotak says analysing stocks on the basis of trailing PE ratios may be misleading, especially in the current environment when things are changing fast, making forward earnings more important. One must always compare a company's PE to that of its peers. "Many high-risk companies will have low PE ratios, which means the market is not willing to pay a high price for risk. Examples can be sectors such as metals and sugar," says Mehta of Anand Rathi.
Shah says a few stocks will always command high valuations because of scarcity premium (not many listed companies in the space). An example is Jubilant Foodworks, which runs Dominos and Dunkin Donuts. The stock is trading at 70 times 12 months trailing and 52 times 2014-15 earnings. However, Emkay Global Financial Services has a sell rating on it as the company's margins are under pressure due to addition of more stores and high operating expenses. Shah expects premium valuations for the internet and ecommerce sector, which is an emerging area.