Investment guru Warren Buffet has always maintained that "It's important have a plan". However, India is an antithesis to this idea with awareness of financial planning lacking, especially how mutual funds can help in achieving one's goals.

ICICI Prudential Mutual Fund, in collaboration with MONEY TODAY, is organising investor conferences, Investor Awareness Initiative- 2011, in several cities to remedy this.

Here are excerpts from the interactive session during the second such conference held in Chennai on October 10. The speakers were AJ Harikrishna Raj, Zonal Business Head-Retail Sales and Distribution, South Zone, ICICI Prudential AMC, and Tanvi Varma, Associate Editor, MONEY TODAY.

Investors generally take out money during a downswing and rush into the market in an upswing. During these times even fund managers do not know what to do and end up investing in shares recklessly. How does investing through a mutual fund help if fund managers are reckless?
First, mutual funds invest in both equity as well as debt, so there is some risk aversion. The equity markets, in the short term, are bound to be volatile and you can see the fluctuation in NAVs of funds which move up and down with the market. However, this is only in the short term. If you look at statistics of some of the schemes in the long term, it can be seen that the returns are attractive.


For instance, take the ICICI Prudential Dynamic Plan, which in the last five years has delivered a CAGR of about 17.5% against a market which has delivered a CAGR of about 11.5%. If the fund manager had invested in shares recklessly, the fund could not have performed better than the market.
How to cut risk when investing in Mutual Funds
Moreover, it is not the fund manager alone who decides on how to invest. There is an investment process which is laid down and an investment committee that constantly monitors fund managers' actions. The company also has a brand name and an image to protect, which is critical to keep investors' trust. A fund house takes all this into consideration when investing in a stock.
In fact, what we have seen in the recent past is that despite the volatility in the markets, mutual funds have seen a rise in the number of systematic investment plan (SIP) accounts and increase in tenure of SIP investments.
Though equity is a volatile asset class, if you invest in it systematically and for a long period, you should get attractive returns.
You said a fund has to stick to a mandate. Could you elaborate a little on this please?

Let me explain with the help of an example. For the ICICI Prudential Dynamic Plan, depending on how the markets move, the corpus moves between debt and equity. Usually, 65% should be in equity and the balance 35% in debt.
Of course, though a fund manager can decide which stock to buy or sell, there is an investment process to be followed and he has to operate within it.
Mutual Funds best to build retirement corpus
The increase and decrease in exposure is based on a methodology, which has been defined by the fund house internally. So, once we have defined this methodology, we stick to the mandate, no matter how the markets perform.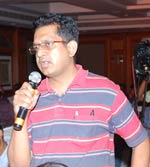 Since mutual fund NAVs are down right now, will it be right to make a lumpsum investment in the present situation?

There is no right and wrong in this. You can either invest through a systematic investment plan or opt to make a lump-sum investment. Both are good for funds. Different investors have different risk appetites, for which there are different ways to invest in mutual funds. For an investor who wants to save every month, the SIP route will be a better option. But if you think you want to make a one-time lump-sum investment, you can always choose to so. Choose a method that suits your risk appetite.
What is important is the horizon of your investment. This is because if you feel you need to make a lump-sum investment today, or for that matter any investment in a mutual fund, and take it out a month later, you will definitely not get good returns. It is important that you define your investment horizon and stay invested for a long enough tenure and you will not be dissatisfied with the returns.
In fact, if you had invested a lump sum between 2001 and 2003, it would have fetched great returns by 2008. On the other hand, an SIP will come into play in a highly volatile market, averaging the cost of investment.
If you look at the last 20-25 years, there have been ups and downs, but if you look in blocks of 5 years, equity markets have given positive returns. Equities will deliver in the long run.