(Picture for representation only)
Last year was disappointing for investors. Markets delivered paltry gains. Had you invested in an index or exchangetraded fund based on the Bombay Stock Exchange (BSE) Sensex, you would have earned just 9%, equal to returns from a one-year bank fixed deposit. Given the kind of risk involved in buying equities, such returns, to say the least, are disappointing.
But those who invested in one sector, technology, were better off than the rest . The S&P BSE IT index returned an impressive 59.78% in 2013. This was reflected in the performance of technology funds as well. The category delivered a return of 52.42% on an average. Had you invested in the best performing technology fund for the year, ICICI Prudential Technology Fund, Rs 100 invested at the start of 2013 would have grown to Rs 163 by the end of the year. The second best performer, SBI IT Fund, delivered a 54.50% return. Even the worst performer, DSPBR Technology.com Fund, returned as much as 41%.
DID YOU MISS THE BUS?
The five
technology funds delivered a return of 52.42% on an average in the previous calendar year.
Investors don't have to fret, as the rally is not over yet. The Infosys stock, the top holding (30% allocation on an average) of technology funds, rose 50.33% in 2013. TCS, the second-biggest holding of four out of five technology funds (ICICI Prudential Technology Fund doesn't have TCS) did even better. It returned 73% last year. HCL Technologies rose 104%.
However, experts are not expecting a 2013-like run this year. Strengthening of global economies and depreciation of the rupee against the dollar were the main drivers of technology stocks in 2013. Experts say the 2013-like rupee depreciation is unlikely in 2014, though improved earnings of companies will help their stocks maintain momentum.
In 2014, say experts, all eyes will be on results. "We expect that earnings momentum will remain strong in the coming quarters, which will drive stock performance. We expect 2014 to be a better year than 2013. Top five IT companies (Wipro, Infosys, TCS, Cognizant and HCL) grew revenues by 14% in 2013. In 2014, we expect improvement in the global economy, particularly in developed economies, which should augur well for the demand environment," says Dipesh Mehta, analyst, IT & Media, SBICAP Securities.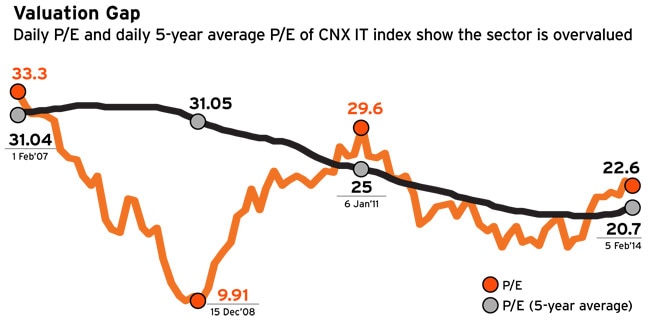 GLOBAL OPPORTUNITIES
The biggest plus for IT companies as they plan for 2014 is improving US economy and profitability of companies. The US accounts for 60% revenue of the big IT companies. "The IT sector had come under pressure after 2008 as clients cut discretionary spending. This has changed in the last year or so," says Anand Radhakrishnan, head of equities & portfolio manager, Franklin Templeton Investments-India.
The demand is strong in the new technology segments of social, mobility, analytics and cloud (SMAC). As per a report by Deutsche Bank, the US, along with Asian companies, is likely to be an early spender on new SMAC technology.
For Europe, too, the worst seems to be over, as its economy has stopped contracting. European governments and companies, due to the financial crisis, are under pressure to cut costs and improve profitability. As a result, their protectionism is giving way to increase in offshoring. Therefore, IT companies are scouting for opportunities in European markets.
"Indian companies are also benefiting from rise in market share in Europe. The outsourcing trend is gathering momentum and unlike earlier when players focused on different themes or a few countries, we are seeing Indian IT companies make a pan-European effort to get large outsourcing deals" says Anand.
RUPEE DEPRECIATION

The passage of the US Immigration Bill could result in escalation of labour costs and reduction in profitability of IT firms
ANAND RADHAKRISHNAN
Head of Equities & Portfolio Manager, Franklin Templeton Investments-India
Rupee fell 13% in 2013 and touched an all-time low of Rs 68.36 against the dollar in August 2013. It has stabilised at 60-62 levels since 2013-end, which is still 40% below the level it was in mid-2011 (45-54 levels). As IT companies earn most of their revenue from exports, any rupee depreciation adds to their bottom lines. Even if the rupee doesn't depreciate further from the current levels, it has significantly improved the competitiveness of Indian IT companies.
This advantage may vanish if the rupee falls significantly from the current level. However, the probability of this happening is very low at present.
POSSIBLE THREATS IN NEAR TERM
US Immigration Bill:
The Bill is a result of increased protectionism of the US government to support its economy. At present, it is the biggest threat to the Indian technology sector, as it will force IT companies to hire more locally. This will put pressure on their margins. "The passage of the US Immigration Bill (in its current form) could result in escalation of labour costs and reduction in profitability of Indian IT companies" says Anand.
Valuations:
After a great run last year, valuations are not cheap. The price to earnings, or PE, ratio of the CNX IT was around 23 on February 5, higher than the five-year average of 21. "There are not many cheap stocks within the sector any more. Not just the frontline stocks, even the second-line stocks have run up quite a bit. But if growth keeps surprising on the upside, valuations will continue to remain modest," says Anand Radhakrishnan.
KEEP EXPECTATIONS REASONABLE
Investors with a medium- to long-term horizon can enter the sector but with reasonable expectations. Those who don't have the time and ability to invest directly can take the mutual fund route. There are five technology funds.
"Like any sector fund, investors should use technology funds as a topping to a core portfolio for higher returns. Investors who like the risk/return equation of the sector but do not have time to construct a portfolio and manage it will also find such funds appealing" says Anand.
We would advise investors to use these funds to complement the core portfolio. Concentration of funds in a particular sector is risky. Therefore, investors who are comfortable with the risk-return profile of these instruments can allocate 10-15% funds to them.