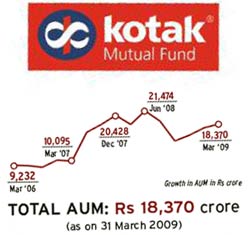 Kotak Mahindra Mutual Fund is the asset management wing of the Kotak group and is more than 10 years old. The fund house was a corporate and debt player till 2004, when it became aggressive in the retail and equity space. It is credited with launching the first gilt fund in 1998.
Asset Allocation
The break-up of assets worth Rs 18,370 crore for equity funds, balanced funds and monthly income plans.
Equities: 78.46%, Cash: 18.27, Debt: 3.28
Hit Hard
The profit of the fund house came down significantly, by almost 85%, in 2007-8, due to its aggressive expansion plans.
2006-7: Rs 8.63 crore, 2007-8: Rs 1.03 crore
Top 5 Fund Schemes
Kotak 30, a diversified fund, is the only equity fund that figures in the top five schemes.
Kotak Floater Long Term: 16.8%, Kotak Liquid: 11.5%, Kotak Flexi Debt: 5.7%, Kotak 30: 3.5%, Kotak Bond-Deposit Plan: 3.4%
Top 5 Equity Holdings
The Reliance Industries stock, worth Rs 162 crore, forms the bulk of the fund house's equity portfolio.
Reliance Industries: 7.4%, Bharti Airtel: 5%, SBI: 4.5%, ONGC: 4.1%, ITC: 3.5%
The holdings are % share of the total equity value, not the total AUM
Fund House Style
A mid-sized fund house, it has been expanding its network and range of products of late. Most of its fund schemes have manageable AUMs, which makes them less volatile.
Return percentile: 60, Risk percentile: 40
If you had invested Rs 10,000 on 1 January 2000 in Kotak 30, its value would be Rs 32,817 on 15 April 2009, an absolute growth of 228%.