"Though past performance does not guarantee future returns, it's a safe point to get started"

Sandesh Kirkire, CEO, Kotak Mahindra MF

Retro is all the rage. Whether it's music, films or fashion, people are lapping up the offerings of the past. And strangely, the retro craze seems to have caught the fancy of investors as well. Instead of flocking to the latest and flashiest schemes, investors are actually moving back to tried and tested instruments.
The most striking example can be seen in the mutual funds space, where investors are putting in large amounts of cash in established schemes with good track records instead of only subscribing to new fund offerings (NFOs). This has not always been the case.
The mutual fund, which was designed as the perfect vehicle to allow small investors to participate in the financial markets, has taken time to become an accepted investment option, at least in India. For years, the industry has been trying to educate investors on the many benefits of investing in a fund with an established track record.
But the lure of new fund offers and an attractive entry price of Rs 10 meant that new funds ruled the roost so far. However, as seen over the past few months—and past couple of crashes—investors are moving back to established schemes with good track records. Says Sandesh Kirkire, CEO, Kotak Mahindra Mutual Fund: "In recent times, when markets have dipped, we have witnessed cash inflows into our existing schemes."
And, it now appears, investors have been listening. Although there were new fund schemes afloat in both these periods, there was substantial demand for old funds as well. Fund houses and experts are unable to put an exact number to the amount that was invested in the existing schemes, but estimate that 10-15% of fresh infusions went into old schemes.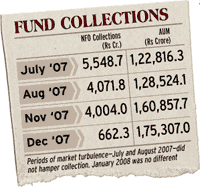 Essentially, investors seem to be doing what punters on racecourses have done for ages—checking the pedigree of the horse and its past track record before placing their bets. "Investors are becoming discerning and are looking at performance and track record more now," says Kirkire. The classic profile of a mutual fund investor is one who is prepared to invest systematically and hold over the long-term, implying somebody who wants value and steady long-term appreciation rather than momentum stocks. Says Dhirendra Kumar, CEO, Value Research: "Fund investors are now realising the virtues of investing into funds with good track records and investing in new funds that have something different to offer."
But this does not mean that there is a wholesale shift to existing fund schemes. Fund houses have been launching at least one NFO a month, and this trend is expected to continue through this year as well. Considering the blind faith that NFOs seem to inspire in investors, the shift into investing in existing schemes is a positive step. So, is this a sign that the Indian investor has come of age? All the signs appear to point to this.