Mutual funds in India did not have a lot going for them last year. One exception was funds that invest in stocks listed in the US.

FT India Feeder Franklin US Opportunities Fund, Motilal Oswal MOST Shares NASDAQ 100 ETF, ICICI Prudential US Bluechip Equity and DSPBR US Flexible Equity Fund have returned more than 20% in the year to July 18 compared with a modest 5% return delivered by the Hang Seng BEES and a 2% fall in the Bombay Stock Exchange Sensex.

BUOYED BY US RECOVERY
The reasons, says Himanshu Pandya, senior vice president and head, products & communication, ICICI Prudential AMC, are the rally in US equities and the dollar. A stronger dollar means investors in the US get more money when they convert their returns into rupees. The dollar has risen 17% against the rupee in the year to August 19.

For instance, 25% returns generated by ICICI Prudential US Bluechip Equity Fund can be attributed to the performance of the underlying assets, while 11% are due to the currency movement, says Pandya.


There are many reasons these funds have given stellar returns. One, the US economy has shown remarkable resilience in the last few quarters. It grew 2.2% in 2012 compared to a 0.6% contraction in the euro area and 0.3% growth in the UK. Similarly, the 2013 growth, at 1.7% (International Monetary Fund estimate), will be much better than the 0.6% contraction expected in the euro area. This is a sharp rise from the 3.8% fall in September 2008.
"In contrast with most countries in the world, US factory output accelerated slightly in June, aided by a rise in new orders, production and inventory," says Grant Bowers, vice president portfolio manager, Franklin Advisers Inc. In fact, the US Manufacturing Purchasing Managers' Index, or PMI, was 60 in June compared to 35 in 2008-09. PMI indicates the health of the manufacturing sector. A reading of more than 50 signals expansion from the previous month.
Further, the residential fixed investment rose 13.4%, a sign that the housing sector continues to rebound, while personal consumption rose 1.8%. Pandya says that on the most important parameters, consumption, employment and manufacturing, the US has done well. He says this is likely to continue.
"The second reason behind the outperformance of US equity markets is the aggressive monetary easing by the Federal Reserve or Fed," says A Balasubramanian, CEO, Birla Sun Life AMC.
"This liquidity injection has been a key reason for the strong performance of US equity markets over the last 8-12 months," he says. The federal funds rate has been held at a record low of 0-0.25% since December 2008. "This accommodative policy has generally reduced borrowing costs for companies and consumers, contributing to corporate earnings and providing an additional tailwind to housing and automobile markets," says Bowers.
The quarterly earnings per share of the S&P 500 index was below $20 at the end of 2009. It is now about $24.
IS THIS LIKELY TO HALT?
With the economy looking set for a decent recovery, the Fed is looking at rolling back its unlimited liquidity injection programme, called quantitative easing or QE. This is
making investors nervous
about how the economy and markets will fare when the current bond purchases of up to $85 billion a month stop. But a lot of experts say these concerns are overblown. The Fed has said that the economy needs to improve further before it adjusts its policies.
"Also, our expectation will be for US corporate earnings to be growing to a point when the Fed eventually lessens its bond-buying efforts, which will happen much before. Such growth could offset the effect of reduced QE," says Bowers.
In fact, fund managers still see a lot of value in consumer discretionary, financial and health care sectors, which have been key contributors to the recent run in US equities. A JPMorgan report says that the earnings of financial companies have been depressed by low interest rates. It expects a dramatic rise in profits of most banks, insurers and asset management companies as yields on loans and securities increase in a more normal environment.
Specialty retailers will also
gain from economic recovery
. "Further, new technology is dramatically increasing the supply of shale gas and oil in the US and global companies are increasingly relocating manufacturing capacity to North America," says Surti.
So, things seem to be going the US way, except for the one worry- the high unemployment rate. Represented as payroll numbers, while the US unemployment rate has improved significantly from 10% in October 2009 to 7.4% in the latest job report, it is still way below the Fed's comfort level of 6.5%.
INVEST GLOBALLY
Balasubramanian of Birla Sun Life says investors must diversify across countries as well as assets. Right now, say experts, it makes sense to buy assets in economies recovering from the 2008 crisis.
"Another attraction of these funds is that they offer protection against rupee fall," he says. Of late, the rupee has been falling against the dollar. With the trend unlikely to reverse in view of India's huge current account deficit, investing in the US will offer currency diversification.
Further,
flight of capital from India
, like the one seen in the last few months, makes equity markets here vulnerable. In such a case, more funds move to the bigger and stable markets like the US, which benefits those who have bought assets in that country.
How much should one diversify abroad? Pandya says that every investor whose equity portfolio is more than Rs 25 lakh should invest 5-25% in developed markets. He says developed markets, which have a lot of depth, provide optimal diversification compared to emerging markets due to the relatively low correlation between the two.
Due to economic uncertainty across the globe, few markets can be called stable at this point in time. South Korea, for instance, has competition from Japan, China depends too much on exports, Brazil is facing the end of the commodity cycle, while West Asia is politically unstable.
Nandkumar Surti, MD & CEO, JPMorgan Asset Management India, says investors must analyse their investment objective and risk appetite before investing. They should look at not only returns but also volatility. For example, the Asean market is the second best in terms of 10-year annualised returns. It is also the least volatile among Asian markets (see How Big Players Scored). These factors make it attractive. "We believe that China offers an opportunity for investors looking for value while the US offers opportunities to gain from sustained economic recovery with low volatility," he says.
RISK FACTORS
Earnings of US companies may disappoint. Many leading US companies earn a big part of their revenue abroad. So, risks for them include slowdown in China, weakness in the euro zone and strong dollar.
The S&P 500 index is still trading at 14.4 times forward price to earnings ratio, still below its longterm average of 15.7 since 1989. In January 2000, it was at 24.4, and had been falling until the last few quarters. "The US market has just entered its good cycle and will continue to deliver over the next twothree years, although it may not be able to replicate its recent returns," says Pandya. Investors could look at other developed markets such as Western Europe, England, Japan and Germany too.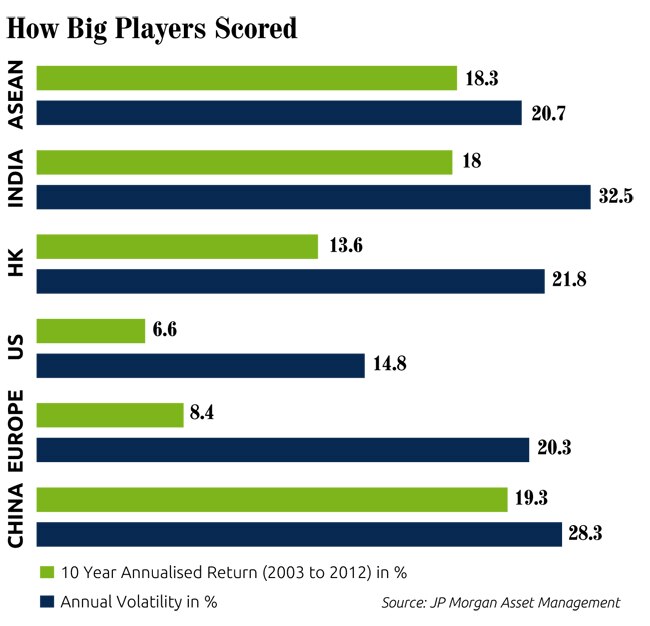 MUTUAL FUND ROUTE
A good way to invest in these markets is mutual funds. This is because fund managers have the expertise to identify the right geographies and stocks. In fact, most global funds offered in India are feeder funds, which means that they feed into the existing and established funds from their own fund house (listed internationally) that invest in global markets.
For instance, FT India Feeder Franklin US Opportunities Fund feeds into Franklin US Opportunities Fund, which was launched in April 2000 and tracks the Russell 3000 Growth Index. JP Morgan US Value Equity Off-shore Fund invests in JPMorgan - US Value Fund and its benchmark is the Russell 1000 Value Index.
Then there are funds like ICICI US Bluechip Equity Fund, an actively managed US-dedicated fund that invests directly in companies listed on the New York Stock Exchange and/or NASDAQ. Birla Sun Life International Fund invests in underlying assets. It is, in fact, quite diversified, and has invested 69% funds in the US and 6% in Switzerland. The rest is in developed markets where recovery is slow but consistent and in companies with strong fundamentals.
Wealth managers say that at least 5-10% of your portfolio should comprise global funds as they allow you to capitalise on each country's strength. For instance, no one can match the mass production capabilities of China. Similarly, to select the best aircraft designer, one has to go the US. Hence, diversifying globally can reduce the risk.