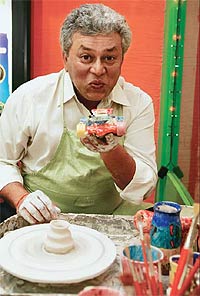 Vikas Verma
At Colour Factory, you can paint pottery, even make it, and take it home at nominal rates. Gurgaon-based Vikas Verma, 45, helps people lend colour to their creativity through the five outlets spread across the country.
How did you think of the concept?
I hit upon the idea three years ago when I visited such a place in Amsterdam, where I worked as executive V-P, operations, Barista Coffee Company. In 2005, I shifted back to India and opened the first outlet of Colour Factory at the DT Mega Mall in Gurgaon.
What was the initial investment?
I put in Rs 25 lakh from my savings and loans from family and friends.
Did you face any problems?
The initial days were tough. I only had three employees—today there are 20—and faced several irritants when it came to technology and raw materials.
What are your charges?
For painting an unfinished product, the charges range from Rs 80-500. Bigger pieces like wall clocks and fruit trays cost more. For making pottery products, the cost varies from Rs 100-200. You can take these with you after we provide the necessary finishing.
What are the items one can paint/make?
You can pick from a range of objects, including coffee mugs, vases, plates, clocks, soap dishes and dispensers, salt & pepper shakers, pencil holders, toys and decorative items like cars, planes and jeeps.
How has the response been?
It has been great from the first day itself. Today, a single outlet (there are five in all) sees 800-1,000 footfalls every month.
Do you plan to scale up the business?
We started from Gurgaon and expanded to Delhi, Goa, Bengaluru and Hyderabad. Now we are setting up another outlet in Mumbai. We also plan to upgrade our services to include mosaic and glass art.