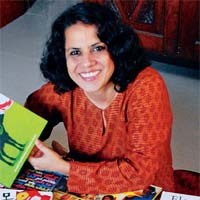 For Chennai-based Anushka Ravishankar, 48, freelance editing proved the proverbial stepping stone for her first love - writing. Now, the one-time software professional pens fantasies for kids.
Why did you start writing ?
I was a software programmer, but had to take several breaks because of my husband's job transfers. Each time I had to start afresh, which was very frustrating. During this period I had been freelancing for a children's magazine. This fuelled my desire to write books.
Why did you choose children's books?
In 1996, I became an editor for Tara Publishing. They had a set of visuals for a children's story and asked me to spin a tale. I decided to write Tiger on a Tree in verse, which was well received. I became hooked to the genre. It helped that my then nine-yearold daughter could also read them.
How many books have you written?
I have penned over 30 books, mostly picture stories, in both prose and verse. These include contributions to anthologies of short stories and illustrated novellas.
How much do you earn as royalty?
It ranges from Rs 50,000 to Rs 2 lakh annually and I write at least two books a year. The income jumps if a story is bought by a foreign publisher as they pay almost double the amount that is offered by Indian publishers.
How do you find story ideas?
There is no specific source. In fact, there is a story behind every story that I write. For instance, the picture book, Elephants Never Forget, was inspired by a conversation on an elephant living with buffaloes.
What are your future plans?
I want to write books for 12-14-year-olds. Also, I intend to dabble in other genres like short stories in prose.