Are you looking to buy a house but don't want to wait for three to four years that developers take to complete projects? Or do you want to live in an area where basic infrastructure is already in place? If yes, your best chance is buying a house in the resale market. This will reduce the waiting period for developing the property and the locality.

Though this will eliminate some risks, still there are many things you must remember while buying a property in the resale market.


RESALE UNITS
Such houses are not necessarily old. The market has a large number of recently-built houses that are owned by investors who want to cash out.
Properties in the resale market can be put into two categories. First, ready houses owned independently. Second, units in projects which are in the construction phase. In such projects, the seller does not own the property yet, but has an agreement with the developer entitling him to ownership in the future.
One reason for
buying a house in the resale market
can be non-availability of new projects in the area where you want to settle. "In big cities, new residential properties tend to be scarce or non-existent in many central locations," says Om Ahuja, chief executive officer, residential service, Jones Lang LaSalle India (JLL), a real estate advisory firm.
Or, in areas where new properties are coming up, they may have been sold out. This is particularly true in speculator-driven markets such as the Delhi-National Capital Region (NCR). With investors booking at launch so that they can sell out as the project gets going, anyone looking to buy later has no option but to approach them.
PRICE FACTOR
A property in resale is not cheaper than a new one-unless, of course, the structure is old. In urban locations, where land accounts for a very big part of the cost, the difference, if any, between a new and an old structure is small.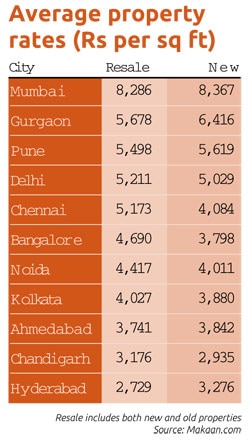 The situation is different for projects in which a lot of people have booked houses at discount at the time of launch with the intention of booking profit before the project is complete. In locations such as the Delhi-NCR, Mumbai and Bangalore, such properties are being sold at 5-20% less than the latest prices that developers are offering.
"In today's scenario of oversupply and plateaued returns, resale properties are available at a lower price in many markets, especially where there is high investor participation. Investors usually sell when they get a reasonable profit and when they feel the valuation has peaked or started to stagnate. They attract buyers by offering a lower price compared to the fresh stock in the market," says Ganesh Vasudevan, chief executive office, Indiaproperty.com, a real estate brokerage website. There may not be any price difference between ready-to-move houses and underconstruction houses close to the possession date.
"If the under-construction project is close to completion, the price difference will be minimal. The difference will be more in the initial stage, but in such a case the risk will also be higher," says Ahuja of JLL.
TRANSFER CHARGES
Though
under-construction houses
may cost less in resale, you must factor in the transfer charges levied by developers to know the total cost of ownership. Many developers charge Rs 100-500 per square foot for such transfer. So, if the transfer fee is Rs 500 per sq ft, the buyer will pay Rs 5 for a 1,000 sq ft apartment. Builders levy this fee to safeguard their interest as otherwise they risk losing new customers when early birds who have booked at a lower price sell their houses for less than the price they are asking for the fresh stock.
"Typically, the launch price is Rs 500 -1,000 per sq ft less than the market price of ready-to-occupy flats in the vicinity. This period is used by investors and speculators to buy below market rates. The transfer fee is levied to deter speculators from selling at less than the developer's price," says Shreekant Shastry, vice president, business development and strategy, Ozone Group, a Bangalorebased developer.
Apart from discouraging sale by early investors until all the units have been sold, the fee also helps developers claim a share in investors' gains.
Rs 100-500
per square foot is the fee that developers charge for transferring property from one party to another
"The transfer fee is the developers' way to cash in on the price escalation in the market. They are aware of the enormous profits investors make by buying at a lower rate during the launch stage," explains Vasudevan.
The fee also covers the cost and effort required to execute the ownership change, the reason cited by builders for the levy.
"Transfer fee is charged to meet administrative expenses as transfer of booking involves a lot of administrative and documentation work. It also involves legal issues, which the developer has to address," says RK Arora, chairman and managing director, Supertech, a New Delhi-based developer.
Supertech does not charge anything for the first transfer, like a lot of developers. Some developers do not charge anything if the transfer is to a family member.
One more reason developers charge the fee is heavy churning of properties by speculators. The ownership of units in under-construction projects often changes multiple times before the end-user gets the possession. Such active trading pushes up prices.
"The fee is at times justified to control active investor participation. But in recent times, developers have increased the fee drastically," says Vasudevan.
You don't have to pay the fee at some locations. "The fee has been abolished in Maharashtra. It is hoped that the other states will follow suit. It is a regressive system with no logical basis," says Ahuja.
DUE DILIGENCE
You make big purchases only after necessary enquiries. You should conduct due diligence before buying an under-construction property in resale as well. The checks include verifying title records and ensuring that the property specifications conform to the claims.
"Some of the documents one should review before buying are the builder-buyer agreement and original payment receipts against the installments paid. One should also check if any dues are pending with the builder," says Anshuman Magazine, chairman and managing director, CBRE South Asia, a property advisory.

Before buying a property one should review the builderbuyer agreement and original payment receipts against the instalments paid.
Anshuman Magazine
CMD, CBRE South Asia
You should also find out the reasons the owner is selling the property. "If the seller is an investor, there may be valid reasons. The property may have appreciated sufficiently to make a sale attractive," says Ahuja of JLL.
"If the property is being sold by someone who had originally intended to live in it, there could be negative reasons. For instance, the developer may not have met the timelines. Even the completion of the project may be in question," adds Ahuja.
A property in a housing society requires the buyer to check its rules. Housing societies control various aspects of services, charges and even sale of properties based on their bylaws. You should get a copy of the rules and regulations from the society and invest only if you are comfortable with all of the housing society's rules.
"Society bylaws are drafted as a collective check to ensure that the society's core values, stated during registration, are safeguarded. These can cover any and every aspect of the lifestyle experience offered by the society to its members," says Vasudevan of IndiaProperty.com.
For additional safety, you can go for a loan as banks usually do due diligence on the property. Many home buyers get their homes part-funded for this additional check even when they have adequate funds.