"Keep your shop and your shop will keep you." This saying from the island country of Jamaica holds true for modern retailers as well. The reason is simple. The rentals for shops in good locations are shooting through the roof. But does it make sense to buy retail spaces at this stage, especially when many experts are predicting slowing demand from shoppers?

SUPPLY SCENARIO

The retail segment saw a lot of leasing activity in main streets as well as malls in the first six months of 2013. Unlike the residential segment, which is facing a glut due to lack of buyer interest, India has limited quality mall spaces. However, there is excess supply of lower-rung malls.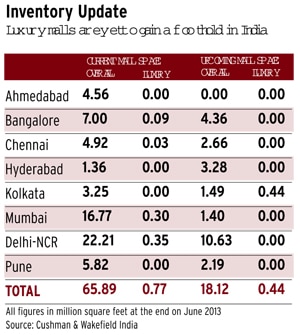 "When it comes to quality mall spaces, where
shops are leased out,
designs are optimal and the management does a good job of controlling brand mix and marketing, there is no glut. But when we talk of ill-designed malls that are stratasold and have poor managements, yes, a glut does exist," says Anshuman Magazine, chairman and managing director, CBRE South Asia, a property consultancy.
The retail segment is not likely to see any major change in the immediate future. However, industry players are confident about an upturn in the long run.
"Over the course of the next year, we see little traction in the retail real estate segment, including mall spaces. However, the situation may change for the better over the long run. With opening up of foreign direct investment, or FDI, in organised retail, the demand for new spaces is bound to rise," says Mohit Goel, chief executive officer, Omaxe, a New Delhi-based developer.
"Malls will definitely witness capital appreciation over the next five years due to economic growth, rise in disposable incomes and considerable working population," he says.
CONSTRUCTION DELAYS
According to property consultancy Cushman & Wakefield India, in the top eight cities (National Capital Region, or NCR, Mumbai, Bengaluru, Chennai, Hyderabad, Ahmedabad, Kolkata and Pune), 64% (13 malls) space expected to become available in January-June 2013 could not be delivered. Only three malls, with a total space of 2.94 million square feet, became operational during the period.
The primary reason for delays is the high construction cost and the liquidity crunch that developers are facing. Also, retailers are cautious about opening stores, which means it's not easy to find tenants.
Though construction of a number of malls has been delayed, the three that became operational in January-June-one in Mumbai and two in Chennai- have more than 95% occupancy.
PRICE MOVEMENT
When it comes to rentals and capital appreciation, the performance of retail spaces has been mixed-from decline in some pockets to decent double-digit growth in some.
According to Cushman & Wakefield India, rentals rose 9-18% in some micro-markets such as Vashi (Mumbai), Chennai-Peripheral (South), South Delhi and Salt Lake (Kolkata) and South Kolkata in the June quarter. The change was driven by new leases at higher rentals as the demand remained robust.
On the other hand, rentals in NTR Gardens, Hyderabad, fell 17% due to low demand. Chennai's Western suburbs saw a 5% fall due to a different reason-fall in footfalls due to ongoing construction activity in the area that has made traffic movement difficult.
The rise in rentals in most locations is uncertain due to poor economic sentiment. "The next year may be crucial in view of the prevailing economic uncertainty. Having said that, established high streets and malls may see a rise in rentals in the medium term due to limited supply and steady demand," says Magazine.
LIMITED REACH
Though growing fast, organised retail accounts for a small part of the total retail business. Also, it is limited to big cities.
"When compared to other markets, especially the West, India's retail segment is yet to reach a stage of maturity. The Indian market does not have the required depth, which makes it not so lucrative for developers," says Srinivasan Gopalan, chief financial officer and chief operating officer of Wadhwa Group, a Mumbai-based real estate company.
According to Cushman & Wakefield India, the retail mall stock is expected to rise by 27% by 2015. At present, India's top seven destinations (Mumbai, NCR, Bengaluru, Chennai, Hyderabad, Kolkata and Pune) have around 65 million square feet operational mall space.
NEW LOCATIONS
The retail market is yet to develop even in the major metro cities. For instance, Mumbai fares poorly compared with the NCR.
Even as the mall culture gets ready to swamp India's metros, state capitals and small towns are also embracing organised retail. You can now spot some good malls in places such as Amritsar, Ludhiana, Agra, Rishikesh, Lucknow, Patna and Bhopal as well.
Many industry players are optimistic about the future of organised retail in small towns. "Infrastructure in Tier-II and Tier-III cities is being developed to attract investment in retail, banking and corporate sectors. Disposable incomes are also on the rise. The people, too, are becoming more and more brand conscious," says Goel of Omaxe.
The growth of organised retail and related real estate is expected to get a boost when the government eases rules and attracts FDI.
"Due to rise in the cost of space in metro cities, many brands, both domestic and global, are looking at Tier-II and Tier-III cities," says Goel.
INVESTMENT STOCK
If the future of the retail sector is bright, does it make sense to buy properties in malls for leasing them out to big retailers?
If a developer is selling singleshop units without proper mall management in place, it is a recipe for disaster. So, many developers are preferring to stay away from strata-selling or sale of small units to a large number of people. Instead, they are leasing out spaces to retailers, while retaining ownership and management. Some are selling stakes or large spaces, say, entire floors, to investors.
"It is usually not advisable to buy retail space in malls, whether in Tier-I or Tier-II locations. The way forward is leasing out the space," says Magazine of CBRE. "When a mall space is viewed primarily as a real estate asset, it seldom ensures long-term capital appreciation," he says.
In the lease model, both tenants and developers are stakeholders in the business and work for the success of the mall. After looking at the plight of strata-sold malls, developers in Tier-II cities have also adopted the lease model for their malls.
However, if you are still tempted to earn regular rental income of 10% per year and want to invest in a shop available in a mall, make sure that it is under a professional management that is capable of making it a viable marketplace.