Sam Abraham introduces new products and services to help you zero in on those that offer value for money.


SAMSUNG NEXUS S
Rs 28,000 (approx)
FEATURES
ARM Cortex A8 1GHz processor, 512 MB RAM
3G HSDPA, 7.2 Mbps; HSUPA, 5.76 Mbps
Great performance and the Android 2.3 Gingerbread OS does make this phone a very attractive gadget. However, Samsung seems to be in no hurry to launch the Nexus S. For those who cannot wait, try Flipkart. They claim to have the device in stock for Rs. 27,999.
INTEL SSD 320 HARD DRIVES
NA
FEATURES
40 GB to 160 GB, and even 300 GB and 600 GB
Intel's third generation SSD 320 Series drives feature proprietary Intel SSD controllers paired with the cutting edge 25nm NAND flash memory. This new series, however, isn't geared for ultra-high performance. The point was to increase reliability and security. In fact, these do not feature support for the faster SATA III 6Gbps interface and are SATA II 3Gbps only.
TAP TAP REVENGE
Free download
FEATURES
Android, iPhone versions available


If you're a fan, you'll like the newest version. Tap Tap Revenge 4 now features updated tracks from artists such as Katy Perry, Daft Punk, Linkin Park and Nicki Minaj. The new game also brings high-resolution Retina Display graphics, a brand new arcade mode and game center integration, which ties in perfectly with social networking sites such as Facebook and Twitter
SONY XPERIA PLAY
Rs 35,000 (apppox)
FEATURES
Android OS 2.3 Gingerbread, 1GHz processor
512 MB RAM, microSD expandable up to 32GB
The headline feature here is the slide-out controller. This comes with a D-pad, PlayStation face buttons, a pair of touchpad 'thumbsticks' and two shoulder buttons. There's also an accelerometer on board and a little app named PlayStation Pocket, serving up juicy dollops of classic PlayStation One games. Wait and see how the Play fares in the iPhone and Nintendo 3DS era.
OPERA MINI 6, MOBILE 11
Free download
FEATURES
Opera Mini 6 is available on Android, BlackBerry, Symbian/Series 60 and Java (J2ME) phones
Opera Mobile 11 is compatible with Android, Symbian,Windows 7 and MeeGo
Apart from minor changes that only Opera loyalists are likely to notice, there have been a few enhancements. A new sharing feature (the Opera O) has been added to both browers, pressing which pulls up options to share via e-mail, text, Twitter, Facebook, and other social networks, apart from the usual. You also get pinch-to-zoom across-the-board on all compatible devices. Opera says it has also enhanced scrolling, panning and zooming.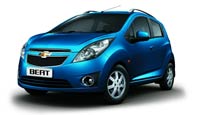 CHEVROLET BEAT
NA
FEATURES
Aluminum cylinder heads, lightweight pistons with low tension rings, deep skirt cylinder block with epox coating
General Motors India is set to launch its indigenously developed 1.2-litre SMARTECH engine, which will power the Chevrolet Beat. The company claims the new engine decreases weight and maximises fuel economy. It has an inverted tooth-timing chain drive system. The chain links engage at a lower impact speed, which decreases the noise.