There's a saying among savvy investors: Be greedy when others are fearful, or buy when others are selling. Despite the stock market mayhem, this may be the right time to buy. But you have to be careful and choosy. Here's why experts feel that the 10 stocks mentioned below can offer attractive returns over the next 2-3 years.

For one, their valuations are at mouth-watering levels. Take ICICI Bank's market cap, which is less than its current net worth, or Bhel, which has enough orders to keep the company busy for the next 4-5 years. So there are hidden opportunities to exploit in this 'depressive' market. The micro-fundamentals of these companies have not deteriorated, only their share prices have tumbled.

Secondly, you can now buy more for the same price. These 10 stocks are likely to lead the rally when the market recovers. During the bear market in 2000, Larsen & Toubro lost 60% of its value, but the investors who picked up the stock at those levels would have gained 16 times had they sold off the shares a few weeks ago. So if you have money and the guts to play the markets now, go for it. But at your own risk.

ICICI BANK
ENAM: TARGET PRICE RS 800
>> Fee income likely to grow at 25-30% in coming quarters.
>> Cost-cutting measures expected to help bottom line.
>> Fall in G-Sec yields to help recover marked-to-market losses.
IDFC SSKI: TARGET PRICE RS 930
>> Growth in current & savings accounts ratio will be the key.
>> Once the bank shows restraint in growth, the change in investor sentiment will lead to re-rating of the stock.
PRABHUDAS LILLADHER: TARGET PRICE RS 615
>> Current share price already discounts maximum possible defaults in foreign investment portfolio.
>> Stock trading at record low of 1.0 times 2009-10 book value.
AXIS BANK
IIFL: TARGET PRICE RS 910
>> Q2 profits grew 77% without material rise in bad debts.
>> Raising profit growth estimates by 4.4% to 39% despite an expected slowdown in the second half of the current year.
PRABHUDAS LILLADHER: TARGET PRICE RS 850
>> 91% jump in Q2 fee income has been a positive surprise.
>> Net non-performing assets as a percentage of net customer assets stabilised at 0.43% against 0.47% in previous quarter.
MOTILAL OSWAL: TARGET PRICE RS 973
>> Post-Q2 results, we increase earnings estimates by 11% for 2008-9 and by 4% for 2009-10 financial years.
>> Strong asset quality—high rated loans up from 78% to 84%.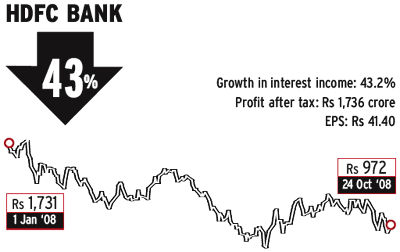 HDFC BANK
IDFC SSKI: TARGET PRICE RS 1,385
>> Earnings expected to rise by 38% on strong core income.
>> Stock quoting at attractive valuation of 2.8 times 2009-10 estimated adjusted book value.
MOTILAL OSWAL: TARGET PRICE RS 1,400
>> Strong loan growth with greater emphasis on the retail segment and high fee income will aid earnings growth momentum.
>> We expect RoA to remain high at 1.3-1.4%.
MACQUARIE RESEARCH: TARGET PRICE RS 1,439
>> High interest rate will help maintain NIMs at above 4%.
>> Over the medium term, the current and savings accounts ratio should improve marginally.
BHARTI AIRTEL

CENTRUM RESEARCH: TARGET PRICE RS 1,030
>> Bharti's core strategy of enhancing network coverage and strengthening rural reach will help sustain its position.
>> Bharti Infratel and Indus Tower will be key catalysts.
ASIT C. MEHTA: TARGET PRICE RS 1,010
>> With strong earnings visibility and excellent execution record, Bharti will continue to be the market leader, with 25% market share by the end of 2009-10.
MOTILAL OSWAL: TARGET PRICE RS 1,020
>> Bharti Airtel offers highest earnings visibility in the sector.
>> Valuations at 9.9x 2008-9E and 7.9x 2009-10E EV/EBITDA are attractive considering 2-year EBITDA CAGR of around 31%.