Crude oil prices fell 17% to $46.59 per barrel this year till January 13, after sliding 47% in 2014. Experts are predicting a fall towards $30 per barrel. In 2014, they had fallen to $57.33 and Rs 3,691 in global and domestic markets, respectively. "There are concerns about weakness in the global economy but the sustained fall in crude oil prices is positive for India's economy," says Dipen Shah, head, Private Client Group Research, Kotak Securities.
The price fall will translate into huge savings on imports, besides benefiting industries that use oil and its derivatives. These include oil, auto, paint, aviation, cosmetic and fast moving consumer goods (FMCG) companies. For instance, lower crude oil prices will reduce input costs for paint companies as they use titanium dioxide, a crude oil derivative, as a raw material. Similarly, the cosmetic industry is a heavy user of paraffin, again a crude oil derivative.
However, most experts say that oil prices have bottomed out for now. "This year, a bounce-back can be expected from $40-42. Oil can test $65-78 levels on the higher side," says Vivek Gupta, CMT, director research, CapitalVia Global Research. Sugandha Sachdeva, assistant vice president and in-charge, metals, energy and currency research, Religare Securities, says, "This leg of the correction is expected to take prices lower, but the downside seems limited as of now."
Let's see how lower oil prices will benefit India Inc.
Oil Marketing Companies: The fall in oil prices supported stocks of oil marketing companies, or OMCs, in 2014. Bharat Petroleum Corporation, Hindustan Petroleum Corporation (HPCL) and Indian Oil Corporation shares rose 84.74%, 128.63% and 59.16%, respectively, during the year. "The fall will have a positive impact on downstream oil companies by lowering their subsidy burden," says Gupta of CapitalVia Global Research.
These companies have been bearing the burden of under-recoveries-money lost by selling fuels at prices set by the government. Karthik Rangappa, vice president, research and education services, Zerodha, an online brokerage, seconds Gupta. "Low oil prices will ease OMCs' subsidy burden. However, in the short term, they will suffer an inventory loss." Most OMCs have inventories bought when crude oil was trading much higher. Market experts are bullish on HPCL. The company registered a net profit of Rs 850.21 crore in quarter ended September 2014, up 167% from Rs 318.92 crore in the same quarter a year ago. "HPCL is among the better-managed OMCs. It will benefit from low crude oil prices as subsidy burden falls and realisations improve," says Rangappa. Paint companies: Paint companies use several crude oil products as raw material. Titanium dioxide and other crude oil derivatives such as Phthalic Anhydride and Penraerythritol account for 50% input costs. However, prices of crude oil derivatives move much less than that of crude oil. For instance, brent crude has fallen 45% year-on-year while titanium dioxide has corrected only 15%.
Shah of Kotak Securities says, "As per our analysis, every 4% fall in prices of crude oil derivatives impacts margins by 50 basis points, or bps, and earnings by 30 bps. Of course it is very difficult to put an exact figure due to the complex mix of materials used by paint companies." India has six listed paint companies. The shares of the three biggest, Asian Paints, Berger Paints and Kansai Nerolac, rose 50.4%, 77.5% and 73.7%, respectively, last year.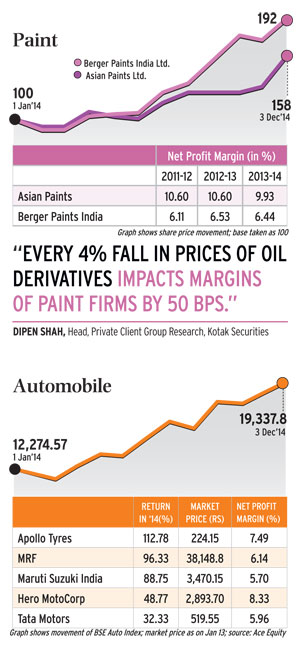 Experts recommend Kansai Nerolac and Berger Paints. Kansai, India's largest industrial paint company, is a subsidiary of Kansai Paints, Japan. Its main consumers are industrial, automotive and powder coating companies.
"Rise in demand for automobiles should benefit Nerolac. Falling prices of oil and its derivatives, including material titanium dioxide, should improve margins and returns. We believe the stock can touch Rs 2,400. It touched an all-time high of Rs 2,104 on December 1 last year," says Shah. Berger, the third-largest paint company, is trading around its all-time high of Rs 465. The company is the second-largest player in decorative paints. It registered a net profit of Rs 67.03 crore in quarter ended September 2014 as against Rs 62.67 crore in the same quarter a year ago. Its valuation, though, is on the higher side. On January 5, it was trading at 12 months trailing price-to-earnings (P/E) ratio of 61.84 as against the industry P/E of 53.79. Still, Gupta of CapitalVia is bullish on the stock. "It is trading at a high level and after a short correction has bounced from the support of Rs 370. It is likely to rise further as it is managing to remain above 50 days and 200 days daily moving averages. It can test Rs 462 levels in the coming sessions," he says.
Auto and Tyre companies: Falling oil prices will lower the cost of running automobiles and encourage people to buy. In 2014, the BSE Auto index rose 51.78% to 18,631. Eicher Motors rose 202.42%, followed by Maruti Suzuki (88.75%), Hero MotoCorp (48.77%) and Tata Motors (32.33%). Alex Mathews, head of research, Geojit BNP Paribas Financial Services, says, "Lower petroleum prices will encourage people to buy vehicles. They may also lower current account deficit and inflation, encouraging the central bank to reduce interest rates, which can be a trigger for demand.

"Lower petroleum prices will encourage people to buy vehicles. they may also lower current account deficit and inflation, encouraging the central bank to reduce interest rates, which can be a trigger for demand.".
Alex Mathews
Head of Research, Geojit BNP Paribas Financial Services
Maruti Suzuki and TVS Motor Company are the few stocks which may attract buyers." On January 5, the two were at Rs 3,447.60 and Rs 271.20, respectively. Rise in auto sales means higher demand for tyres as well. Plus, one of the inputs for tyres, synthetic rubber, is a byproduct of crude oil. So, a fall in crude oil prices will be an additional advantage for tyre companies, which have already seen operating margins expand to double digits in the last couple of quarters due to steady fall in natural rubber prices. In 2014, natural rubber prices fell 20% in the domestic spot market. However, they have surged over 10% to Rs 130 per kg in the one month till January 5.
According to experts, if crude oil prices fall further, tyre manufactures can use more synthetic rubber. At present, synthetic rubber prices are nearly 30% less than natural rubber prices. Last year, TVS Srichakra, JK Tyre and Ceat stocks had risen 505%, 275% and 156%, respectively. Aviation: Fuel accounts for 40% operating cost of aviation companies. So, fall in fuel prices will help these companies increase profit. Gupta of Capital Via Global Research says, "There is another side as well. Highly competitive actions taken by aviation companies to increase load factor (by cutting fares) will be offset to an extent by the steep price cut. Overall the fall in crude oil prices is positive for the aviation sector."
FMCG: Crude oil derivatives account for a big part of raw material costs of several FMCG companies. Notable derivatives are HDPE (packaging), LLP (creams and hair oils) and LAB (detergents). Decline in HDPE prices will reduce costs across the sector, while fall in LAB and LLP will impact detergent and personal care companies.
Experts believe packaging accounts for 15-30% costs for FMCG companies and so fall in crude oil prices is estimated to boost margins by 6-8%. Shah of Kotak says, "While decline in crude oil prices shall have an impact on various FMCG companies, it is hard to say what the net impact on earnings will be over the medium term. In the immediate term, we believe the impact will be positive. The impact shall be high on Hindustan Unilever, followed by Dabur and Marico." Last year, the BSE FMCG index had risen 18% to 7,766.57. Britannia Industries rose 100.4% to Rs 1,840. It was followed by Emami (65.7%), Marico (49.3%) and Dabur India (35.8%).