If you had invested in Unitech, Jai Corp, Suzlon Energy, Aban Offshore and Kingfisher Airlines on January 10, 2008, you would be holding a horror of a portfolio today. A Rs 1,00,000 investment in each of these stocks that day, or Rs 5,00,000 in total, would have shrunk to Rs 39,260 on October 31, 2011. The Sensex had touched its highest-ever intra-day high of 21,207 on January 10, 2008.

All five stocks have fallen over 90 per cent during the period. While Unitech fell 94 per cent to Rs 29 from Rs 517 on January 10, 2008, Jai Corp crashed 93 per cent to Rs 84 (Rs 1,282 on January 10, 2008), Suzlon Energy 91 per cent to Rs 38 (Rs 451), Aban Offshore 91 per cent to Rs 431 (4,927) and Kingfisher Airlines 90 per cent to Rs 24 (Rs 253).

The BSE 500 index fell 21 per cent from 8,566 to 6,763 during the period. In fact, 54 stocks in the BSE 500 index have fallen 80 per cent in the period, while 151 are down 50 per cent. Equity analysts now see value in some of these stocks.

SPECIAL: Tips for investing in bonus issues


On November 4, 2011, IVRCL, Mahanagar Telephone Nigam Ltd, GVK Power & Infrastructure, S Kumars Nationwide and Videocon Industries were trading at price-to-book values of 0.55, 0.34, 0.86, 0.77 and 0.54, respectively. Price-to-book value (PBV) is the ratio of the market price of a companys shares over the book value of its equity. A low PBV indicates the stock is undervalued.
"It is worth examining shares trading below their book values. However, this cannot be the only criteria. The investment should depend on the company's performance. One needs to consider the asset and management quality," says Sudip Bandyopadhyay, managing director and chief executive officer, Destimoney Securities.
"Investors should focus on business, management and valuation," says Hemant Kanawala, head of equities, Kotak Mahindra Old Mutual Life Insurance.
FACTORS TO WATCH

Market analysts say investors must look at a company's corporate governance standards, capital expenditure plans, management quality and order inflows.
Corporate governance refers to rules, processes or laws by which businesses are operated, regulated and controlled. Capital expenditure is increased to acquire or upgrade a business asset.

MUST READ:
How to deal with share market rumours
"To invest in beaten stocks, an investor should look at management quality, corporate governance standards and the reason for the price fall. The investor must focus on the company' current performance and prospects," says Bandyopadhyay.
"An investor should check the company's order book and capital expenditure plans," says Ramanathan K, chief investment officer, single manager, ING Investment Management.
However, what should one do if one owns such shares? "Do not average out your losses. This brings down your purchase cost but does not guarantee that the stock price will rise above your average acquisition cost. Getting out is one of the best ways to protect your portfolio," says Samir Gilani, head, derivatives, and co-head, equities, MAPE Securities.
INVESTMENT OPTIONS: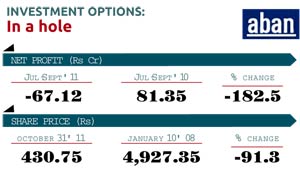 In a hole: Aban Offshore
Between January 10, 2008, and October 31, 2011, the Aban Offshore stock fell 91 per cent to Rs 430. The company is India's largest provider of offshore drilling services to oil companies.
The stock was at Rs 1,683 on January 15, 2007, and rose to Rs 5,379 on January 4, 2008. Market experts say this 291 per cent jump was due to the sharp spike in crude oil prices. Crude oil moved from $58 a barrel in 2007 to $147 in the early days of 2008. It was at $32 a barrel in December 2008.
"Due to the 2008 global financial crisis and a plunge in crude oil prices, the stock tanked to Rs 671 on December 31, 2008," says Alex Mathews, research head, Geojit BNP Paribas Financial Services.
MUST READ:
Economic crisis 2008: What we can learn
The stock touched its lowest level of Rs 231 in the last quarter of 2008-2009 as the company reported a net loss of Rs 127 crore as against a net profit of Rs 34 crore in the same quarter of 2007-2008.
This year the stock has showed some positive moves due to higher crude oil prices. Since early August, it has risen 8 per cent. It was at Rs 431 on November 3, 2011.
The stock is trading at a price to earning (P/E) multiple of 8.5 compared to the industry average of 12.87, with an earning per share of Rs 50.35. The dividend yield is 1 per cent and the PBV is 0.80. The long-term debt to equity ratio is 1.23 while the long-term debt to capital ratio is 0.55.
"If the stock can stay above Rs 456 consistently, we may see a level of Rs 550 in the short term, and it can move above Rs 675 by the end of 2013," says Mathews.
---
Call drop: Reliance Communications
The Reliance Communications stock declined from Rs 796 on January 10, 2008, to Rs 80 on October 31, 2011, a fall of 90 per cent. The reasons were tough competition, resulting in rock-bottom call rates, and the 2G spectrum allocation scam.
"Margins in the telecom sector fell from the second half of 2009 due to competition," says K Jayaraman, research associate, Bonanza Portfolio.
Reliance Communications' net sales fell from Rs 12,080 crore in 2009-10 to Rs 11,989 crore in 2010-11. Operating profit fell from Rs 2,156 crore to Rs 913 crore.
"The company offered a host of concessions and offers that were a big drain on finances. Both top line and bottom line were hit. Also, the company has a stigma that it is involved in the 2G scam case being investigated at various levels. There is fear of damages and financial loss. There is a big contingent liability that may accrue to the company," says Jayaraman.
The company's debt rose from Rs 14,500 crore in March 2007 to Rs 31,500 crore in March 2011. Investors are gradually losing confidence due to these uncertainties and are apprehensive even at the current valuations.
Experts say future prices will depend on how quickly the company is able to resolve the issues mentioned above.
"The downside looks marginal. The stock cannot get back to its old glory immediately but valuations are attractive and it can touch Rs 200 in 2013, assuming the company does not face any awkward situation in the 2G scam," says Jayaramam of Bonanza Portfolio.
---
Bitter-sweet deal: Bajaj Hindusthan

Between January 10, 2008, and November 1, 2011, the Bajaj Hindusthan stock fell 85 per cent from Rs 308 to Rs 37. Peers Balrampur Chini and Dhampur Sugar fell 54 per cent to Rs 530 and 55 per cent to Rs 39, respectively. The reason was the government's higher allocation to the free sale quota. Also, to keep prices in check, the government was cautious on allowing exports.
India produced 24.3 million tonnes sugar in the 2010-11 marketing year. Experts say production can touch 25 million tonnes in the 2011-12 marketing season (October-September).
"Global sugar prices are in a correction mode. We do not expect any significant fall in domestic prices as the government is expected to take a decision on allowing additional exports after the festival season. So, domestic sugar producers hope to improve profitability due to a year-on-year rise in prices and higher sales in domestic and export markets," says DK Aggarwal, chairman and managing director, SMC Investments and Advisors.
---
On weak ground: Indiabulls

The stock of Indiabulls Real Estate tanked 89 per cent from Rs 731 to Rs 75 between January 10, 2008, and October 31, 2011. At present levels, market analysts are positive on the stock due to the company's expansion plans and declining debt. The company's consolidated debt to equity ratio in 2009-10 was 0.14. It was 0.21 in 2008-09.
The company reported a 10.6 per cent rise in consolidated gross sales to Rs 332 crore in the second quarter of financial year ended September 31, 2011. However, consolidated net profit fell 23.9 per cent to Rs 38 crore in the second quarter of 2011-12 as against the corresponding quarter a year ago. The company significantly expanded its land bank in 2010-11 with the acquisition of 193 acres (worth Rs 2,440 crore) as against 77 acres (Rs 130 crore) in 2009-10.
A research report by Motilal Oswal, says, "We are positive on the stock and it can touch Rs 130 in the coming quarters."
---
Missing energy: Punj Llyod
Punj Llyod is an engineering, procurement and construction conglomerate into the business of energy and infrastructure.
"The company ran into a host of problems with its subsidiary, Simon Carves, due to which the stock started falling. After that the company faced rough weather in Libya and reported lower order inflows of Rs 9,000 crore in 2010-11 as against Rs 17,000 crore in 2009-10. It had to cancel orders worth Rs 6,000 crore from Libya," says S Ranganathan, head of research, LKP Securities.
Ranganathan says the end of the unrest in Libya is good news for Punj Lloyd.
On October 31, 2011, the P/E ratio of the company was 54.34. On January 10, 2008, it was 139.25.
"We believe the business environment continues to be a challenge. We have certain reservations over the company's annual report as well. Those who have not been able to exit would do well to sell on any bounce at the level of Rs 75," says Ranganathan.