Looks can be deceiving with exponential growth of technology giving engineers the liberty to make machines that makes maximum use of their hardware. These devices can do what they are meant to - and what they aren't.


LG LSM 100 (Price: Rs 3,500)
This is a traditional mouse that eliminates the need of a stand-alone scanner. Very bond-like indeed.
The mouse comes with a software for scanning documents and pictures.
When launched, the program activates the scanner at the bottom. Capable of scanning a document as big as an A3 page, it enables viewing the scan simultaneously and even access to basic editing.
A gadget for professionals or the recreational spy.
---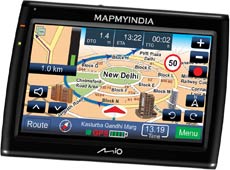 BLUETOOTH-ENABLED PAD (Price: Rs 10,990 onward)
A Bluetooth-enabled
personal navigation device
can be mighty useful. Firstly, it guides you across unknown terrain throughout the country.
Then, you can pair it with a phone over Bluetooth and turn it into a car speaker.
MapmyIndia, SatGuide and TomTom have these easy-to-use offerings. The S550 from MapmyIndia is priced at Rs 16,990. The SatGuide 5.0 Navi costs Rs 10,990.
---
ASUS EEE PAD TRANSFORMER (Price: Rs 32,999 (Wi-Fi), Rs 43,000 (Wi-Fi + 3G))
The Transformer is a 10-inch touch tablet
running on Android Honeycomb
. What makes it different is that it's accompanied by a keyboard dock.
Once the tablet is yoked to the dock, presto, it turns into a laptop. Scoring high on functionality, the Transformer has a couple of USB ports and an extended battery backup. It is available in two versions-Wi-Fi only and Wi-Fi with 3G.
Specs: 10.1-inch display; Keyboard dock; Combined of 1.3 kg; Android Honeycomb; 2 USB ports, 1 HDMI mini connector; 16 GB onboard memory, expandable; Wi-Fi, Bluetooth; 5 MP camera
---
CAPTURE AND PROJECT (Price: Sony PJ50E: Rs 59,990 Nikon S1200pi: Rs 14,950)
Nikon's S1200pj is a point-and-shoot digital camera equipped with a 14.1 MP sensor and 5x optical zoom.
What sets it apart, however, is its built-in Pico projector with 20 lumens brightness and a contrast ration of 200:1. Sony also has come up with a camcorder with a built-in projector.
The PJ50E has a CMOS sensor with 220 GB hard disk drive with projection of up to 60 inch diagonally. But unlike the Nikon camera, this camcorder is fairly costly.
---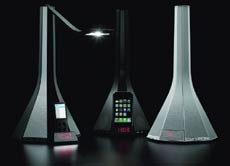 DIVA iPOD LIGHT (Price on request)
This is a great combination of a tablet lamp and a hidden speaker.
The 4.5 W LED lamp is great for reading, while the FM radio can soothe your senses if you are tuned into the right channel.
It can also be connected to an MP3 or CD player via the auxiliary port. The retractable docking station drawer can hold an iPod or an iPhone and the digital screen displays time and music features.
This is sourced in India by Light Labs.
---
PROTRONICS EMERGENCY CHARGER (Price: Rs 1,100)
This is a sleek compact charger with a built-in LED torch. Operating on Li-ion batteries, it can charge a smartphone, an iPod or a PSP.
The emergency charger has a USB port and is accompanied with a set of jacks compatible with different devices.
So, next time you forget your charger, charge it using your new flashlight.
Specs: 2200mAh battery; 90 gm; 4-stage charge indication level; LED torch.
---
PHILIPS COOLING PAD (Price: Rs 1,999 onward)
Cooling pads are platforms that protect your knees from the heat generated by laptops.
In addition to this, the Philips Notebook cushion speaker can also pump up the volume of the notebook (of course, it uses up a USB connection too).
The Notebook sleeve, on the other hand, protects against heat and doubles up as a useful protective cover for carrying the machine.
---
VICTORINOX SWISS KNIFE (Price: Rs 6,265 onward)
Wondering what is Victorinox's fabled Swiss Knife doing in this list?
Well, it made the cut as the company has added a flash drive along with a flash light to its fully equipped multi-function knife.
The Secure 32 is a 32 GB pen drive with fingerprint and password protection and a bright LED torch. Smart, right.
The Presentation Master Flight 32GB also belongs to Victorinox and comes equipped with a pen drive, laser and Bluetooth.
---
SONY ERICSSON PLAY (Price: Rs 22,000)
Last year, Sony Ericsson took the wraps off its gaming smartphone.
The top panel is just like any other touch Android smartphone's. However, there is a second panel beneath, which has gaming controls instead of a keypad. It has a few games pre-loaded, but more can be downloaded from Android Market.
Specs: 4-inch display; 5 MP camera; Android v2.3; 512 MB RAM, 400 MB RAM expandable to 32 GB; 175 gm; 1500 mAh battery.
STUFF FROM ABROAD

SONY DEV-5 BINOCULARS (Price: $1,999.99; store.sony.com)
A binoculars or a camera? The Sony DEV 5 is a combination, capable of capturing images and video recording at 1080p resolution in both 2D and 3D.

It even has a CMOS sensor, optical image stabiliser, auto focus and a 20x optical zoom. The device also has a built-in GPS receiver that allows it to geo-tag videos and photos.


HP PHOTOSMART ESTATION (Price: $399; shopping.hp.com)
This gadget from HP combines a full 7-inch colour tablet with a printer. Acting as a touch controller, the tablet can be removed from the dock and used for browsing the Internet.

It also comes with preinstalled apps for business and entertainment. The tablet can be used for remote printing as well.


ZUMREED X2 HYBRID HEADPHONE (Price: 120 pounds; red5.co.uk)
This noise cancellation headphone bundles up as a speaker. The ear cups can be rotated and placed on a flat surface in the speaker mode.

It is charged using a USB cable. A one-hour's charge gives it enough juice for four hours of playback.
Courtesy: Gadgets & Gizmos