Just recently, a friend bought a Creative Zen Stone portable music player. It looked good, sounded good and could store up to 2 GB of music and data. It was only when she downloaded music from iTunes that she realised she couldn't play the songs because the player didn't accept the audio format. We've all faced this problem in several guises. Obviously, the world of music does not revolve around the MP3. Before you start arguing about the merits of MP3 and AAC, you'd do well to check the three types of digital audio files: uncompressed, lossy and lossless compression. Uncompressed music is where every tone and note is faithful to the original, but you end up with massive file sizes. Lossless compression aims to give you the best of both worlds—a not-so-heavy file with no quality degradation. With lossy compression, you have a small, easily transmitted file, but the quality of music suffers.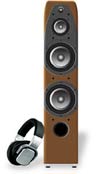 MP3
Probably the best known digital audio format for downloading and storing music.
Compression type: Lossy compression
Used in: Music players, latest mobile phones, multimedia players, computers and laptops.


Real Aaudio
It's a proprietary audio format developed by the US-based RealNetworks.
Compression type: Lossy compression
Used in: Internet radio stations, any site that uses streaming audio.
WMA
Windows Media Audio is a Microsoft file format for encoding digital audio files similar to MP3.
Compression type: Lossy compression
Used in: Almost any Windows PC or laptop, some music players, high-end mobile phones, multimedia players.

FLAC
Free Lossless Audio Codec is like a zip file for audio.
Compression type: Lossless compression
Used in: Archiving uncompressed WAV files where quality is important.
WAV
The Waveform audio format is the standard audio file container used to store uncompressed CD-quality sound files.
Compression type: Uncompressed
Used in: Recording studios and for archiving; compressed WAV formats are used in mobile phone ring tones.
AAC
Designed to replace MP3, Advanced Audio Coding File was declared the new audio file standard in 1997.
Compression type: Lossy compression
Used in: Default audio format of Apple's iPhone, iPod and iTunes; also standard audio format for Sony's PlayStation 3 and is supported by Sony's Playstation Portable.
OGG
A free, open source container format, used to support Vorbis files, which are compared with MP3 for quality. Not an acronym, ogg is just jargon from computer game, Netrek.
Compression type: Lossy compression
Used in: A number of different free and proprietary media players, computers and laptops.
Convert formats
Coming back to my friend with the Creative player, what can she do other than buy an iPod Shuffle? Actually, it's quite simple to convert one digital audio file format to another. Almost every PC and laptop comes with CD burning or converting programs. If those don't work, download any of the innumerable programs that will do the job. Free Audio Converter, NCH Switch Sound, Digital Audio Converter, FreeRip… take your pick from the hundreds that are available online.