Jai Ho! While the recent spell of music awards at the Oscars is a sound achievement, listening to such discerning numbers begs high-quality audio systems. You may have the desired stereo, but what if you want to appreciate the nuances of sound mixing on your mobile phone or iPod?

To enhance your acoustic pleasure, get a worthy set of speakers. Namrata Dadwal lists out speakers, most of which will easily fit your budget. Go on, listen.


Music on call
You've jammed your mobile phone's memory with music, but are the tinny speakers playing party poopers? Just get some zany speakers. These are available for as less as Rs 500 and are charged by the phone's battery. You also have the more expensive ones like the Sony Ericsson MPS100 (in picture, 55 mm x 100 mm) for Rs 2,600.
The Altec Lansing T515 costs Rs 2,500, works via Bluetooth and has a rechargeable battery. The Nokia mini speakers MD-4 are available for Rs 3,300 and also have integrated FM antennae. And don't worry, you won't miss a call as these easily switch to the phone mode.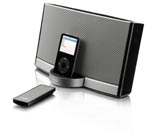 Carry it along
You swear by your iPod, but is it irritating to have a wire dangling from your ears and getting snagged? What you need is a sound dock, especially if you travel frequently. You will, however, need to check its portability. If it's too cumbersome and is only going to squat in one place, it'll be cheaper to buy an audio system with a headphone jack. Also, find out if it's compatible. Most docks that work with an iPod don't do so with other players. Even for an iPod dock, be prepared to shell out extra for an adapter so that your iShuffle or Nano can play on it. Pick up the Creative Travelsound i80 for Rs 3,399 or the Altec iM11 for Rs 4,990.
If you want bells and whistles, go for the Logitech Pure-Fi Dream iPod dock, which has a AM/FM radio, alarm, clock and a remote, and costs Rs 15,000. If you want one that can also work with your iPhone, pick up the Bose SoundDock Portable (in picture, 17.5 cm x 30.7 cm x 14.9 cm) for Rs 23,513.


Fun on the move
A great set of speakers can turn your fourwheeler into a mobile discotheque. If you're budgeting, go for the coaxial ones with two or more speakers built into the same unit. But if you don't mind spending, get separate speakers, subwoofers, amplifiers and tweeters, which are of better quality than their two- or three-way counterparts. Choose a high-end system only if you are planning to keep the car for some time and are willing to pay for extensive modifications.
The Pioneer TS A6995 speakers cost Rs 2,500, or you can pick the Sony XS-GTX61202L, which has full range, three-way coaxial speakers, for Rs 7,990, and get the subwoofer XSLE121c for Rs 5,990. Or, get the Kenwood 6932 A speakers for Rs 2,690, the KAC 8405 amplifier for Rs 6,990, and the KFC-W3514 subwoofer for Rs 3,990.


The cinema experience
If you want speakers for your desktop, DVD player or TV, the type you buy will depend on their usage. If you want to listen only to music, buy a 2.1 speaker system, which has two speakers and one subwoofer. As most MP3s are stereo-encoded, such a system is sufficient. But if you are a hardcore movie buff, pick up a 5.1 channel system to extract the maximum from the Dolby Digital and DTS surround sound format on DVD discs. Make sure your speakers are magnetically shielded or else they will damage the screen of your TV or monitor. A basic set of two speakers is easily available for Rs 500.
You can get the Altec Lansing 2.1 speaker for Rs 2,600, which has a built-in microphone and a wired controller, or the iBall booster, which comes with an LCD display and is a 5.1 system, for Rs 3,960. Bose has a good variety for every pocket, from the 161 System for Rs 11,138 to the 901 Floor Standing Direct, which is available for over Rs 1 lakh.