Kollam, Kerala, for a backwater sojourn, instead of the routine Alleppey.
Yes, houseboats and Alleppey go hand in hand, but if you are willing to set up base at Kollam, the southern gateway to the backwaters, you stand to gain a lot. Since Alleppey is a more popular destination and most tourists take a cruise from here, a 22-hour trip around this slice of heaven costs about Rs 1,000 more than a similar trip around Kollam. Similarly, an AC double room at the KTDC-run Tamarind hotel in Alleppey costs Rs 1,900 a night, while a similar room at the Tamarind, Kollam, is Rs 500 cheaper.
Travel tip: The high season starts on October 1. Given that there won't be much of a difference in weather patterns, you might as well take a houseboat cruise in the last week of September and save a further Rs 500-1,000 per couple.
St. Petersburg, Russia, for culture vultures, instead of France or the UK.
If you fancy a museum-cum-palace tour but are not particular about the destination, Russia's culture capital is the best place to be in. According to HVS, a hotel consultancy, the average drop in room rates in Europe in 2009-10 was 14%, while prices fell by 31% for this city (in rubles). It helps that the rupee-ruble exchange rate is more favourable than buying euros. Besides, London and Paris are among the most expensive cities in Europe.
Travel tip: Check into one of the mini-hotels dotting the city. Industry insiders say that these cost Rs 3,500-6,000 a night compared with the average hotel room rate of Rs 11,000.
Chimgan, Uzbekistan, for skiing, instead of Switzerland or Colorado, US.
According to experts, the skiing track at Chimgan, a two-hour drive from Tashkent, the capital of Uzbekistan, is bigger than the Swiss Alps. Yet, it is five times cheaper. Moreover, as most of the slopes are for beginners, this is a great destination for a family holiday. Here's an added perk: you won't have to waste time queuing up for the ski lifts. If skiing does not appeal to you, you can try your hand at windsurfing, snowboarding or even river rafting.
Travel tip: Though there are enough hotels in the area, consider checking into one of the 20-odd homestays. These cost just Rs 1,200-2,500 per night, while hotels cost at least twice as much. And you get to sample the local cuisine as well.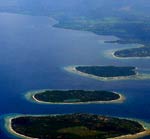 The Gili Islands, Indonesia, for surf and scuba diving, instead of the nearby Bali.
Be it a honeymoon or a stag party, Phuket and Bali are among the most popular foreign beach destinations for Indians. But did you know that the Gili Islands in Indonesia are better? Azure waters and white sand? Check. Scuba diving? Check. Do you need to break the bank? No. According to Smith Travel Research, the average hotel room rate in Bali increased by 2.6% to Rs 4,500 a night in 2009 (year on year). This is the second highest increase in the Asia Pacific after Tokyo. On the other hand, an AC double room in a two- or three-star hotel in the Gilis costs around Rs 1,000-2,000. What's more, you can choose your island according to your mood—Gili Meno, if you want seclusion; Gili Trawangan, if you want to party, and Gili Air for a bit of both the worlds.
Travel tip: Unless you are fussy about round-the-clock room service, a beach shack can be rented for just Rs 250 a night.
Dirang Valley, Arunachal Pradesh, for a hill break, instead of Shimla or Manali.
When you want to beat the heat or get your next adrenaline fix, it's usually destination Himalayas for a majority of Indians. Think Himachal Pradesh, Uttaranchal, maybe Sikkim. At Dirang in Arunachal Pradesh, you get the same mountainscapes, but better trekking, hiking and angling opportunities, minus the crowds. If you can't holiday without sightseeing, explore the 500-year-old village Dirang Dzong (Buddhist monastery) and the nearby hot sulphur springs. Also, the cost of stay and dining out is low due to the lack of commercialisation. You won't get gourmet meals, but then again, have you ever dined Michelin star in Shimla?
Travel tip: The WelcomHeritage Pemaling is the best place to stay in Dirang. While most of the three-star hotels of this chain have a nightly tariff ranging from Rs 3,000 to Rs 5,400, this boutique property costs just Rs 2,000 a night per couple.