The new government may have come with a reforms mandate, but it has its work cut out as far as the financial sector changes are concerned. Though the Parliament passed 247 bills in the 14th Lok Sabha, several are pending. While 40 bills lapsed because of dissolution, 39 are pending in the Rajya Sabha, with eight of these relating to the financial sector. "Long-term reforms in financial services, like life insurance, will enable millions of Indians to secure themselves and make financial plans to meet their life-stage needs," says Max New York Life MD and CEO Rajesh Sud.
On the reforms A list is likely to be the bill to amend the Insurance Act, 1938. Apart from raising the foreign investment ceiling to 49%—it's 26% at present—it proposes to do away with the stipulation that Indian promoters can sell a part of their holdings only after 10 years of operation. "An increase in FDI will help us offer improved products, more options and better services. It will also help increase penetration levels," says Rajesh Relan, managing director, MetLife India Insurance.
There are two other bills—to provide statutory backing to the pensions regulator and to amend the Banking Regulation Act— pending in Parliament for over five years, mainly due to opposition from the Left parties. The Pension Reform Bill takes the obligation to pay pensions away from the government and the onus will be on the individual; the Banking Regulation (Amendment) Bill, 2005, seeks to make the voting rights of foreign shareholders in private sector banks equal to voting shares; voting rights of shareholders are currently capped at 10%.
There are also a number of significant bills that have lapsed. The Micro-finance Development and Regulation Bill and the State Bank of India (Amendment) Bill will have to be reintroduced, the former to regulate the large number of micro-finance companies that have come up recently, and the latter to reduce the Centre's stake in the State Bank of India (SBI) to 51% (from 59.73%). Once parliamentary permission is granted, SBI is planning a public offer to meet some of its Rs 60,000-70,000 crore capital requirement over the next three years.
Among other lapsed bills is the Companies Bill, which seeks to provide greater protection to investors and creditors, and the Forward Contracts (Regulation) Amendment Bill 2006, to enable banks and mutual funds to invest in commodity markets. The government could also renew efforts to push through the National Rehabilitation and Resettlement Act and the Land Acquisition Act, aimed at helping companies acquire land by paying better rates. A draft legislation had come in the wake of violent protests at Nandigram, but a last-ditch effort to push it through at the fag end of the 14th Lok Sabha failed. "Coming up with a comprehensive compensation and rehabilitation policy for land acquisition is critical for several large projects. Once passed, it will be a big boost for the real estate and infrastructure sectors," says Rohtas Goel, CMD, Omaxe.
The other area where the government could get a free hand could be in divesting stake in PSUs. While these items are on the agenda, it's the 100-day road map of reforms that will show how successful the government is in marshalling the mandate.
— Rakesh Rai
Active passive
It could have been the biggest class action case in India—had it not been rejected by the National Consumer Disputes Redressal Commission (NCDRC), citing 'lack of infrastructure' to handle such cases. The Commission refused to hear an investor body's petition, seeking a compensation of Rs 4,987.5 crore for the 3 lakh retail shareholders of fraud-hit Satyam, saying it was not equipped to deal with such cases. "We do not have the infrastructure to deal with such a petititon... CBI and CLB (are) already seized of the matter," observed a bench of the NCDRC while rejecting the Midas Touch Investors Association's petition. The hearing lasted just five minutes.
Midas Touch, a consumer protection organisation, had filed a compensation petition before the Commission. "We are exploring all options to see how this can be taken forward. It is disappointing and sends a wrong message to retail investors in India and globally," says Midas Touch director Virendra Jain. Clearly, the Commission's infrastructure needs to be built up.
— Rakesh Rai
Less confident
Consumer confidence in India has finally started to reflect the sentiment of the rest of the world. India has witnessed a 15% drop in Nielsen's Consumer Confidence Index and ranks third with 99 points, behind Indonesia, which tops the confidence rankings with 104 points, and Denmark, with 102 points.
It's a slide: India led the way in the previous round of the survey in October last year. "Consumers have experienced an onslaught of bad news, job cuts, plummeting company profit, bankruptcies and foreclosures," says Vatsala Pant, associate director, consumer research, Nielsen India.
However, most Indian respondents are optimistic about the situation changing over the next 12 months: 56% think the country will be out of the economic recession and 46% have a sanguine perception about local job prospects, with 6% considering them 'excellent' and 41% regarding them as 'good'. The optimism about job prospects means that 62% of Indian respondents say they consider the state of their personal finances to be either 'excellent' (6%) or 'good' (56%) for the next year, making them the fifth most optimistic globally. Some cheer then.
— Rakesh Rai
Public vs private
The battle between public sector banks and private players isn't over, but a recent Assocham study reveals clearly demarcated strongholds when it comes to banking preferences of the salaried class. Private banks lead in areas like plastic money, fixed deposits and branchless banking, but it's government-owned banks that the Indians turn to when it comes to insurance and loans (see table). Public sector banks are seen as more reliable, secure and trustworthy. A majority of the employees surveyed said they preferred them for loans. "They think the rates of interest are lower and are more reliable," says Assocham president Sajjan Jindal. A majority of employees turn to the public sector for bonds and securities, but private banks are preferred when it comes to mutual funds.
— Sushmita Choudhury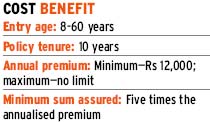 Accident proof
Typically, accidental protection comes free with your credit card, but more often than not, it has to be paid for when attached as a rider to your insurance policy. However, the Unit Gain Protection Plus offered by Bajaj Allianz provides such protection at no additional cost to policyholders. In case of accidental death of the insured, the policy pays an additional sum assured, equal to the prevailing sum assured. If you were to purchase this rider, it would cost you approximately Rs 80 for Rs 1 lakh sum assured, at 40 years of age.
The plan offers two different portfolio strategies—the investor selectable portfolio strategy and the wheel of life portfolio strategy. Even though they sound complex, they aren't: the former is like the standard Ulip option, which allows you to choose investments from a range of equity, debt and balanced funds, while the latter works on a 'years to life portfolio management' concept, where funds are reallocated on the basis of the number of years left for maturity. This helps maintain the balance between the maturity years and the level of risk you should take. For instance, if the number of years left for maturity are 20 or more, 100% of your investment will go to equities with a more aggressive portfolio strategy, that is 50% to an equity growth fund, 30% to a mid-cap fund and the balance to an equity index fund. But if your years to maturity drop to five years, the allocation changes to 40% in an equity index fund and 60% in debt. "This plan gives more benefits if one remains invested for a longer term," says Kamesh Goyal, CEO, Bajaj Allianz.
— Tanvi Varma
Services sector goes slow
The leading indicators of services sector activity for 2008-9 have witnessed a sharp decline in growth, suggesting the impact of the economic slowdown.
Word's Worth
"The one mistake made by the Indian companies in the recent past has been their adventure with exotic derivatives and they have paid the price for doing so.
— Kalpana Morparia, CEO, JP Morgan Chase
"Retail investors who sold their gold holdings to offset stock market losses may return by year-end as both equity and currency markets are recovering."
— Ajay Mitra, MD, Indian Subcontinent, World Gold Council
"There will be appetite for PSU stocks if the government carries out divestment systematically."
— Vallabh Bhansali, Chairman, Enam Consultants
"The pace of decline in certain areas has started to moderate, with some sectors showing tentative signs of recovery."
— D. Subbarao, Governor, Reserve Bank of India