Markets across the globe traded majorly in green in the last fortnight owing to the occurrence of few events. From the United States front, robust release of economic data sets from America boosted the demand for the US Dollar Index.
ADP Non-Farm Employment for the month of Jun'16 increased to 172K from 168K, Non-Farm Employment rose to 287K from 11K and jobless claims dropped unexpectedly last week which meant that labor market was back on track.
In the recent FOMC meeting minutes the US policymakers mentioned that the Brexit issue will be the key going ahead for any further clues on rate hike. This however could not deter the investors to place risky bets.
Bank of England governor, Mark Carney on 1st July'16 sent strong hints that the bank will likely cut interest rates by Aug'16 and even expand the quantitative easing program.
ECB policymakers in their meeting minutes showed that Britain's vote to leave the European Union could have devastating effects on the euro-zone thereby dampening the growth outlook. Moreover, the policymakers also stressed that growth was being hurt by a weak external environment, particularly in emerging markets. Due to this, the ECB policymakers stated that risks remained tilted to the downside, requiring heightened attention.
Bank of Japan Governor Haruhiko Kuroda said the central bank is ready to expand monetary stimulus further if needed to achieve its 2 percent inflation target. All the above factors infused some hopes in the minds of the investors and calmed the jittery markets that shredded around $3 trillion in value post Britain's vote out.
The Indian Rupee appreciated by more than 1 percent in the last fortnight tracking the gains in the global equity and currencies markets. Sensex and Nifty too traded higher owing to good monsoon progress thereby hinting towards robust growth of the economy in the coming quarters. Moreover, sustained selling of the American currency by importers and banks amid higher dollar in the overseas markets dragged the currency further lower.
Gold prices in the international markets gained by around 3.87 percent while MCX gold prices rose by 1.01 percent in the past fortnight. Financial markets have been extremely volatile since the June 23 "Brexit" vote, knocking equities and pushing some bond yields to record lows. That in turn has boosted the appeal of so-called safe-havens such as gold and silver.
The world's largest gold-backed exchange-traded fund, SPDR Gold Trust, posted the biggest one-day surge in its holdings in more than six years last Tuesday. They jumped 28.8 tonnes to 982.72 tonnes, their highest since June 2013. The minutes of the US Federal Reserve released stated that the uncertainty over the so called Brexit will limit any further move by the central bank about rate hike.
LME Copper prices rose marginally in the last fortnight, supported by recovery in risk appetite in the global markets on hopes of stimulus measures by major central bankers after Brexit shock. However, sharp gains were capped as Nonfarm payrolls data from the US turned up higher than expected, its biggest gain since last October, indicating pick up in small businesses hiring, suggesting a bigger overall employment number. Besides, data showed an inflow of 23,625 tonnes of metal into London Metal Exchange approved warehouses, the latest arrival into depots that have seen a 45 percent surge since June 1. MCX copper prices gained 0.2 percent in the last fifteen days.
WTI oil prices declined by 4.68 percent while MCX gold prices have fallen by 6.34 percent in the past fortnight. Prices declined to two-month lows in the past fortnight and broke support levels after the Energy Information Administration (EIA) said crude stockpiles fell 2.2 million barrels for the week to July 1, just below a 2.3-million barrel decline forecast by analysts in a Reuters poll. While the EIA reported a seventh weekly decline in crude stocks, the figure it gave was far less than a 6.7 million-barrel draw cited by trade group the American Petroleum Institute in preliminary data issued late Wednesday.
Outlook
Investment flows in to SPDR gold trust, uncertainty with regards to Brexit, falling global equities are push factors for gold prices to rise higher in the next fortnight.
Crude oil inventories in the US have fallen for consecutively seven weeks in a row; however, oil prices are showing no signs of recovering. The glut in the oil markets continues to persist with extra barrels flowing from Iran after the removal of sanctions. We expect oil prices to trade lower in the coming fortnight.
We expect base metal prices to trade lower as investors will keenly watch GDP numbers from China due to be released on 15th July. Further, Bank of England meeting and ECB press conference will keep risk appetite under check.
The progress of monsoon in the country is peaking up after slow start during first half of June. According to IMD, country has so far received about normal rainfall for the season. However, during the first week of July, country received, 35 per cent above rainfall. This result in jump in area planted to 88 per cent in the past week which, raising hopes of good production of agricultural commodities in kharif season.
The total area sown falling by almost only 5.90 per cent to 406.3 lakh hectares (lh) compared with 431.8 lh at this time last year. During the previous week, the area sown was almost down by 22.7 per cent.
During the last fortnight, among agri-commodities, the prices of Cotton surges the most on Indian futures exchange followed by guar complex and Jeera. Kapas, mustard seed, soybean and sugar also closed higher during the fortnight. Maize and cardamom lose the most mainly due to profit booking. Edible oil and Turmeric also closed lower on lower demand and good sowing progress.
Among softs, cotton complex trade higher during last fortnight on reports of lower supplies of quality cotton in domestic market coupled with report of lower sowing in north Indian states. In the current kharif sowing progress data released by Government, pegged at 22.7% lower compared to last season at 67.89 lakh hectares as on 08-Jul-16. Last year, 87.83 lakh hectares of cotton have sown in the country.
Similarly, Sugar Futures recovered last fortnight due to increase in physical demand from the industrial buyers. As per recent prediction from the Indian Sugar Mills Association, sugar output in 2016-17 (Oct-Sep) may be about 23.3 mt, down about 7% from 25.1 mt the previous year.
Guar complex prices have surged more than 9.5 per cent on reports of lower sowing acreage and steady demand. The export demand for guar gum is peaking up on higher crude oil prices and expectation of supply crunch during next season. The acreage in Rajasthan, the biggest guar producing state, is lower by about 63 per cent as on 30th Jun 2016 to 1.8 lakh hectares as compared to 4.88 lh last year. Moreover, the target for guar crop also reduced by 24.8 per cent to 36 lh in Rajasthan.
Among spices, Jeera prices have surged closed to 5 per cent last fortnight. The expectation of good export demand and dwindling supplies during the monsoon months is keeping prices higher. However, Cardamom and turmeric prices have traded lower during the last fortnight. Turmeric prices have been in range bound to lower as monsoon has already covered the sowing areas and physical demand is satisfied through last year crops.
Among oilseeds, Mustard seed and soybean mostly traded sideways to higher on report of lower acreage of soybean coming from Madhya Pradesh, Rajasthan and Maharashtra.
The farmers of prime growing states are shifting towards pulses in this kharif season. The mustard prices closed higher during last fortnight but decline about 1.8 per cent from its high due to profit booking. The prices are still higher on anticipation of limited supplies during the monsoon and good demand for oil from industrial buyers for winter use.
Among other commodities, edible oil prices have dropped during last fortnight on lower physical demand from the bulk buyers and higher stocks levels in the country.
Outlook
For the next fortnight, we expect cotton to trade sideways to higher on report of lower acreage and good domestic demand. Similarly, the prices may trade higher for guar complex and soybean due to less acreage while jeera and coriander may trade positive on expectation of good export demand.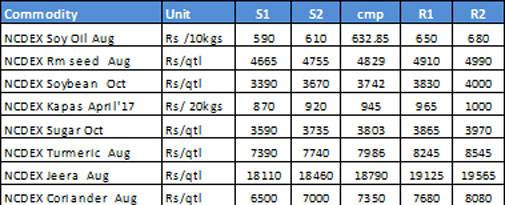 Naveen Mathur, Associate Director - Commodities & Currencies Business, Equity Research & Advisory, Angel Broking Pvt. Ltd has a rich industry experience of almost 20 years in the financial market, and has been associated with commodity trading since the year 2003 when two online commodities exchange started trading activity.
Disclaimer: The above opinion is that of Mr. Naveen Mathur (Associate Director - Commodities & Currencies Business, Equity Research & Advisory -Angel Broking) & is for reference only.