A series of unexpected events across the world kept the global markets volatile. Canada was stung with an unfortunate event where a huge wildfire ravaged the oil sands region in north-east Alberta. However, with light rains and cooler temperature, the fire was held back but could not stop the volatile swings in crude prices. Moreover, exit of Saudi Arabia's veteran oil minister Ali al-Naimi added to the woes.
Charles Evans, president of the Chicago Fed, spoke about America's solid economic fundamentals. However, the US Fed member still thinks that there are some weak spots in capital spending, hence continuation of wait and watch policy with respect to US interest rates would be appropriate. From the Euro-zone front, the European Commission slashed its own inflation and GDP forecasts for 2016. Moreover, the BoE officials kept the key interest rates unchanged citing weak consumer spending and low investments by companies as they want to play safe prior to the so-called Brexit on June 23.

Lastly, Japan's FM Taro Aso said that in order to protect Japan's trade and economy, the financial authorities would be ready to intervene in the currency market if strength in Yen continues for long. All the above factors played on investors sentiments.
The Indian Rupee depreciated by 0.6 per cent in the past fortnight owing to fresh buying of the American currency by importers and banks amid stronger greenback in the overseas market. Moreover, markets discounted the negative inflation, manufacturing and industrial data from the nation. Outflows of funds in the domestic market amid negative sentiments in the global markets dragged the Indian Rupee further lower.
In the past fortnight, spot gold prices declined by 1.56 per cent to close at $1,273.2 while MCX gold prices declined by 0.77 per cent to close at Rs 30,034 per 10 gm. Employment gains slowed markedly in April and employers added 156,000 jobs in April compared with an increase of 193,000. Besides, data showed the vast US services sector expanded in April as new orders and employment accelerated. Federal Reserve Bank chiefs in Atlanta and San Francisco said that a June interest-rate hike could be on the cards. The yen fell to a two-week low against the dollar on speculation that the Bank of Japan could expand its monetary stimulus as soon as next month, helping to lift the dollar index.
Gold is up nearly 20 per cent in 2016 as a run of soft economic data in the United States and around the world allayed expectations that the Federal Reserve would press ahead with interest rate hikes in the near term. Surging inflows into gold-backed ETFs drove global gold demand to its highest first-quarter total on record this year at 1,290 tonne, the World Gold Council (WGC) said, despite a near 20 per cent drop in jewellery demand.
Last fortnight, LME Copper prices plunged 6.4 per cent as various Federal Reserve Bank members called a June interest-rate hike a possibility. Recently, Boston Federal Reserve President Eric Rosengren said the Fed should raise interest rates if data confirms a stronger jobs market and inflation outlook in the second quarter. Further, weak manufacturing activity across the globe in April added to concerns over the demand. However, sharp losses were cushioned as BOJ Governor Haruhiko Kuroda said on Thursday that the Bank of Japan is likely to expand monetary stimulus either in June or July. Also, producers from Codelco to Glencore Plc gave optimistic longer term outlooks at an industry conference in Miami as three years of declining prices deters production. MCX copper prices fell by 7.6 per cent in the last fifteen days.
In the past fortnight, WTI oil prices jumped 0.63 per cent while MCX crude oil prices rose by 2.04 per cent. A raging wildfire near Canada's oil sands region curbed output that mainly flows to the United States, before settling off their highs as a rebounding dollar and a huge US stockpile build cut into gains. A stranded Glencore oil cargo in Libya, after a stand-off between eastern and western political factions, also fed the rally. Sharp gains were capped as Russia exported 20.3 million tonnes of crude in April, the highest figure since January 2015, according to the Central Dispatching Department of Fuel Energy Complex. Nigeria is Africa's largest oil producer and (Qua Iboe) the largest crude grade, set to account for 317,000 bpd of exports in June. It was not immediately clear how much of the output was reduced by the pipeline problem.
Outlook
Gold prices will trade higher this fortnight on account of strong investment flows into the metal. Besides, possibility of delayed rate hike in the June meeting will be a boost for gold prices in the near term.
Lowe oil prices have disturbed the budget of oil producers in the OPEC, hence prices have to rise for sustainability of the business. Besides, bargain hunting at lower levels will also feed the rally in the coming fortnight.
We expect base metal prices to trade lower as China's industrial-production and investment data came in below expectations in April, despite string of easing measures. Also, markets will now await FOMC Meeting Minutes due to be released on 18th May '16.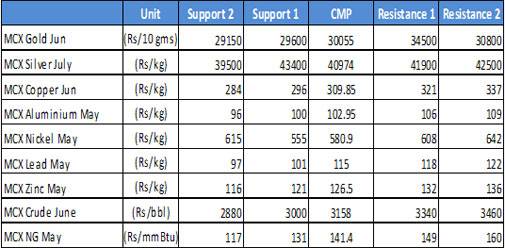 Agri Commodities
The onset of southwest monsoon over the Kerala coast might be delayed by six days and expected to hit around June 7, 2016 according to India Meteorological Department (IMD). However, this time around country may see above normal rains. Majority of agri commodity trade down during last fortnight, due to prediction of above normal monsoon. However, Maize, Chana and coriander prices have gain a little due to higher demand and dwindling supplies.
Chana futures gained last fortnight due to expectation of tight supplies in coming months. The trend looks positive on anticipation of limited supplies amid lower production and expensive imports. Country imported over 79,000 lt of chana in Feb 2016 higher than 38,000 tones imports last year in Feb. India has imported 9.93 lt of Chana until February in the current financial year (Apr 2015-Feb 2016).
Guar seed and guar gum lost the highest due to lower export demand and higher stocks with the stockists. Moreover, good monsoon too weigh on prices. Export demand for guar complex declined by 26 per cent compared to last month. India has exported 23734.3 tons of guar seed products (Gum powder, Splits & Meal) in the month of April 2016. According to third advance estimate issued by Rajasthan's Department of Agriculture for Guar seed the area increased to 47.86 lakh hectares, while the production is pegged at 22.23 lt, down from last year's production due to lower yield at 465 kg/hectare.
Among spices, Jeera and turmeric saw a downtrend during last fortnight mainly due to good supplies in the physical market as prices have improved during prior few weeks. For jeera, Market players are still expecting some more export enquiries on reports of good quality jeera production this year but the demand is still lower. For turmeric, market participants are active at lower levels for turmeric as they are expected good sowing for next season on forecast of good rains. However, Coriander prices have improved on good demand and lower supplies. Cardamom holds steady last fortnight as demand matches the supplies coupled with good showers in Kerala, which might enhance production during later pickings
Among oilseeds, Mustard seed and soybean have traded little lower during last fortnight as prices tries to consolidate at current levels, as demand is quite lower for crushing.
Ref. Soyoil and Crude palm oil corrected for the second fortnight due to higher imports of refine oil during the current oil year. As per latest SEA data, lower landed cost of refined oils against crude oils pushed up refined oil imports by 168 per cent to 13.23 lakh tonnes (lt) during November 2015 to April 2016 period as against 4.92 lt in the same period previous year. The overall import of vegetable oils is increased by 17 per cent to 75.8 lt during the first six months of the current oil year 2015-16 compared to 64.7 lt the same period last year.
Among softs, cotton and kapas prices have traded lower due to limited demand from domestic mills and exports are lower. Similarly, Sugar Futures traded on mixed to negative on report of lower production estimates in current season and imposition of stock limits for traders keep pressure on sugar prices.
Outlook
For the next fortnight, we expect chana and spices like jeera and coriander to trade higher due to good physical demand and lower stocks. Turmeric prices may correct further as stockist may buy at lower levels. Edible oil prices may trade sideways to lower on reports higher imports. Cotton complex prices may trade sideways on expectation of muted industrial and export demand. Oilseed prices may see mixed sentiments due to higher stocks of edible oil and good monsoon forecast. Sugar price may be under little pressure due to government steps of stock limits for traders and scrap mandatory export quotas.
The author is Associate Director - Commodities & Currencies Business, Equity Research & Advisory - Angel Broking. Views are personal